Police Raid Madrid Office Of China's Biggest Bank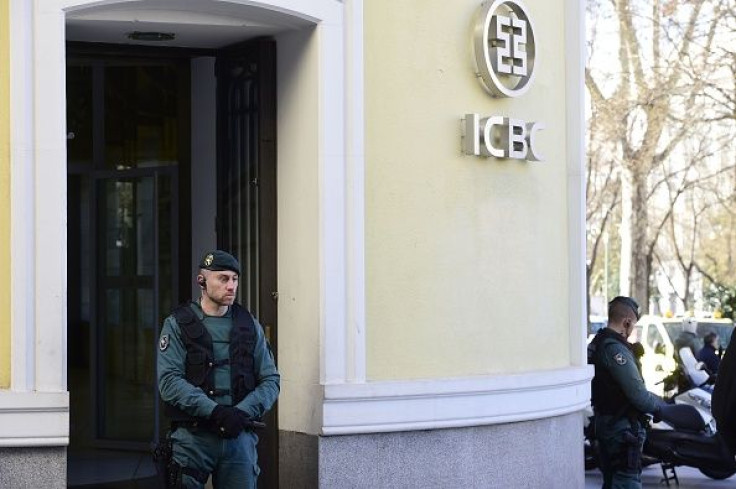 Spanish police raided the Madrid offices of China's biggest bank, Industrial and Commercial Bank of China (ICBC), on Wednesday as part of an investigation into alleged money laundering, the Interior Ministry said.
The investigation by police, the Spanish tax agency and Europol involves funds handled by a criminal group acting in Spain which the Ministry says passed through the bank and were transferred to China.
Over 100 police were involved in the operation, which saw the arrest of five ICBC directors, Europol said in a statement.
A Beijing-based spokesman for ICBC said the bank was paying close attention to the investigation. "Our Madrid branch is actively cooperating," he said.
"Strictly implementing anti-money laundering regulations, and strictly operating within the law and regulations have always been our fundamental operation and management principles," the spokesman added.
The Chinese embassy in Spain said it currently had no reason to believe the bank had been breaking the law.
"The Chinese government has always demanded Chinese firms overseas strictly adhere to Chinese law and the law of the country they are in to carry out business legally," the embassy said in a statement on its website.
"According to what we understand about events, all Chinese enterprises in Spain are doing so."
The embassy added that it had not received official notification about the case from Spanish authorities.
Spanish police, investigating tax fraud on certain goods imported from China in an operation, known as "Operation Snake", in May last year, dismantled a group that was found to have laundered at least 40 million euros ($45 million) through ICBC, the ministry said.
($1 = 0.8988 euros)
(Reporting by Emma Pinedo in Madrid and Shu Zhang in Beijing; Additional reporting by Anthony Deutsch in Amsterdam and Adam Jourdan in Shanghai; Writing by Paul Day and Angus Berwick; Editing by Stephen Coates; Editing by Hugh Lawson)
© Copyright Thomson Reuters 2023. All rights reserved.