Hillary Clinton Economic Team Planned Secret Meeting With Wall Street Mogul Pushing To Shift Retiree Savings To Financial Firms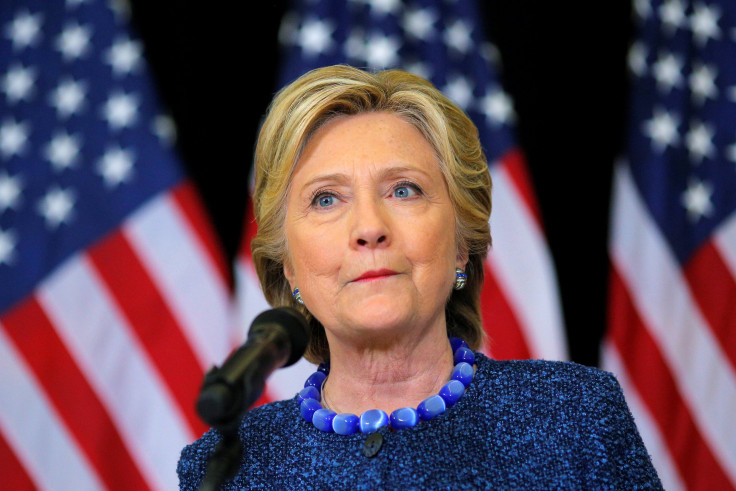 Days before publicly promoting a plan that could funnel billions of dollars of retiree assets to Wall Street, the president of one of the world's largest financial firms was organizing a private meeting with Hillary Clinton's economic team. A hacked email detailing the meeting between Blackstone President Tony James — a top Clinton fundraiser — and Clinton's economic advisers was released by Wikileaks on Wednesday.
On January 1, 2016, James published a New York Times op-ed promoting his plan to enact a new 3 percent payroll tax that would raise hundreds of billions of dollars to fund guaranteed retirement accounts. As International Business Times reported last month, James' firm is a major private equity and hedge fund player, and his plan promoted the fact that the money could be invested in those kind of alternative investments.
Wikileaks emails now show that three days before that op-ed was published, a Blackstone official contacted Clinton campaign chairman John Podesta, letting him know that James was convening a meeting at his apartment to discuss economic policy with Clinton's top aides. The meeting was to be hosted by James and former Treasury Secretary Tim Geithner, who is now the president of the private equity giant Warburg Pincus.
"Blackstone President Tony James and Tim Geithner are hosting a small dinner for your economic team on January 20th," wrote Blackstone's Christine Anderson. "Schmidt, Shapiro, Sullivan and Harris are confirmed. Ann is tentative but will attend if she's in town that night. Tim and Tony were hoping you would join. Small. Off the record. No agenda other than hopefully a dynamic conversation about economic policy. This will either be at Tony's apartment or a location closer to the campaign."
The Clinton campaign declined to comment on the meeting or the authenticity of the Wikileaks emails, emphasizing instead that the "U.S. intelligence community, the Republican Chairman of the House Homeland Security Committee and even [Trump's] running mate" have concluded that the emails were hacked by the Russian government. Anderson declined to answer IBT's questions about whether the meeting occurred, what was discussed at the meeting — and whether James specifically pitched his retirement savings plan to Clinton officials at the time.
In recent weeks, James has said he has "spent a fair amount of time with a number of Hillary's policy advisors" and that "so far they have been very encouraging about the plan" to create the guaranteed retirement accounts.
A few months before James convened the private meeting with Clinton officials, a Blackstone fund he helped run was at the center of an Securities and Exchange Commission case that sanctioned Blackstone for failing to disclose fees to its investors. That did not inhibit the Clinton campaign from raising money from James: he is listed on Clinton's website as a "Hillblazer" who has raised or donated more than $100,000 to her campaign.
James' plan — which he co-authored with New School economist Teresa Ghilarducci — argues that that pooling Americans' retirement assets and putting them in a portfolio that includes alternative investments will boost savings by giving retirees "opportunities typically reserved for institutional investors—less liquid, higher return asset classes."
The proposal is controversial: At a moment when major public pension systems, citing high fees and weaker-than-expected returns, are selling off some of their holdings in alternative investment firms, the plan proposes to create a new government-mandated stream of income for those same firms. The plan also emerged at a moment when momentum appears to be building behind an alternate Democratic plan to instead expand Social Security — a proposal that has no profit potential for Wall Street firms like Blackstone.
"If the goal is secure, guaranteed retirement income for the American people, delivered efficiently, then the 3 percent payroll tax they are proposing is much better spent on Social Security," said Nancy Altman, the co-director of Social Security Works, which advocates for the program's expansion. "The fees associated with these [proposed] accounts will be much higher than Social Security's modest administrative costs and will go to Wall Street. Instead of Social Security's guaranteed benefits that cannot be outlived, the benefits will be subject to the vagaries of the stock market."
© Copyright IBTimes 2023. All rights reserved.