Koch Industries Gave $300,000 To GOP Lawmakers Just Before Tax Vote
On the day that the House-Senate conference committee agreed on the final tax bill, which cut corporate tax rates from 35 percent down to 21 percent, 60 Republican members of Congress who would soon vote on that bill received donations from the corporate political action committee of the company run by the billionaire Koch brothers, who pushed hard for the tax cuts for much of 2017.
Of these recipients, 12 House members represent districts in California and New York, the two biggest liberal-leaning states where some residents now face steep income tax hikes because the bill eliminated certain local and state deductions. Republicans in those states were reluctant to vote for a bill that would raise taxes on their constituents as lawmakers entered 2018, when they all have to run for reelection.
The Dec. 13 donations from the Koch Industries PAC (KOCHPAC), revealed in a campaign finance filing released on Wednesday, totaled over $312,000 and went to the campaign committees and/or the leadership PACs of federal lawmakers such as Rep. Lee Zeldin, a Republican representative from New York, who got $5,000 for his leadership PAC and $1,000 for his campaign that day. Zeldin was among a dozen House members, mostly from New York, California and New Jersey, who ended up voting against the bill.
"On balance, this bill remains a geographic redistribution of wealth, taking extra money from a place like New York to pay for deeper tax cuts elsewhere," Zeldin said in a press release on Dec. 19, when the final bill passed the House. "This bill chooses winners and losers in a way that could have and should have been avoided."
The Dec. 13 donations included two $45,000 contributions to the recount funds of the National Republican Congressional Committee and its GOP Senate counterpart. In December, KOCHPAC spent far more on campaign donations than in any other month last year.
Additional House members including Reps. Dan Donovan (R-N.Y.) and Darrell Issa (R-Calif.) who received KOCHPAC contributions on Dec. 13, also voted against the tax bill. Jessica Proud, campaign spokesperson for Donovan, told International Business Times in an email that the congressman did not speak to [the Koch brothers] nor anyone associated with them. Donovan "does not monitor donations so he wouldn't have even known about [Koch PAC's donations], and I can tell you unequivocally that he makes his decisions solely on how it will affect the people of his district."
Others such as Rep. Jeff Denham (R-Calif.) — who received $5,000 for his campaign from KOCHPAC on Dec. 1 and $5,000 for his leadership PAC on Dec. 13 — and Rep. Elise Stefanik (R-N.Y.) — whose campaign got $2,500 from KOCHPAC on Dec. 13 — voted for the bill.
Two members of the House-Senate conference committee, which synthesized both chambers' versions into the final legislation, also received donations: $5,000 to the leadership PAC of Rep. John Shimkus (R-Ill.) and $5,000 to the leadership PAC of Sen. Pat Toomey (R-Pa.), both of whom voted for the bill.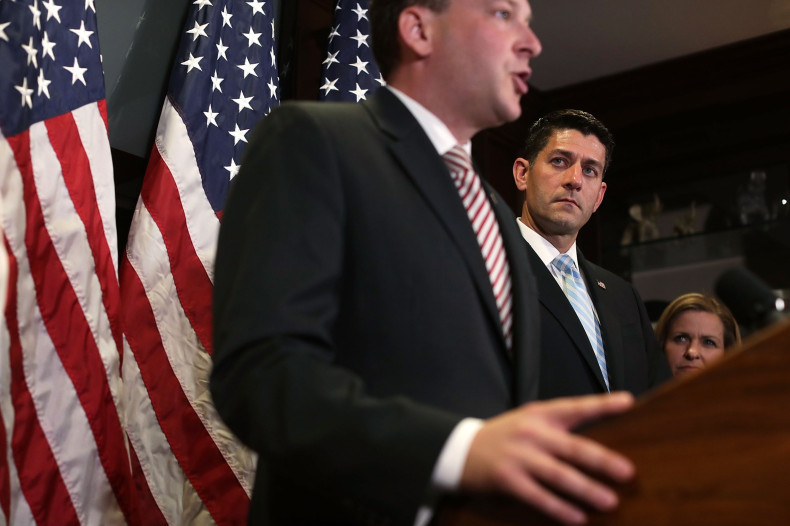 Charles and David Koch, worth a combined $102 billion, operate a vast, conservative political network that they finance with the help of hundreds of their wealthy friends. The network consists of think tanks, advocacy groups and super PACs that pour money into politics in order to elect conservative Republicans who favor slashing taxes and gutting regulations, things that benefit Koch Industries' wide array of fossil fuel, chemical and materials businesses.
The Koch network spent $20 million in 2017 pressuring lawmakers to pass the tax cuts. As IBT previously reported, Charles Koch and his wife Elizabeth donated nearly $500,000 to House Speaker Paul Ryan's joint fundraising committee just 13 days after the House passed its version of the tax bill. Then, on Sunday, donors assembled at a semiannual Koch network gathering in California watched a video from Ryan, thanking them for their work on the tax bill by saying, "We would not be in this unique position if not for the hard work and devotion from everyone in the Koch network."
The bill could make Charles and David Koch up to $1.4 billion richer each year.
In total, KOCHPAC spent $339,000 on federal political donations in December. Meanwhile, led by the most prominent political advocacy group overseen by the Kochs, Americans for Prosperity, the network is planning to spend another $20 million to boost public opinion of the now-unpopular tax plan. Koch-backed groups including Freedom Partners have already spent millions of dollars on outside advertising to help Republican candidates pick off vulnerable U.S. Senate Democrats.
David Dziok, director of communications marketing at Koch Companies Public Sector, told IBT in an email that the exact date when a check posts doesn't reflect when the donation was initiated. "The accounting process began several days earlier... So the donations were not a result of the House-Senate conference committee agreeing on a final tax bill." Dziok did not directly answer whether the December donations had anything to do with the tax bill, but he said, "All KOCHPAC donations are in support of policymakers who are philosophically aligned with our principles. That's the only standard by which we operate."
Zeldin's press secretary did not immediately return an IBT request for comment.
© Copyright IBTimes 2022. All rights reserved.