Paul Ryan Thanks Koch Network Donors For Helping Pass Tax Cuts That Benefit Them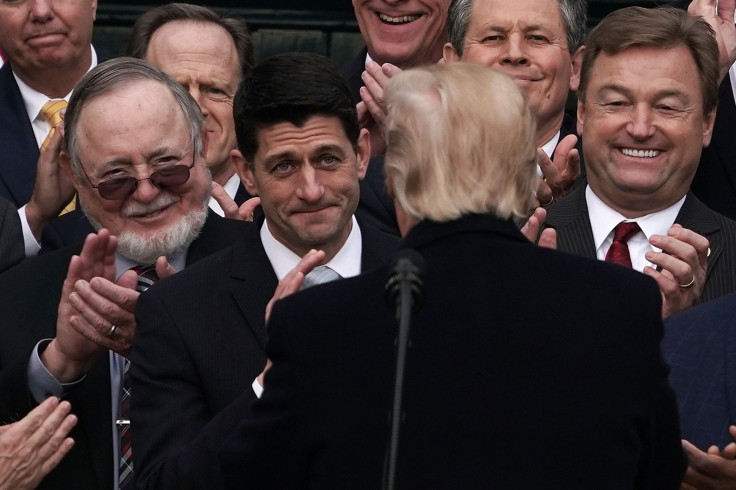 At a lavish resort near Palm Springs, California, on Sunday, the biggest donors in the billionaire Koch brothers' powerful political network turned their eyes to a video from Republican House Speaker Paul Ryan. "We would not be in this unique position if not for the hard work and devotion from everyone in the Koch network," said Ryan to some of his party's biggest financiers, the Washington Post reported Monday.
For those assembled at the most recent semiannual Koch seminar — wealthy conservatives who must give at least $100,000 per year to Koch-linked political groups in order to attend — their 2017 focus was on scoring big tax cuts that will enlarge their bank accounts. The political network, overseen by Charles and David Koch, the owners of the global fossil fuel and materials conglomerate, first succeeded in nixing the border adjustment tax, something Ryan himself wanted in order to pay for some of the tax cuts. Then the network spent more than $20 million to pressure lawmakers to pass a tax bill and to influence public opinion about it.
While the latter effort may have largely failed, the former was a great success: Congressional Republicans passed tax legislation that in 2027 gives 83 percent of its benefits to the richest 1 percent of Americans.
Thirteen days after the House passed its version of the tax bill, Charles Koch and his wife, Elizabeth, gave nearly $500,000 to Ryan's joint fundraising committee, as International Business Times first reported earlier this month. The committee splits its revenue between Ryan's campaign, a separate political action committee that Ryan operates and the National Republican Congressional Committee (NRCC). In addition, Charles and Elizabeth Koch each gave the maximum amount of $237,000 to the NRCC.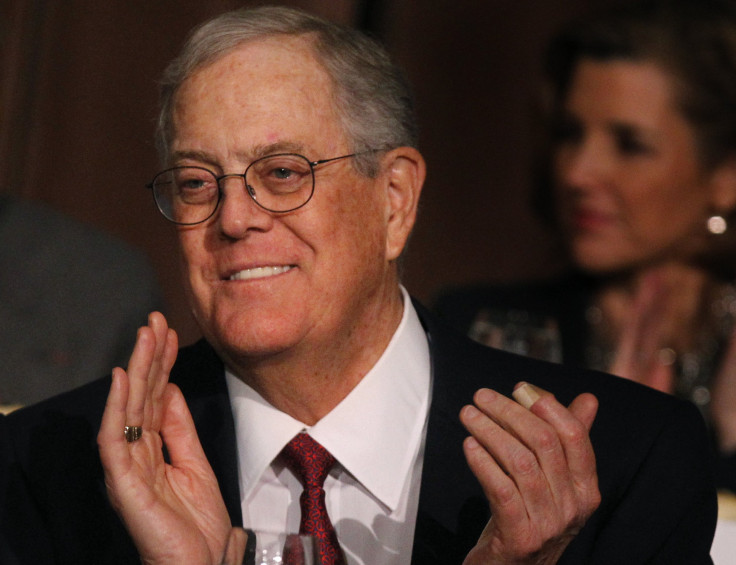 Others may have influenced key Republicans who wrote and/or voted for the tax cuts. IBT reported Friday that oil and gas companies donated to the House's top tax writer, Rep. Kevin Brady (R-Texas), as he was helping finalize the bill, which included a special tax break for oil and gas investors.
Koch donors aren't finished with the tax bill; the network will spend $20 million more to promote it. This comes as the Koch network, worried about losing Republican majorities in the House and Senate, plans to spend around $400,000 on the 2018 midterm elections. In addition, Americans for Prosperity, one of the most active Koch-backed political groups, has hired a vice president of judicial strategy to lead a push for a "strict constructionist" nominee should a Supreme Court seat open up.
While the tax legislation will benefit the Koch network donors, it will also enrich numerous members of Congress, as IBT has extensively reported. Among the benefits for which they voted are special tax deductions on pass-through real estate income and oil and gas investment profits.
© Copyright IBTimes 2023. All rights reserved.
FOLLOW MORE IBT NEWS ON THE BELOW CHANNELS