US Treasury Cites Koch-Funded Research In Critique Of Consumer Protections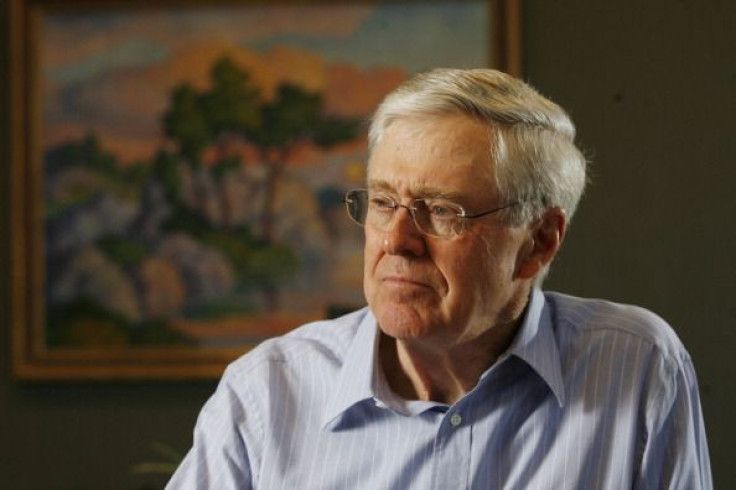 In a rare instance of one federal agency publicly attacking another, the U.S. Department of the Treasury issued an 18-page report Monday excoriating the Consumer Financial Protection Bureau's proposed arbitration rule, which would prevent financial institutions from preventing class action lawsuits from customers via consumer contracts. In doing so, the department cited a paper co-authored by a George Mason University law professor who works for several campus centers heavily funded by the billionaire industrialist, free-market evangelist and far-right political donor Charles Koch.
At the root of the social change strategy of Koch and his younger brother David, who run a massive, private energy and materials conglomerate, is generously funding professors and programs that align with their libertarian beliefs and their business interests. Koch family foundations, primarily the Charles Koch Foundation (CKF), have donated over $200 million to hundreds of U.S. colleges and universities over the last several decades, usually targeted at free-market centers and programs. Since the 1970s, the Kochs' have used academia to shape young minds and put out scholarly works backing their beliefs; funded think tanks to repackage this work into easily digestible policy proposals; and financed advocacy groups to popularize the proposals and pressure lawmakers to adopt them.
In many ways, the Koch strategy has been successful. More and more often, research from these Koch-backed programs makes its way into federal policymaking.
Just one day after Treasury's report was released, the Senate narrowly voted to strike down the rule, which took five years to create and would have gone into effect in 2018. Vice President Mike Pence, a close Koch ally, cast the deciding vote to break a Senate deadlock. The House already voted down the arbitration rule this summer, and, as Trump is very likely to sign the bill, the rule will soon meet its end. That means corporations are free to force consumers into arbitration — settling a dispute privately without the right to sue a company in court, participate in a class-action lawsuit or appeal.
Many of the lawmakers who voted down the arbitration rule have received boosts from the Kochs and their political network, both from direct campaign donations and independent election spending.
After The Crash: Consumer Protection
The Consumer Financial Protection Bureau (CFPB) was established as part of the 2010 Dodd-Frank Wall Street Reform and Consumer Protection Act in the aftermath of the 2008 financial crisis, which occurred largely because of predatory lending and risky trading by the financial industry. The bureau was created to assist victims of financial fraud and help enforce the Dodd-Frank measures put in place to help prevent another global recession. The CFPB has helped provide nearly $12 billion in consumer relief and saved consumers $16 billion in hidden credit card fees, but the GOP has been trying trying to dismantle the agency since it was created over most Republicans' objections.
Wall Street is strongly opposed to the arbitration rule, estimating that it would cost firms billions of dollars, and the Treasury, now run by former Goldman Sachs executive Steve Mnuchin, echoed big financial firms' concerns. The report questions the conclusions of a CFPB study on forced arbitration and alleges that the rule would "impose extraordinary costs" and constitute "a large wealth transfer to plaintiff's attorneys."
"The report by the Treasury Department rehashes industry arguments that were analyzed in depth and solidly refuted in the final rule," said Samuel Gilford, a spokesman for the CFPB. The bureau's analysis "found that mandatory arbitration clauses allow companies to avoid accountability for breaking the law and cost consumers billions of dollars by blocking group lawsuits."
Just seven weeks ago, credit rating agency Equifax revealed a massive data breach that potentially endangered private information of almost half of Americans. The company created a way for people to find out if their data had been compromised, but only after signing a statement that tucked a mandatory arbitration clause into the fine print. After considerable public backlash, Equifax removed the clause. As International Business Times reported, Equifax had lobbied against the arbitration rule that was under consideration at the CFPB. Wells Fargo, one of the worst offenders in predatory lending, used forced arbitration to prevent costly lawsuits over its fraudulent practices.
In its negative assessment of the CFPB's arbitration rule, the Treasury cites a critique of the CFPB's arbitration study that was published by two Koch-funded academic centers at George Mason University (GMU).
The Koch Connection
Charles and David run Koch Industries, the second-largest private company in the U.S., and head a giant, conservative political operation that rivals either of the two major American political parties in size. The Kochs, worth a combined $95 billion, are known for their network's huge political spending operation, which almost entirely benefits Republicans.
Of their many businesses, the Kochs own three financial firms: Koch Financial Corporation, Koch Genesis Company and Oasis Capital Markets LP. In the 1980s, Koch Industries pioneered financial instruments for speculating on commodities like oil and natural gas, as Ralph Wilson, senior researcher with the activist group UnKoch My Campus, documented in a report. In the 1990s, Koch Industries teamed up with energy and trading company Enron to lobby to deregulate oil speculation. In 2000, Texas Sen. Phil Gramm (R) tucked a lengthy amendment into the Commodity Futures Modernization Act, later known as the "Enron loophole," which gave companies like Enron and Koch Industries access to unregulated energy trading in electricity markets. The act, signed by President Bill Clinton on his way out of office, led to unregulated trading of credit default swaps, a major cause of the financial meltdown.
At the time, Sen. Gramm's wife, Wendy, was on the board of Enron and led the Regulatory Studies Program at GMU's Mercatus Center, which got a major funding boost in the mid-1980s: Koch family foundations provided GMU with $30 million, much of it going to Mercatus. Enron had given campaign contributions to Sen. Gramm, and its chairman Kenneth Lay had donated to the Mercatus Center, as Jane Mayer noted in her book, Dark Money.
The Kochs have clearly gained from deregulated financial markets. Dodd-Frank and its CFPB are a direct threat to Koch Industries' investment strategy, and professors in Koch-funded academic programs and think tanks have been churning out literature in favor of market deregulation.
Todd Zywicki, whose paper Treasury referenced, is a prime example. "Zywicki has been among the most outspoken scholars against the CFPB, serving as a model of Koch's weaponized academics, housed in Koch's Mercatus Center at George Mason University," Wilson told IBT.
'Involved In All Sort Of Ways With The Koch Foundation'
Zywicki is a law professor at the Antonin Scalia School of Law, which was enhanced and renamed with a $10 million donation from the Charles Koch Foundation and an anonymous $20 million donation. He was formerly the executive director of the school's Law and Economics Center, a recipient of Koch funds with which he is still affiliated. Also on Zywicki's long list of leadership roles are his positions as senior scholar at the Mercatus Center, Senior Fellow at Mercatus' F.A. Hayek Program for Advanced Study in Philosophy, Politics and Economics, and trustee of GMU's Institute for Humane Studies (IHS), another recipient of huge amounts of Koch funding. In 2009, IHS awarded Zywicki with the Charles G. Koch Outstanding IHS Alum Award. As a student at Dartmouth, Clemson and the University of Virginia from 1986 to 1993, Zywicki "benefited from IHS programs."
Since 1985, the Koch family has lavished GMU with more than $100 million in donations, including $34 million to IHS. In 2015 alone, the Charles Koch Foundation gave the university $18 million.
Not only has Zywicki benefited from the Kochs' academic funding and supported their agenda, he's gone to bat for them directly in the public sphere, defending the Kochs and their donations for outlets including National Review. In one piece, Zywicki admits, "I'm involved in all sorts of way [sic] with the Koch Foundation and many organizations that it supports. I count as friends many people at the Koch Foundation and even some at Koch Industries." Despite the anti-regulatory output of Koch-sponsored academia, Zywicki writes that the idea that the Koch's "philanthropy in support of free market institutions is motivated by their crude self-interest is simply — to put it bluntly — asinine."
One of the first Koch-backed on-campus think tanks, the Mercatus Center, was originally founded under a different name by Richard Fink at Rutgers. He moved the center to GMU in 1980, and it became the Mercatus Center in 1999. Charles Koch is a current board member. Fink became one of the Kochs' closest allies, heading various aspects of Koch Industries and sitting on the boards of several Koch family foundations, a political nonprofit, Mercatus and IHS.
In 2014, a Charles Koch Foundation official called Mercatus "critical" for advancing policy priorities. Another official said that Mercatus is "the 'largest collection' of 'free-market faculty' at any university in the world."
Mercatus scholars have often influenced federal policy. The Mercatus Center has shown up more than 100 times in the congressional record and committee reports. Zywicki has a long list of congressional testimonies on issues including consumer protection, bankruptcy and commercial real estate lending. As Lee Fang wrote for The Nation, Zywicki was also a member of a consulting firm that has clients including Visa and Bank of America. A debt-relief company accused by the CFPB of deceiving consumers and charging illegal fees hired his firm at $500-per-hour, but Zywicki failed to disclose this or other conflicts of interest during his testimonies or in his articles critical of the bureau.
In 2015, former congressman Tom Price (R-GA), who recently resigned as head of Health and Human Services because of expensive private jet travel on the taxpayer dime, sponsored legislation that cited Mercatus research. Rep. Mike Enzi (R-WY), cited the same research in another bill. The two congressmen, both of whom collected campaign donations from the Koch Industries PAC, teamed up to oust the director of the Congressional Budget Office, replacing him with Keith Hall, a senior research fellow at Mercatus.
Treasury: Let The Market Regulate Itself
The Treasury report refers to Zywicki's CFPB critique, co-authored with University of Virginia law professor Jason Scott Johnston, when alleging that the bureau did not adequately consider the consumer benefits of "market-based provider responses to consumer complaints." Citing the Mercatus publication, the Treasury implies that the free market will sort out consumer disputes on its own.
"Scholars and commenters have suggested that aggrieved consumers would be more likely to change providers than to call a lawyer over a small-dollar dispute — and that financial institutions respond in kind by waiving various fees upon complaint instead of losing business or defending in arbitration."
The case of Koch-backed research influencing the Treasury Department demonstrates the extent to which an extremely wealthy, politically active family can help shape federal policy that affects hundreds of millions of Americans. Despite the Kochs' refusal to directly support Donald Trump's presidential campaign, decades of funding conservative economists and law professors, think tanks and political groups has paid off in a White House stocked with Koch-linked officials and a corporate-friendly administration.
© Copyright IBTimes 2023. All rights reserved.
FOLLOW MORE IBT NEWS ON THE BELOW CHANNELS