Pompeo Says US Shifting Troops To Counter China As India Border Standoff Continues
KEY POINTS
Mike Pompeo said the U.S. reduced its troop presence in Europe to shift them to counter China.
"We are going to make sure we are postured appropriately to counter the PLA (People's Liberation Army)," Pompeo said
He stressed on the threats China posed to India and several other Asian countries
Speaking about the Chinese threat to India and Southeast Asia, the United States Secretary of State, Mike Pompeo, on Thursday (June 25) said the U.S. reduced its troop presence in Europe to shift them to counter China.
"We are going to make sure we are postured appropriately to counter the PLA (People's Liberation Army). We think that is the challenge of our time and we are going to make sure we have resources in place to do that," Pompeo said while speaking at the Brussels Forum virtual conference. He explained the ability to counter Russian or other European adversaries was no longer measured "by having a bunch of folks garrisoned someplace."
He went on to stress on the threats China posed to India and several other Asian countries, and noted that two years ago, the Trump administration did a strategic reassessment of global threats and how to better allocate available intelligence, military, and cyber assets.
Some of those assets will be directed toward China's actions in the South China Sea and Taiwan, but another hotspot has been developing along India's northern border.
High-resolution satellite images appeared Wednesday and Thursday on social media that showed the following:
A strengthening of Chinese positions along the shores of Pangong Tso in Ladakh, an area claimed by India
Substantial Chinese construction inside other areas claimed by India in the mountain folds along the banks of a lake
Another image seems to show Indian and Chinese troop positions in the Hot Springs area. This is one of the key areas where tensions spilled over
Satellite images on Wednesday showed the Chinese had rebuilt a structure in Galwan. Its demolition by Indian troops may have sparked the violent June 15 face-off
Other images not authenticated by the Indian army or defense ministry showed no reduction or pull-back of troops by either side along the Line of Actual Control (LAC) in Ladakh
New Delhi on Thursday acknowledged the buildup of Chinese troops and said it violated an agreement signed by both countries in 1993.
Pompeo is not excluding Europe from any discussions on China. Earlier, he announced the formation of a U.S.-European dialogue on China to gain a "common understanding" between the U.S. and the Atlantic alliance of the threat posed by China. Pompeo suggested "a collective data set" was needed so the two could move in unison against any Chinese move.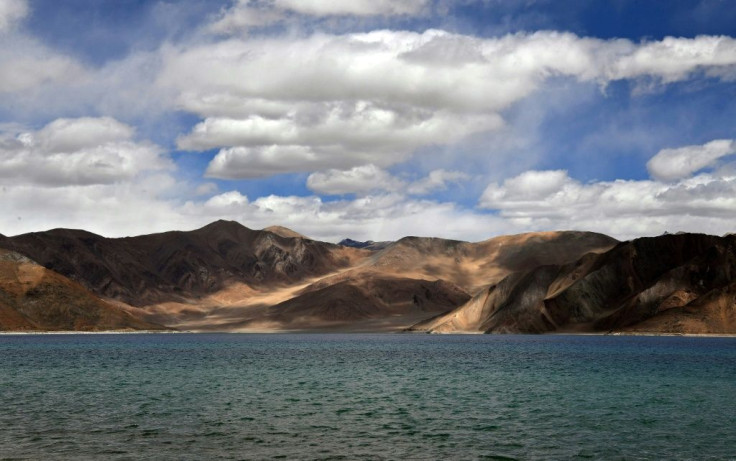 © Copyright IBTimes 2023. All rights reserved.