Pope Francis In Africa: Catholic Leader Visits Ugandan Shrine To Honor Martyrs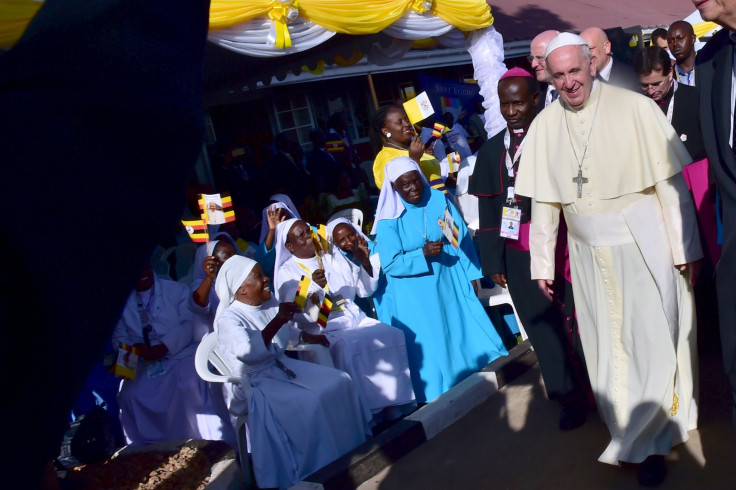 Pope Francis Saturday honored Ugandan Christian martyrs, saying they were "fearless" in spreading Christianity. The pontiff, on the second leg of his African tour, attracted more than 100,000 people, many of whom waited before the sun rose to attend Mass at a shrine to 45 martyrs in Namugongo, just outside the capital of Kampala, Agence France-Presse reported.
"Today, we recall with gratitude the sacrifice of the Uganda martyrs," Francis said at the shrine, AFP reported.
In 1886, 26 of the 45 martyrs were burned alive at the location of the shrine. The martyrs, all of them either Catholic or Protestant, were executed between 1885 and 1887 by King Mwanga of Buganda.
Many of the martyrs were young royal pages. As the influence of European Christian missionaries grew in the area, Mwanga ordered the martyrs killed as he tried to assert his authority, the Associated Press reported.
One of the reasons for these murders concerned a controversial topic in Ugandan politics. After the martyrs converted to Christianity, which forbids homosexuality, they began rebuffing the purported sexual advances of Mwanga, and he had them killed when they refused to renounce their faith.
"They were fearless in bringing Christ to others, even at the cost of their lives," Pope Francis said.
Anti-gay sentiment in Uganda is strong, and in 2013 some leaders in the country tried to push for extremely tough penalties for engaging in gay sex, such as life in prison or capital punishment, Reuters reported. Gay rights activists had hoped the Pope would say something about tolerance of homosexuality.
While in Uganda, Pope Francis is set to touch on corruption and poverty, as well as trying to give hope to younger Christians. Some of these same themes he focused on while on the first leg of his trip in Kenya.
The next stage of Pope Francis' trip will take him to the Central African Republic, which he is expected to travel to Sunday, CNN reported. The country has seen serious violence between Christians and Muslims, and Pope Francis plans to visit to a mosque there to send a message of religious unity.
© Copyright IBTimes 2023. All rights reserved.