Pope Francis Homeless Dinner: After Congress Speech, Pontiff Will Not Break Bread With US Politicos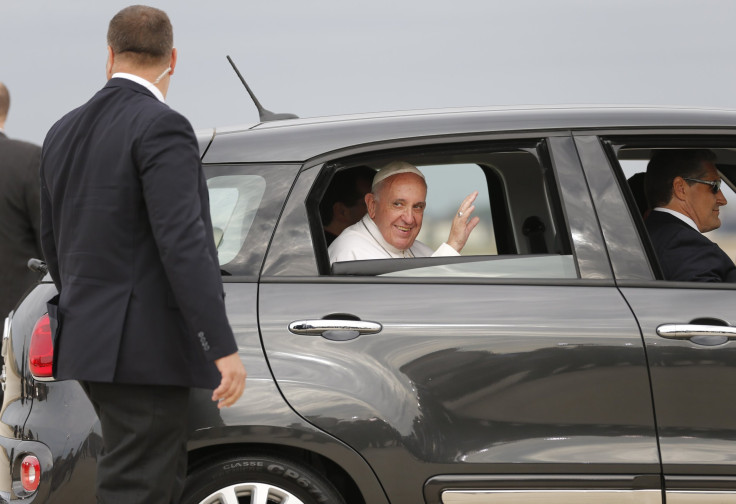 U.S. lawmakers hoping to bend Pope Francis' ear over a steak lunch after he delivers a speech on Capitol Hill Thursday will undoubtedly feel some disappointment. Following his upcoming historic address to Congress, Francis is expected to skip power lunches with Washington politicians and dine with the homeless, according to several media reports.
The pope is scheduled to visit the Washington headquarters of Catholic Charities, an organization that serves the poor and homeless across the D.C. metropolitan area. Francis has famously embraced homeless and underserved populations in words and deeds, both at the Vatican and on other official papal trips.
Monsignor John Enzler, CEO of Catholic Charities of the Archdiocese of Washington, told USA Today that it's only natural for Francis to want to practice what he preaches. "The church is where you go on Sunday," Enzler said, adding that the pope wants people to experience their faith.
The pope's Catholic Charities visit will fall on the third day of the Washington leg of his first-ever U.S. trip, after he holds mass at St. Patrick Catholic Church next door, according to USA Today. Thursday morning's speech to a joint session of Congress could include several messages on intensely debated issues: income inequality, climate change, abortion, the definition of marriage, religious freedom and immigration reform.
But the pope's devotion to the poor is a well-documented part of his advocacy on social and economic justice. In May, Francis welcomed 150 homeless individuals into the Sistine Chapel from St. Peter's Square, for a guided tour, dinner and prayers, according to media reports.
Homelessness has emerged as key topic for U.S. social justice activists in recent years. Access to shelters and low-income housing has decreased nationwide since 2011, as more and more cities pass ordinances that some have said criminalizes homelessness. The policies include bans on camping in public, which have increased by 60 percent, and laws against feeding the homeless in public, which were enacted in 33 U.S. cities in 2014, Al Jazeera America reported.
Papal Favorability Among Catholics in the U.S. | PrettyFamous
© Copyright IBTimes 2022. All rights reserved.
FOLLOW MORE IBT NEWS ON THE BELOW CHANNELS