Pope Francis To Native People: Sorry How The Church Treated You During Conquest Of The Americas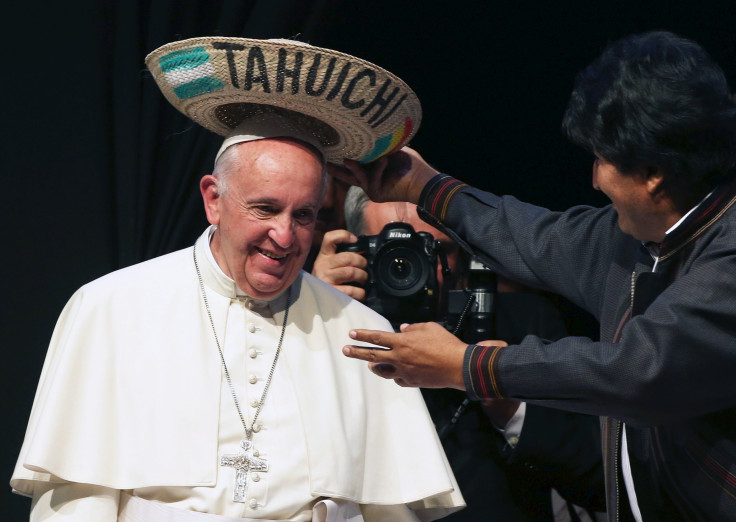 Speaking to hundreds of South American activists in Santa Cruz, Bolivia, Pope Francis apologized Thursday for the "offenses" committed by the Catholic Church against indigenous people during the conquest of the Americas. While it's not the first time the head of the Catholic Church has expressed contrition for the treatment of indigenous people by members of the religion, it's the first time a pope has directly addressed the atrocities committed during the European colonization of the New World.
Speaking to about 1,500 indigenous South American and poverty activists, Pope Francis said the church "committed many serious sins against the native peoples during the so-called conquest of America in the name of God . . . the Church should kneel before God and implore forgiveness for the past and present sins of their children."
Pope Francis, the first Latin American pontiff, alluded to Pope Saint John Paul II's general apology in 2000 for the church's past sins and a separate apology that John Paul II issued in 2001 for abuses committed by the church against the native people of Oceana, according to the Associated Press.
Pope Francis was referring mainly to the Spanish conquest of the Americas that began in the late 15th century and was marked by brutal treatment of the native people. In addition to the millions who succumbed to the infectious diseases brought over by European colonizers against which locals had no natural immunities, countless others were subjected to slavery until the practice was banned in the 16th century and they were forced to convert to the Catholic faith. Anyone who rebelled against conversion was labeled a criminal who could be subjected to various forms of punishment, including death.
Pope Francis is on an eight-day tour of Ecuador, Bolivia and Paraguay that ends Sunday. Earlier on Thursday, Bolivian President Evo Morales raised eyebrows when he gave the pope a crucifix carved into a wooden hammer and sickle, an international symbol of Communism.
© Copyright IBTimes 2023. All rights reserved.