Pope Francis In Uganda: Pontiff's Schedule For African Visit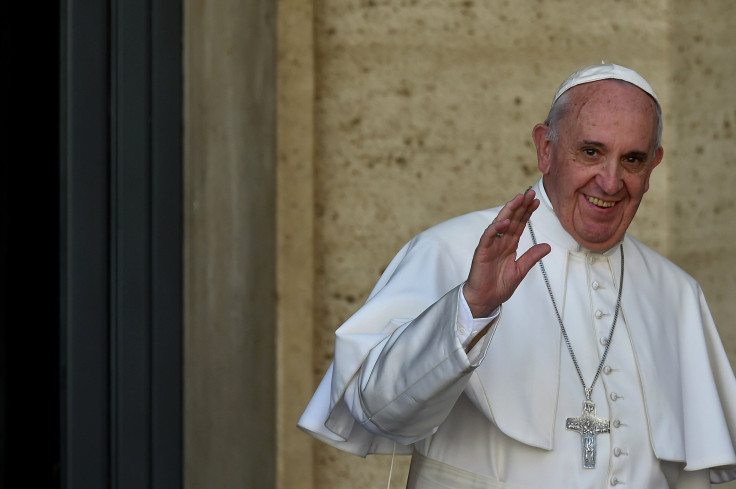 As part of the Holy Father's first trip to Africa in November, Pope Francis will travel to Uganda for a packed two-day visit. The Apostolic Nuncio to Uganda Michael Blume, who released the pontiff's schedule Saturday, said Pope Francis is expected to arrive in the East African nation on Nov. 27 around 5 p.m. local time at Entebbe International Airport, where he will spend about 40 minutes greeting Ugandans, according to local newspaper the Monitor.
About 40 Christians from each of Uganda's 19 Catholic dioceses, 80 members of the committee organizing the special visit and 200 other guests, comprising journalists, government officials and Entebbe residents, will welcome Pope Francis upon his arrival at the airport. Around 1,000 people in total are expected to receive the Holy Father, Blume told the Monitor.
Pope Francis, who will have flown in from Kenya, will then meet with Ugandan President Yoweri Museveni for about 30 minutes at the nearby Entebbe State House. After, he will drive to the capital city of Kampala while making anticipated stops to greet, bless and wave to Ugandans along the way.
While in Kampala that evening, the Argentine pontiff will meet separately with foreign diplomats and then will be received at Munyonyo Martyrs Shrine around 7:15 p.m. local time by a congregation of about 570 catechists, 220 teachers and more than 200 couples. The Roman Catholic church is also assembling 100,000 faithful and a 350-person choir. In addition, a 150-strong ecumenical council, 30 bishops and 300 Munyonyo parishioners will travel to the shrine that night to welcome the Holy Father.
The pontiff's second day in Uganda, Nov. 28, will be packed full with events and meetings. He will be at Nakiyanja Protestant Martyrs Shrine in Namugongo, Wakiso district at 8:30 a.m. local time, where he will meet with select clergy and other guests of the Church of for half an hour. He will then head to the nearby Catholic Namugongo Martyrs Shrine, where he will conduct his main outside mass starting at 9:30 a.m. local time. About 70 foreign bishops and 33 Ugandan counterparts, 2,800 Catholic priests, 700 government officials and 20 Ugandan Joint Christian Council members are among those expected to be at the mass. Pending security clearance, the Uganda Episcopal Conference has proposed to open the Namugongo Martyrs Shrine the night before to allow some two million pilgrims to gather ahead of the holy mass, which would free up the roads for the papal convoy the following morning.
Pope Francis will return to the capital city for a meeting at 3:15 p.m. local time with some 10,000 youth from the 19 Catholic dioceses, 15 universities, six major seminaries, various Catholic movements and organizations as well as inter-religious groups. Following the youth meeting, the Holy Father will visit a Catholic church-run charity home in the city suburb of Nalukolongo to meet with up to 600 homeless children and elderly persons, along with HIV-positive people from several private institutions and care homes.
The pontiff will end his last day in Uganda with a meeting at 7 p.m. local time with 2,500 priests, religious men and women and seminarians at Rubaga Cathedral outside Kampala. He will leave for Central African Republic the following morning, according to the Monitor.
© Copyright IBTimes 2023. All rights reserved.
FOLLOW MORE IBT NEWS ON THE BELOW CHANNELS