Pope Francis Vatican Conspiracy Theories: Amid Gay Debate, Pontiff Warns Bishops Against 'The Hermeneutic Of Conspiracy'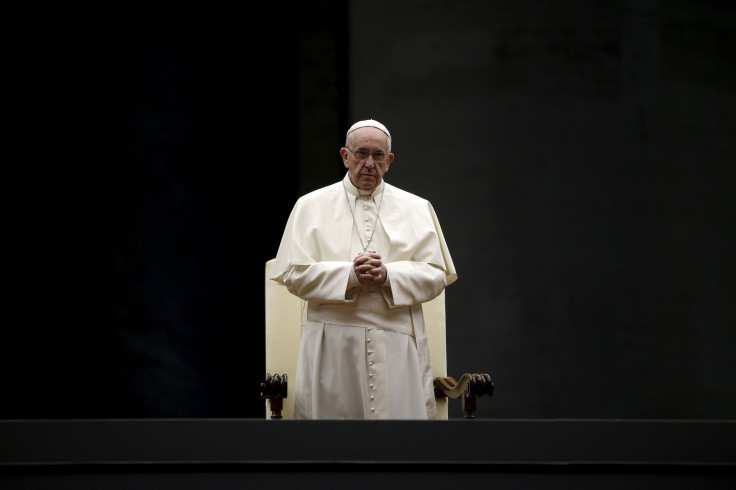 Church leaders should not pay attention to conspiracy theories that could cloud their judgment, Pope Francis warned bishops gathered at the Vatican for a global Church meeting on the family -- also known as a synod -- this week. Vatican spokesman Federico Lombardi said Thursday that the pontiff had warned Catholic bishops and cardinals behind closed doors earlier this week not to get caught up in "the hermeneutic of conspiracy."
The phrase -- referencing a conspiratorial mentality -- comes amid concerns that liberal church leaders are using the three-week synod to embrace policies that are more welcoming to gay and lesbian believers and remarried people who have been divorced. Some conservative leaders reportedly believe the gay debate will not be discussed until the last moment, when church leaders might be too tired to argue.
"There seems to be a mounting tendency on all sides to suspect skullduggery and underhanded tactics," Vatican expert John Allen wrote in Cruxnow ahead of the start of the synod last week. He warned, "the synod may be defined not just by disagreements on substance but also suspicions of Machiavellian maneuvers along the way."
Almost 300 Church leaders - and some lay people - are meeting during the synod this week. They were slated to discuss the treatment of Catholics who are gay, couples who live together without being married and taking communion after being divorced.
The Vatican has confronted LGBT issues in recent weeks. A Vatican priest in charge of guarding Roman Catholic doctrine announced Saturday he was in a gay relationship. Polish-born Krzysztof Charamsa said he wanted to challenge the Church's "backward" views. He was later dismissed from his post, the BBC reported.
Pope Francis has called for a more understanding inclusive attitude on sexual issues. "If a person is gay and seeks God and has good will, who am I to judge?" he has said.
© Copyright IBTimes 2023. All rights reserved.
FOLLOW MORE IBT NEWS ON THE BELOW CHANNELS