Pope Speaks Up For Elderly As Europe Inexorably Ages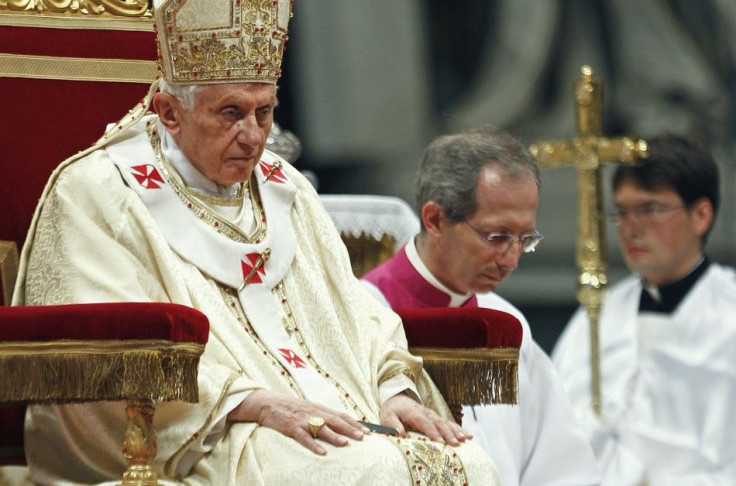 Pope Benedict XVI spoke out on behalf of the world's elderly while visiting an old folks home in Rome.
The pope, who is 85 years old himself, said "it's wonderful being old" while meeting with residents of the Sant'Egidio Community on Monday, according to the Catholic News Service.
He also called for governments around the world to take better care of the aged.
"Though I know the difficulties that come with being our age, I want to say, it's wonderful being old," the pope said.
"At our age, we often have the experience of needing other's help, and this happens to the pope as well. I think we need a greater commitment, beginning with families and public institutions, to ensure the elderly can stay in their homes... The quality of a society or civilization can be judged by how it treats the elderly."
The pope's comments may remind the public that the health care needs of the elderly will become of paramount importance in the decades to come – as birth rates fall in the advanced countries, the percentage of the population who are elderly will skyrocket, particularly in countries like Italy and Spain.
By 2030, nearly 25 percent of the population in some European nations will be above the age of 65, according to demographic projections.
According to HomeInstead.com, more than one-fifth of Italy's residents are already 65 or older – this figure is expected to rise to one-third of the population by the year 2050.
"One who makes room for the elderly, makes room for life," the pope said. "One who welcomes the elderly, welcomes life."
The Pope lamented modern society's often callous and even cruel disregard for the elderly.
"Often society, driven by the logic of efficiency and profit, does not embrace elderly people as a gift to appreciate and value, but rejects them, considering them useless and unproductive," the pontiff said.
One resident of the Rome facility, 91-year-old Enrichetta Vitali, told the Holy Father: "I don't eat so much anymore, but prayer is my nourishment. [I] pray that I don't lose my memory so I can keep remembering people in my prayers."
The European economic crisis has worsened the problens of elderly people.
Marco Impagliazzo, the president of the Saint Egidio Community, told the Daily Telegraph that the number of old people who were "sad, forgotten, lonely and impoverished" is rising in the "streets of Rome and in many European cities."
© Copyright IBTimes 2023. All rights reserved.