Populist Premier Danielle Smith Overcomes Gaffes To Win Close-fought Alberta Election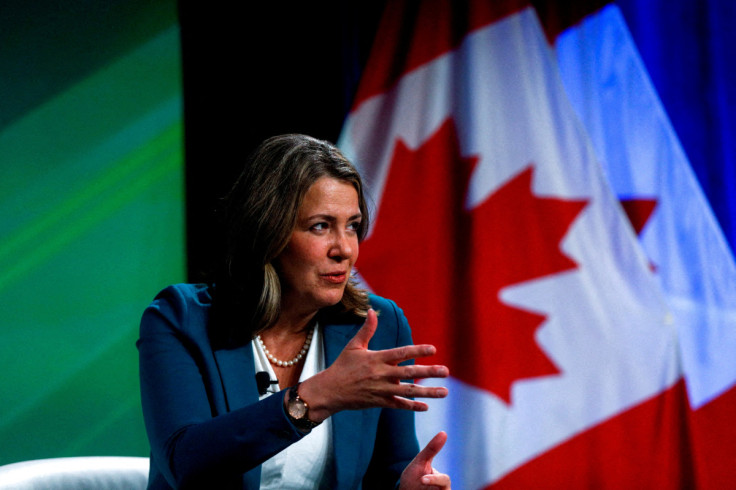 United Conservative Party (UCP) leader Danielle Smith's election victory in Canada's main oil-producing province Alberta on Monday is likely to herald further friction with Liberal Prime Minister Justin Trudeau, particularly over climate change.
The populist premier's win signals a further rightward shift in the traditionally conservative province, and comes despite a series of controversies and gaffes from Smith, 52, since she first became premier in October.
CBC News projected that the UCP will hold on to power in Alberta, but Smith will be going back to the legislature with a diminished caucus.
The victory also caps a remarkable personal comeback for Smith, who spent more than six years in the political wilderness after failing to secure a nomination to run as a UCP candidate in the 2015 election.
Her victory is expected to lead to more tension between Alberta and the federal Liberal government, which aims to cut climate-warming carbon emissions 40-45% by 2030. That would require significant emissions reductions in Alberta, Canada's highest-polluting province and home to country's oil and gas industry.
The UCP's controversial proposals to replace the federal Royal Canadian Mounted Police with an Alberta force and withdraw from the Canada Pension Plan are other policies that will test ties between the province and the federal government.
Hailing from Calgary, Smith started her career in media before becoming leader of the right-wing Wildrose Party in 2009.
In 2014 she crossed the floor to join the Progressive Conservatives, a move that backfired when she failed to win the conservative nomination to run in the provincial election a year later. Alberta conservatives suffered a rare defeat in 2015, bringing the New Democratic Party's Rachel Notley into power.
Smith spent the next six years as a talk show radio host, at times garnering criticism for her outspoken views opposing COVID-19 vaccine mandates, but also finding an audience among Albertans dismayed by pandemic-era public health restrictions.
In early 2022 she announced plans to run for leadership of the United Conservative Party, which was born in 2017 from a merger of the Progressives Conservatives and Wildrose Party. She successfully tapped into growing grass-roots rural populism to win the leadership contest and become premier in October.
In her seven months as premier, Smith has issued a number of apologies, including one for calling unvaccinated people "the most discriminated-against group that I've ever witnessed in my lifetime", and comparing vaccinated Albertans to Nazis in Hitler's Germany.
She was also rebuked by Alberta's ethics commissioner for breaching conflict of interest laws this month.
Her UCP leadership campaign promised she would stand up to the federal government and proposed a controversial Alberta Sovereignty Act, which was watered down before becoming law on the grounds it was unconstitutional.
Some business leaders have criticised her effort to bring more autonomy to Alberta, saying it could hurt investment in the province just as the energy industry needs financing to transition to a greener future.
Smith fiercely opposes a number of Liberal climate policies including a net-zero electricity grid by 2035. Oil industry participants are broadly supportive of the UCP, but also say they would like to see more collaboration with other levels of government.
Smith lives in the town of High River in southern Alberta, where she owns The Dining Car restaurant with her husband David Moretta.
© Copyright Thomson Reuters 2023. All rights reserved.