Poroshenko Orders Arrest Of Kolomoisky-Linked Militia Troops For Seizing State-Owned Oil Firm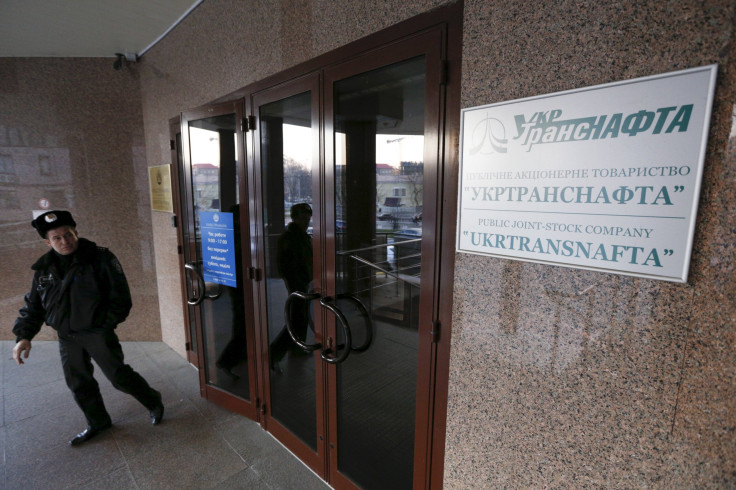 A provincial leader in Ukraine has reportedly taken control of a major energy firm and barricaded himself inside along with an armed militia, prompting President Petro Poroshenko to warn that no officials would be allowed to keep a "pocket army" and order their arrest, local media reported. Ukrainian security forces have issued a one-day ultimatum demanding that the private militia lay down their arms, RT reported.
The crisis reportedly began when the Ukrainian parliament, which owns just over 50 percent of oil producer UkrNafta, moved to take full control of the company from Dnipropetrovsk region Governor Igor Kolomoisky -- one of Ukraine's richest men with a 42 percent stock in UkrNafta -- who effectively controlled the company. Kolomoisky, who reportedly enjoys considerable political clout in Poroshenko's administration, had also financed private militias to counter pro-Russian separatism in the east.
Late Thursday night, masked gunmen entered UkrTransNafta, a subsidiary responsible for pipeline operations, reportedly in support of the company's former CEO, an ally of Kolomoisky. Kolomoisky himself was seen emerging from the building shortly after, and claimed that his men had stopped an attempt by "Russian saboteurs" to take control of the building, in an invective-laden appearance where he asked a Radio Liberty journalist: "Why are you sitting here like a wench waiting for her unfaithful husband? Have you shut up already?"
Photos and footage on Monday appeared to show men erecting a fence around the building of parent company UkrNafta, barricading themselves in. A UkrNafta spokesman, however, told reporters that there was no emergency situation and that the gunmen, who he referred to as being affiliated to a "security contractor," were temporarily guarding the building until the fence could be put up, RT reported.
The men reportedly claimed to be part of Dnipro-1, a private militia that Kolomoisky helped set up, but Interior Minister Arsen Avakov, who oversees the battalion, refuted this on Facebook, according to the Kyiv Post. The group, also known as the Dnipro Battalion, reportedly has 2,000 standing fighters and 20,000 in reserve.
Kolomoisky also reportedly denied that the armed and camouflaged men holding the compound are loyal to him, claiming that they belonged to a private security company that UkrNafta management summoned, and alleged that Poroshenko was politically attacking him.
Poroshenko condemned the move late Monday, ordering that the occupiers be arrested, stating: "We will not have any governor with their own pocket army," RT reported, adding that two battalions of Ukraine's elite national guard have also been dispatched to the tense standoff.
The head of Ukraine's security service, Valentin Nalivaichenko, confirmed that Dnipropetrovsk regional officials were linked to groups involved in organized criminal activity, including fighting with security forces, abducting individuals, and intimidating anti-corruption investigators. Nalivaichenko also told reporters on Monday that his agency would be helping police to arrest the men.
"We confirm that the police and journalists have noticed illegal actions by people with weapons...We have a strict order from the president that every person in UkrNafta be disarmed," he said, the New York Times reported.
It is estimated that there are about 30 such private militias that are allied to the Kiev government but are not loyal to it. They have been accused of major human rights violations, including abduction, torture and summary executions.
© Copyright IBTimes 2022. All rights reserved.
FOLLOW MORE IBT NEWS ON THE BELOW CHANNELS