Poroshenko Says Ukraine Near 'Point Of No Return'; Putin Warns Don't 'Mess With Us'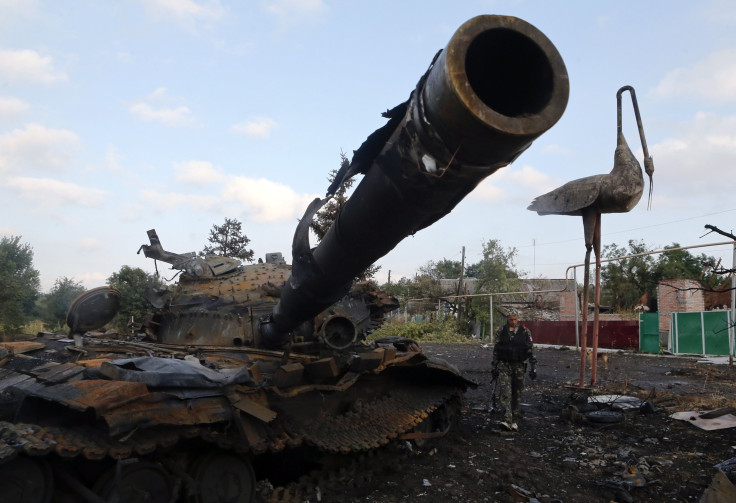 UPDATE 10:45 p.m. EDT: U.S. National Security Council spokeswoman Caitlin Hayden praised the European Council's plan, saying it shows "strong support for Ukraine's sovereignty and territorial integrity."
UPDATE, 8:30 p.m. EDT: BRUSSELS (Reuters) - European Union officials will draw up proposals for new sanctions on Russia over its action in Ukraine within a week, European Council President Herman Van Rompuy said on Sunday. EU leaders decided at a Brussels summit to ask the EU's executive Commission and its diplomatic service to "urgently undertake preparatory work" on new sanctions and to present proposals for consideration by EU governments within a week, Van Rompuy told a news conference.
German Chancellor Angela Merkel told reporters that the EU would impose new sanctions if there was no change in the situation in Ukraine or if the situation worsened.
Original post
Ukrainian President Petro Poroshenko told the European Union's foreign ministers Saturday Ukraine is "very close to the point of no return," and a "full-scale war" with Russia, days after his Russian counterpart Vladimir Putin warned the international community "it's best not to mess with us." Poroshenko's comments came just days after NATO released satellite images purportedly showing Russian troops in eastern Ukraine and the U.N. Security Council's near unanimous condemnation of Russian action.
"The point of no return is full-scale war, which already happened in territory controlled by separatists and regular Russian troops," Poroshenko said. "Any offensive action [undertaken by Russia] would be the point of no return. That's why we undertake the enormous efforts to stop that and bring the discussion in a diplomatic format. ... I cross my finger and hope that [the discussions will end] with a cease-fire."
European Commission President Jose Manuel Barroso echoed Poroshenko's comments and Lithuanian President Dalia Grybauskaite told reporters Russia is "practically at war with Europe," through its actions in Ukraine, adding, "We need to militarily support and send military materials to Ukraine." She called for a full economic embargo on Russia, which has blocked all beef, pork, fruit, vegetables, poultry, fish and dairy products from the United States and European Union. Russia's Industry and Trade Ministry contends price spikes will not be necessary as a result of the ban. The EU exported nearly $16 billion in now banned products to Russia in 2013 while the U.S. exported $1.3 billion.
Putin followed his "best not to mess with us" comment by reminding the world that "Russia is one of the leading nuclear powers," and compared the Ukrainian army's campaign against pro-Russian separatists to the "German fascists" attacking Russian cities in World World II. Putin said Russia isn't interested in large-scale conflicts and denied his country is supporting separatists in eastern Ukraine.
© Copyright IBTimes 2023. All rights reserved.