Poroshenko At World Economic Forum: Russia Promotes Violence So World Gets 'Ukraine Fatigue'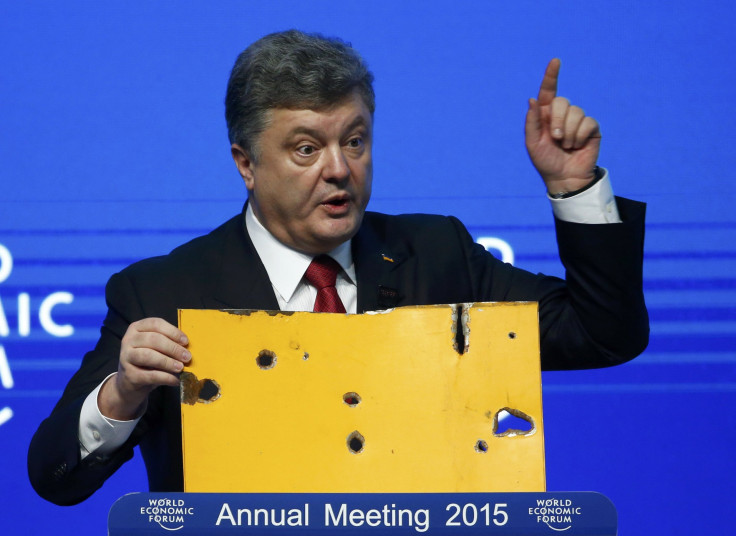 Ukrainian President Petro Poroshenko passionately criticized Russia Wednesday at the "Future of Ukraine" event at the World Economic Forum in Davos, Switzerland. He demanded Russia's military stop supplying pro-Russian rebels and pull entirely out of Ukraine per the Minsk agreement to end the escalating violence in the east of the country. At one point, Poroshenko held up a shrapnel-pocked piece of a bus the Ukrainian government claims was hit by a rebel-fired rocket last week, which killed 13 civilians and wounded 16. He likened the attack to the terror attacks in Paris earlier this month perpetrated by Islamist extremists.
"I have here a part of the bus with the fragments of Russian missiles that hit my people," he said, holding up the bus panel. "This is a symbol of the terroristic attack on my country, like the terroristic attack by a Russian missile operated by a Russian officer that took down MH17."
Rebel leaders have denied any involvement in the bus attack, and Russian media claimed the blast was caused by a Ukrainian fragmentation mine. Poroshenko claimed that the Ukrainian military complied entirely with the Minsk agreement, a set of accords signed between himself, rebel leaders and Russian President Vladimir Putin in September and overseen by European mediators. A ceasefire was part of the agreement, but it barely held through the end of 2014, and by mid-January has all but completely fell apart. Around 5,000 people have been killed in the fighting, more than a quarter of whom have been killed since the ceasefire started.
"We have nothing to negotiate, everything is already fixed and signed," Poroshenko answered when asked if he was still openly negotiating with Russian leaders. "It's very simple: Stop supplying weapons, stop supplying ammunition, withdraw troops and close the border. If you want to discuss something different, you are not for peace, you are for war."
His whole speech is below:
Poroshenko accused Russia of extending violence so that the world gets "Ukrainian fatigue" and said earlier in a Wall Street Journal interview that he did not trust Putin, but the two still communicate about twice a month. Putin and his government deny Ukrainian and Western accusations that the Russian military is directly intervening on behalf of pro-Russian separatists in eastern Ukraine.
Poroshenko attended last year's WEF as a member of the Ukrainian parliament. He was elected president in May after former pro-Russian President Viktor Yanukovich was ousted in a popular protest movement in Kiev and fled to Russia. Poroshenko immediately began moving Ukraine toward Europe with an EU association agreement and a partnership with NATO, which led to the confrontation with Russia and pro-Russian rebels.
Poroshenko was expected to leave the WEF early on Wednesday to return to his country after his military reported that its troops were battling directly with Russian troops in the east of Ukraine, according to his spokesman. Fighting has escalated this month, particularly around the now almost completely destroyed airport in Donetsk, a rebel stronghold.
Drone footage shot at the airport shows the massive devastation caused by months of fighting:
Russian, Ukrainian, French and German foreign ministers met in Berlin on Wednesday afternoon to discuss a solution to the escalating crisis, but German Chancellor Angela Merkel said she wasn't sure anything would come of the meeting.
"We don't want another meeting of presidents that yields no results," she said, according to Reuters. "Therefore I hope that today maybe some structure can be set up. But I'm not sure, I don't want to get hopes up too much. It's clear that the ceasefire is getting more and more fragile."
The structures she alluded to is a hopeful meeting between Poroshenko and Putin. A meeting was proposed for Jan. 15, but canceled after both Merkel and French President Francois Hollande said they refused to attend a meeting that would not end with a lasting agreement.
Poroshenko said on Wednesday he would hold democratic elections in now rebel-held territories once peace was achieved.
Apart from solving the immediate violent crisis, Poroshenko said his goal was to cut corruption and streamline government bureaucracy to attract much-needed European investors to Ukraine in coming years. He said he already secured $1 billion in investments at the WEF, but did not specify what firms committed investments.
His government is working to ensure that "Russia loses Ukraine as a natural gas customer" and that Ukraine becomes energy independent by diversifying its energy sources between suppliers in Norway and around the EU. He asked for economic and military solidarity from European companies and governments.
Part of the "financial cushion" Ukraine will need in coming years will come from the International Monetary Fund, Poroshenko said.
He said that one year ago only one person in the Ukrainian government spoke English, but now only one doesn't, which he said is proof his country is ready to change.
© Copyright IBTimes 2023. All rights reserved.