PPE Vending Machines Help Public Transportation Riders Mask Up And Sanitize
Vending machines typically have soda and snacks, and maybe a few amenities like lip balm or ibuprofen if it's fancy. Now, however, PPE vending machines are popping up.
NJ Transit, the largest statewide public transportation system, is the latest to add PPE vending machines. The department announced a new pilot program for machines where riders can buy Personal Protective Equipment (PPE) at Newark Penn Station and Hoboken Terminal. Options include face masks, hand sanitizer, sanitizer wipes and disposable gloves.
READ: Marijuana Vending Machines Dispense Flowers, Edibles And More
As offices reopen and more workers start commuting again, transit authorities are trying to ensure that riders follow guidelines for masks. In the state of New Jersey, both riders and staffers are required to mask up in the stations and on public transportation. Face coverings are also required on platforms and bus stops.
Prices vary with the cheapest option being a single 3-ply disposable mask for just $1. There will also be 10-packs of KN95 masks for $25 each, and reusable fashion masks at other price points. Prices were not listed for sanitizer, wipes or gloves.
NJ Transit will add PPE vending machines to Summit Station, Secaucus Junction, Metropark, Trenton Transit Center and New Brunswick Station.
It isn't just New Jersey though. PPE Vending Machines are popping up all over the world. Airports seemed to be early adopters of the new machines. McCarran International Airport in Las Vegas, San Diego Airport, Istanbul Airport, Canada's Edmonton Airport are all carrying PPE machines.
Train stations seem to be next up. Ireland, Germany and England train stations have had the machines installed.
New York City has been adding them to New York Penn Station and several busy subway stations, including 34th St-Herald Square, 42nd St-Times Square and Atlantic Ave-Barclays Center.
As college campuses reopen, they're making sure students have options. Virginia Commonwealth University and the University of Missouri-Kansas City have also added PPE vending machines.
"It makes me feel safer. I'm not sure if it's enough but at this point, I don't really know what else you can do," VCU freshman Mary Dorra told RVA Hub.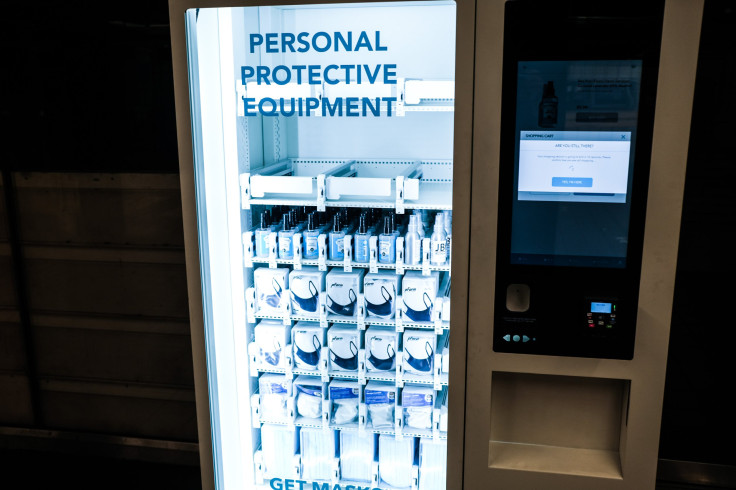 © Copyright IBTimes 2023. All rights reserved.