Trump Asks Reuters Reporter To Take Off Face Mask During White House Briefing
KEY POINTS
White House correspondent Jeff Mason asked about The Atlantic's article on Trump when the exchange took place
Trump openly thanked two other correspondents who took their masks off before asking questions
Masks have been a point of contention with Trump since the coronavirus pandemic hit the U.S.
President Trump found himself in an awkward back-and-forth with a reporter during a Labor Day press briefing over the reporter wearing a mask.
The reporter was Reuters' White House correspondent Jeff Mason, who asked Trump about The Atlantic article alleging he made disparaging comments about U.S. soldiers who died during World War I. Trump asked Mason to remove his mask, saying he was "muffled" and couldn't understand the question, leading to the awkward moment.
"Thank you, Mr. President. The issue of what happened when you were in France continues to be," Mason said.
"You're going to have to take that off," Trump said, cutting Mason off. "Just – you can take it off. You're – how many feet are you away?"
"I'll speak a lot louder," Mason said.
"Well, if you don't take it off, you're very muffled," Trump responded. "So if you would take it off, it would be a lot easier."
"I'll just speak a lot louder," Mason said. "Is that better?"
"It's better," Trump said. "Yeah. It's better."
While Trump regularly finds himself at odds with member of the press, it is the first time he appeared to take issue with one wearing a mask during a White House press briefing. This seemed to be reinforced when Trump openly thanked two other correspondents who took their masks off before asking their questions.
"You sound so clear, as opposed to everybody else, where they refuse," Trump said to one correspondent.
It isn't the first time Trump found himself the target of criticism over masks during the coronavirus pandemic. He is regularly seen without one, whether it's in the White House, campaigning ahead of the 2020 election, or visiting other states to meet with their respective officials. One of the few times he was seen with one was in July after saying he was "all in" for masks after months of criticism for his apparent refusal to wear one.
Trump's stance also bled over to many supporters who were seen at various events and rallies without masks.
Perhaps the most notable was the Sturgis motorcycle rally in South Dakota, where thousands of motorcycle enthusiasts packed the town and were regularly seen without masks. However, seven states were subsequently hit by coronavirus surges that health officials traced back to the rally.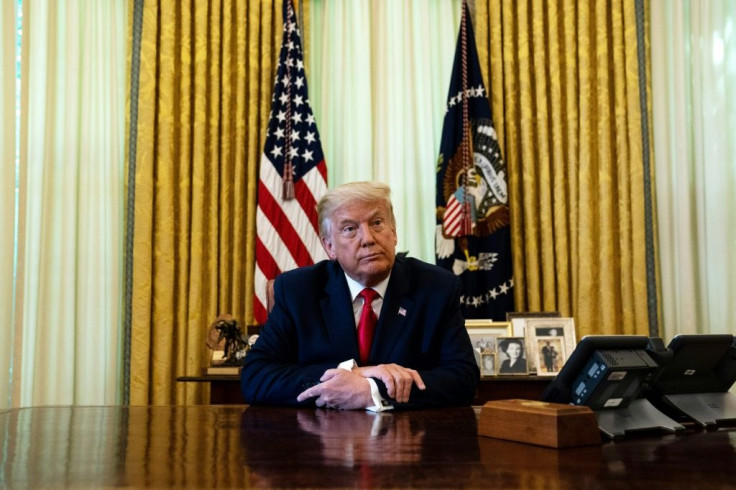 © Copyright IBTimes 2023. All rights reserved.
FOLLOW MORE IBT NEWS ON THE BELOW CHANNELS