Premature Births Soar: U.S. On Par With Third-World Countries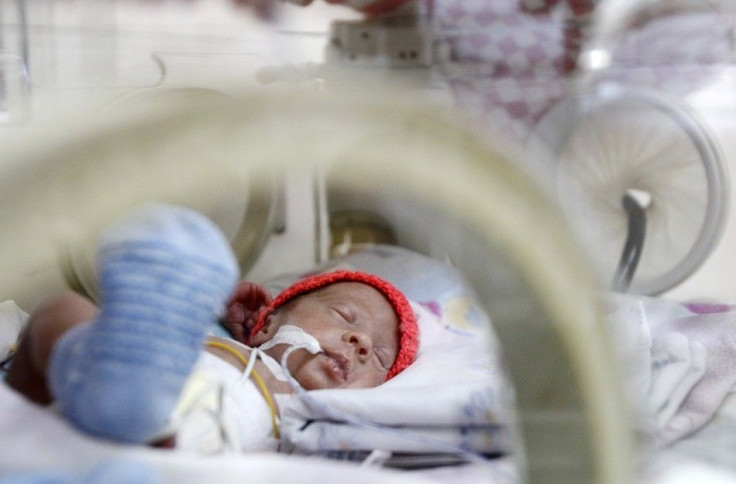 The number of premature births has skyrocketed, according to a new report published by the World Health Organization on Wednesday. Between 1995 and 2010 the number of premature births doubled from 3 percent of all births worldwide to 6 percent -- an increase that requires swift and urgent action to stop, the report said.
Over one in 10 babies -- 15 million -- were born premature in 2010, according to the report. Approximately one million of those died shortly after birth, making premature birth the number one cause of infant deaths worldwide. Millions of other preemies are afflicted with physical or mental disabilities resulting from an abbreviated gestation period.
Even being born two weeks early can have devastating consequences. The report considers any baby born before full-term, 39 weeks, to be premature, and found that babies born at 37 weeks have a death rate twice as high as full-term babies.
Being born too soon is an unrecognized killer, Dr. Joy Lawn, policy advisor with Save the Children, a nonprofit child advocacy organization that co-authored the report with the March of Dimes, the World Health Organization and other international health experts, told the Associated Press. And it's unrecognized in the countries where you could have a massive effect in reducing these deaths.
More than half of premature births in the world -- 60 percent -- occurred in sub-Saharan Africa and South Asia in 2010. However, the United States had one of the highest rates as well -- the U.S. ranked 131st out of 184 countries, between Congo and Nigeria.
The premature birth rate in the U.S. peaked in 2006 at 12.8 percent, but has declined since then to 12 percent in 2010. The premature birth rate in the European countries ranged between 6 percent and 9 percent. In 2010
Premature births cost the U.S. over $26 billion annually, according to a 2006 report by the Institute of Medicine.
While the United States' premature birth rate is among the highest in the world, it also has one of the highest survival rates for preemies, , Christopher Howson, head of Global Programs for the March of Dimes, told USA Today.
In the United States, our preemies have among the highest survival rates in the world, he said. Where we fall flat is on the prevention side.
A baby born at 28 weeks has a 90 percent chance of surviving in the United States, although there is a risk of disability, according to the report. A baby born at 28 weeks in Africa has a 90 percent chance of dying.
The United States has one of the world's lowest infant mortality rates, ranking 174th out of 222, according to the CIA World Factbook. Slightly less than 6 newborns per 1,000 births die in the United States, compared to Afghanistan, which ranked number one with almost 122 deaths per 1,000 births.
Though the infant mortality rate in the United States is fairly low, it is still higher than the majority of Europe. The United Kingdom and Greece have an infant mortality rate of less than 5 per 1,000 births. France, Italy and Spain have a rate of less than 4 per 1,000 births.
Japan and Monaco have the two lowest rates of infant mortality at 2.2 and 1.8 per 1,000 respectively.
Risk factors driving up the numbers of premature births include the high number of women under the age of 17 and over the age of 40 having children, according to the report. The rate of premature births in women between the ages of 20 to 35 was 10 percent. Women under age 17 or over age 40 had a rate of 15 percent.
Maternal obesity and smoking coupled with medically unnecessary Cesarean deliveries are also to blame for the preemie rate. Many doctors perform C-sections for convenience of the doctor, midwife or mother, or by an error in due dates, according to the World Health Organization. Babies born a few weeks too soon, even by C-section, are more likely to be re-hospitalized or to have breathing problems or other illnesses.
A 2005 study in the American Journal of Nursing found that C-section births increased to 30 percent of all births in 2005, up from approximately 15 percent in 1996.
Health care providers and hospital administrators are under intense pressure to raise profits and improve efficiency, and because elective cesareans can be more cost-effective than labor and vaginal birth, they may be attractive, the researchers wrote.
Many women also lack health insurance and do not see a doctor early in their pregnancy, according to the report.
We need to do a lot more to prevent preterm births, such as improving health care access for all, bringing down rates of smoking and issues of unnecessary C-sections and inductions, Howson told USA Today.
One of the best ways to reduce the risk of premature birth is to plan your pregnancy and reduce your risk factors before you get pregnant, Dr. Hyagriv Simhan, medical director of obstetrical services at Magee-Womens Hospital of the University of Pittsburgh, told WebMD.
Don't wait until there is a complication to seek care, as then it is too late, he said. Start planning even before conception, and make smart lifestyle choices, such as eating right and quitting smoking.
In poorer countries, there are several low-cost options that could help reduce the premature birth rate. A $1 steroid shot delivered to babies during preterm labor makes immature lungs develop faster. The shot is standard practice in developed countries and could save 400,000 lives every year in poorer ones, according to the report.
In addition, the report recommends teaching mothers kangaroo care -- a practice in which mothers hold their premature babies against their bare skin for warmth, acting as an incubator in an area where they are not available.
To see babies who are 900 grams (about 2 pounds) survive without any technology, it's fantastic, Lawn, who has seen kangaroo care save lives in impoverished countries, told the Associated Press.
© Copyright IBTimes 2023. All rights reserved.
FOLLOW MORE IBT NEWS ON THE BELOW CHANNELS