Premier League Rumors: Chelsea Urged To Rethink Willian Stay, Multiple Teams Making Move
KEY POINTS
Chelsea urged to keep Willian after contract extension runs out
Arsenal dangles lucrative weekly pay to Willian
Manchester United set to hold talks with Willian
Willian Borges da Silva agreed to a short-term deal recently, something that would keep him until the end of the domestic season. While the agreement takes a load of the shoulder of Frank Lampard, it is only temporary. The fact remains that he will need to find a replacement for the Brazilian football player if Willian is allowed to walk away once his new deal lapses.
According to former Blues defender Glen Johnson, Chelsea would be making a big mistake if they do not find ways to reconsider keeping Willian in the fold. Johnson pointed out how Willian would be hard to replace and someone who would cost roughly $25 million in free agency. Several teams are interested in the 31-year-old winger, the same clubs expected to resume talks by the summer. Among the teams interested in Willian include Arsenal, Manchester United and Tottenham.
"Financially, business-wise, trying to replace Willian – how much is that going to cost? You are going to let a top player walk out of the door for nothing. It's going to cost you a good £20m to replace him," Johnson said to TalkSPORT.
Willian and Pedro Rodriguez agreed to extend their contracts, meaning they will play until the end of the season. Of the two, only Pedro is sure of likely not playing beyond that. The reason for this is that the Spanish football player has agreed to a pre-contract with Roma, joining the Serie A club next season.
As for Willian, Lampard still plans to talk to the Brazilian to try and convince him to stay. Willian wants a three-year deal to remain at Stamford Bridge but the Blues were only willing to hand him a two-year pact. It remains to be seen if Chelsea will soften on that stance.
If the Blues have any intention of keeping Willian, they need to act fast. Though he is secured for the rest of the season, interested clubs are starting to make their move. Manchester United has already touched base with the Brazilian and talks are underway.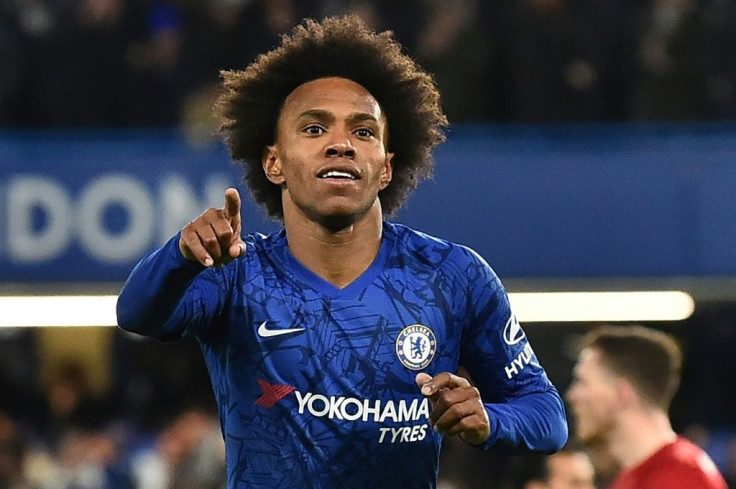 Another team making its move is Arsenal. According to the Daily Mirror, the Gunners have dangled a contract to Willian which would pay him $310,000 a week. However, it should be worth noting that this offer was made before the COVID-19 outbreak.
There is a chance that Arsenal could lower that amount although the length of tenure seems to be more important for Willian right now. If the offer stands, Willian will become the Gunners' second-highest paid player. Mesut Ozil is the highest-paid player right now, receiving $434,000 a week. However, that deal will be expiring in the summer.
© Copyright IBTimes 2023. All rights reserved.