Pressure builds on Hong Kong after anti-budget protests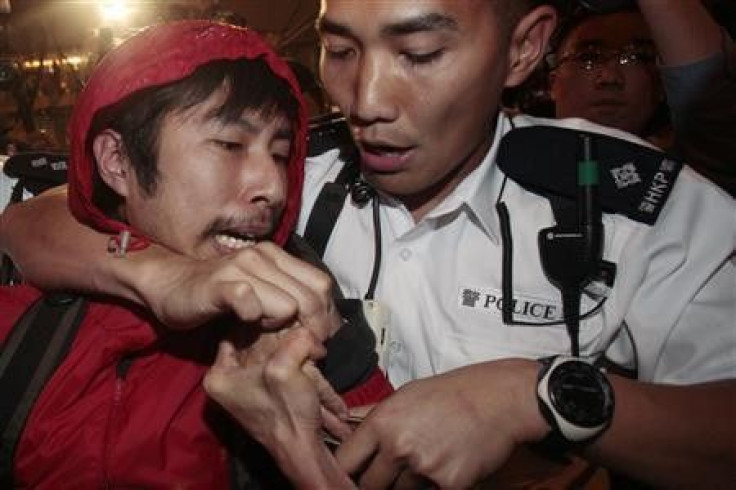 Hong Kong police arrested 113 protesters after an anti-budget demonstration late on Sunday, as the government came under increasing pressure from activists who criticised authorities for not doing enough to help the poor.
The protesters took to the streets despite a revised government plan last week to grant HK$6,000 (£474.44) to each Hong Kong permanent resident, after a wave of public criticism over the government's failure to offer more relief and welfare measures in the budget to help local residents cope with mounting inflation, expected to hit 4.5 percent this year.
Hong Kong announced a bumper surplus of HK$71.3 billion ($9.15 billion) for the 2010/11 financial year.
Police said in a statement issued early on Monday that the protesters were arrested after they blocked roads in the city's downtown financial district and confronted police.
Police said they were forced to use pepper spray on groups of activists after repeated calls for them to disperse peacefully and to maintain public order amid heated scenes and chants for the city's financial secretary to resign.
Among those arrested were two boys aged 12 and 13, while several people were injured in the standoff including an eight-year-old boy who was caught by the pepper spray.
Hong Kong Financial secretary John Tsang said in a briefing on Monday he had not ignored public demands, though he declined to respond to the calls for him to resign.
I believe that this is a good opportunity for us to consolidate our experience on how to make improvements in future, said Tsang, whose popularity ratings have plunged since the February 23 budget.
Many of those arrested were youngsters linked to the radical pro-democracy political party, the League of Social Democrats, whose members include activist lawmaker Leung Kwok-hung.
Organisers of Sunday's anti-budget protest said over 10,000 people took part, but police put the figure at around 6000.
A government spokesman said in a statement Hong Kong authorities would listen to and carefully consider the views expressed by the public with an open mind.
© Copyright Thomson Reuters 2023. All rights reserved.