Pressure Mounts On Pristina As Serbs Rally Again In North Kosovo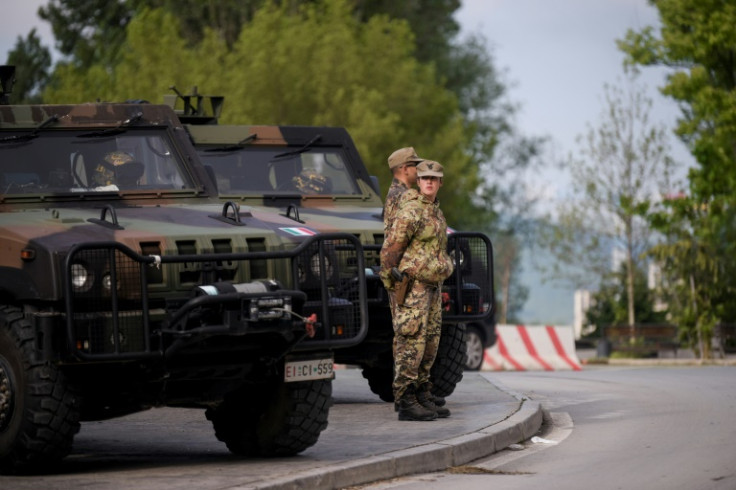 Ethnic Serbs gathered again in a flashpoint town in Kosovo on Thursday at the site of clashes earlier this week with NATO-led soldiers in Kosovo, as international pressure mounts on Pristina to diffuse tensions.
In the northern town of Zvecan, some 70 protesters -- significantly fewer than crowds seen on previous days -- rallied outside the town hall, sealed off with barbed wire and encircled by NATO-led peacekeepers (KFOR) in full riot gear.
A KFOR armoured vehicle was parked near the road leading to the town hall, a move requested on Wednesday by a local Serb party after masked protesters smashed windows on two Kosovo police cars in the town centre, injuring an officer.
On Monday, NATO-led peacekeepers armed with shields and batons clashed with protesters throwing rocks, bottles and Molotov cocktails. Thirty peacekeepers and more than 50 demonstrators were injured.
Several hundred people rallied in the ethnic-Albanian populated southern part of divided city of Mitrovica, but despite announcements of "marching" towards the Serb neighbourhood, the demonstrators dispersed after half an hour.
They carried Albanian flags and chanted "Mitrovica cannot be divided", while police equipped with riot gear blocked the road leading to the bridge that separates the northern and southern parts of the city.
Responding to the call sent through social media, several hundred citizens, mostly young people, gathered on the southern part of the bridge over the river Ibar, which separates Mitrovica.
They carried Albanian flags and chanted "Mitrovica cannot be divided". A strong cordon of police with anti-riot gear blocked their way to the bridge, over which metal fences were placed, making crossing impossible. KFOR soldiers stood on the bridge as a backup for the police. The demo wrapped up within half an hour.
Kosovo's ethnic Serb minority boycotted April local elections in the north, allowing ethnic Albanians to take control of local councils despite a turnout of less than 3.5 percent.
Many Serbs are demanding the withdrawal of Kosovo special police forces, as well as the ethnic Albanian mayors they do not consider their true representatives.
The United States -- Kosovo's historic ally who championed the former province's independence from Serbia -- criticised the government in Pristina for "sharply and unnecessarily escalated tensions" by installing ethnic Albanian mayors.
French president Emmanuel Macron also said Kosovo authorities bore "responsibility" for the current situation.
Macron and German Chancellor Olaf Scholz are expected to meet Kosovo President Vjosa Osmani and her Serbian counterpart Aleksandar Vucic on Thursday on the sidelines of a summit in Moldova.
Kosovo declared independence from Serbia in 2008, but Belgrade -- along with its allies China and Russia -- still do not recognise the move, preventing Kosovo from having a seat at the United Nations.
Kosovo is mainly populated by ethnic Albanians, but the Serbs who make up around six percent of the population have remained largely loyal to Belgrade, especially in the north where they are a majority.
© Copyright AFP 2023. All rights reserved.