Pretty Deadly On How Winning NXT UK Tag Titles Changed Their Lives: 'It's A Full Circle'
KEY POINTS
WWE has been on a roll even during the pandemic era
Superstars got their chance to shine, especially NXT UK performers
Pretty Deadly shares their experience of winning the NXT UK Tag Titles
With the recently-concluded Money In The Bank pay-per-view, fans have been buzzing about the card--most especially the main event
There were two title changes during the event as the Usos won the Smackdown Tag Team Championships and Charlotte Flair gets her 14th Women's Championship in WWE--though the latter would go on to lose the title the following night on Raw as Women's Money In The Bank winner Nikki A.S.H. cashed in her briefcase to take the title.
The main event exploded as Roman Reigns defended his title from Edge, but a returning John Cena spoiled the Dickies Arena from acknowledging the "Tribal Chief."
Moments such as these are what makes professional wrestling such a joy to watch.
Whenever a title change occurs, it's one of the most exciting things to see because of the pure emotion that washes over a performer's face, blurring the lines of what's real and what's entertainment.
Even the fans feel a sense of elation because the title winner deserves it for their body of work, and it's a reward that comes with the pressures of being a champion in the company.
The same goes for NXT UK Tag Team Champions Pretty Deadly.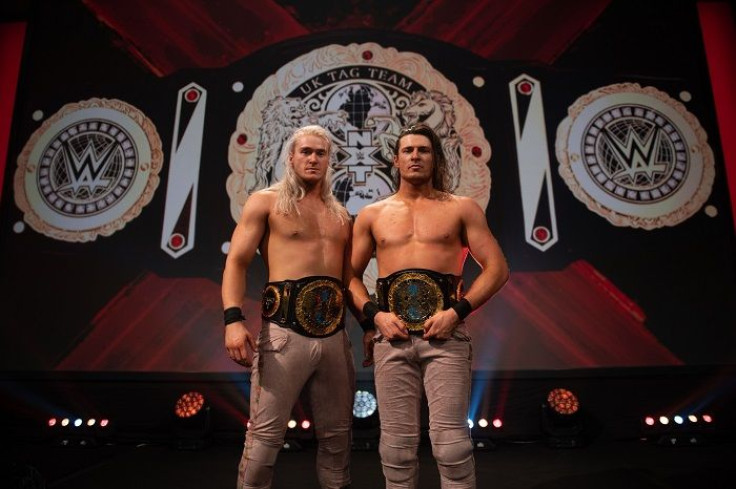 Sam Stoker and Lewis Howley won the tag team titles away from the dominant Gallus after a near 500-day reign.
Speaking at a media roundtable, the International Business Times was able to ask the pair for their reactions and preparations leading to the win.
"We were lucky in the sense that very few people, besides Drew McIntyre, got to experience winning a championship the way we did. Obviously, because of the times where we are now, we had the match before it came on TV so a lot of people, [before the pandemic] they get that live reaction," said the blonde-haired Howley.
"We got the double [reaction] because we got the live reaction and the positive response from everyone backstage. Obviously, it was positive that we enjoyed the match and then we actually got to sit down together, as we always do in all things, and watch ourselves become champions of NXT UK."
Howley also counts it as an unexpected blessing because of the COVID-19 lockdown.
"It's something that besides us, and our pal Drew, very few people will ever do it again because this is probably never gonna happen again. We really count that as a luxury because we got to sit down and share a moment together and watch us make history. I'll never forget it," he shared.
Stoker talked more about how winning the titles is a full-circle moment for both of them.
"Growing up, watching your John Cena's, the Rock, we looked up to them and you dream of being in this position. Now, after growing up and working hard and training at this, we find ourselves here. It's a full circle," Stoker stated. "Ultimately, a great feeling."
Howley views their win as an achievement that they hope will inspire kids to chase after their dreams and attain them.
"Now, we're everyone's heroes, not even just in the wrestling world. People down the street will go, 'I wanna be like them.'"
© Copyright IBTimes 2023. All rights reserved.