Prince Philip Hospitalized, Prince Charles To Accompany Queen Elizabeth II At Formal Parliament Opening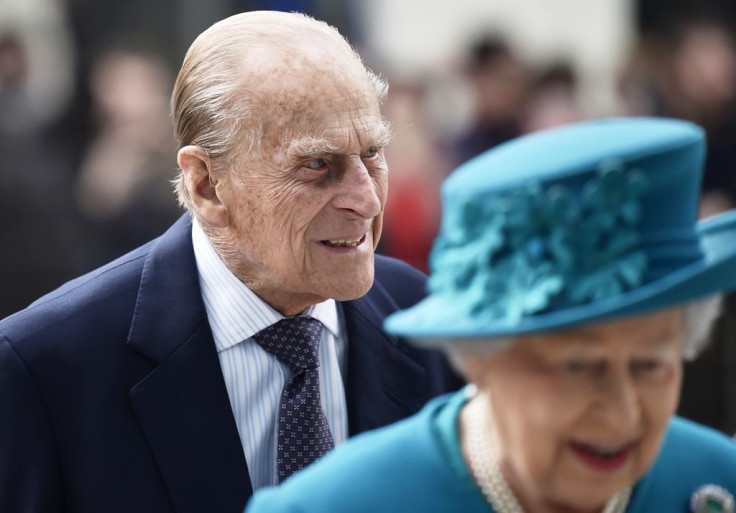 Prince Philip was hospitalized Tuesday with an infection, forcing him to miss the formal opening of parliament, the Buckingham Palace said. The 96-year-old was admitted to the King Edward VII hospital in central London after he had health issues at Windsor, following his appearance at Royal Ascot.
The palace released a statement saying that Prince Charles, the eldest son of Prince Philip and Queen Elizabeth II, will accompany the 91-year-old monarch to the state opening. The palace described Prince Philip's hospitalization as a "precautionary measure," without giving details of the infection.
Read: List Of Royal Duties Performed By The Duke Of Edinburgh
"The Duke of Edinburgh was admitted to King Edward VII Hospital in London last night, as a precautionary measure, for treatment of an infection arising from a pre-existing condition," a spokesman for the palace said. "Prince Philip is in good spirits and is disappointed to be missing the State Opening of Parliament and Royal Ascot."
In May, rumors about Prince Philip's death surfaced after the palace called for an emergency meeting of its staff. However, rumors were quashed after the palace said that the queen and Prince Philip are in good health and that the Duke of Edinburgh will be stepping down from his royal duties this autumn.
Read: 5 Facts About Queen Elizabeth II And Prince Philip's Marriage
Prince Philip will continue to attend previously scheduled engagements till August but won't take up any new invitations, the palace said in a statement at the time.
In December last year, Prince Philip and the queen, were both facing health issues due to which, the monarch had to skip annual holiday services. While Prince Philip's death would not affect the line of succession to the British throne, if Queen Elizabeth II dies, the crown will pass on to Prince Charles.
Prince Philip has suffered a blocked coronary artery and a severe bladder infection in recent years but has been in generally good health and continued with his royal duties.
According to BBC, Prince Philip drinks moderately and works toward maintaining his health. According to Prince Philip, he still fits into the uniform he wore on the day he married the queen, almost 70 years ago.
The queen and Prince Philip, who married at Westminster Abbey in 1947, are due to celebrate their platinum wedding anniversary in November.
On Father's Day, the Clerence House shared a photo of Prince Philip with his son Prince Charles, captioning it: "The Prince of Wales and his father, The Duke of Edinburgh, take part in a motorboat race on the Isle of Wight in 1958."
© Copyright IBTimes 2023. All rights reserved.