Prison Reform 2015: Ban The Box Activists Demand Action From Congress, White House To Stop Employment Discrimination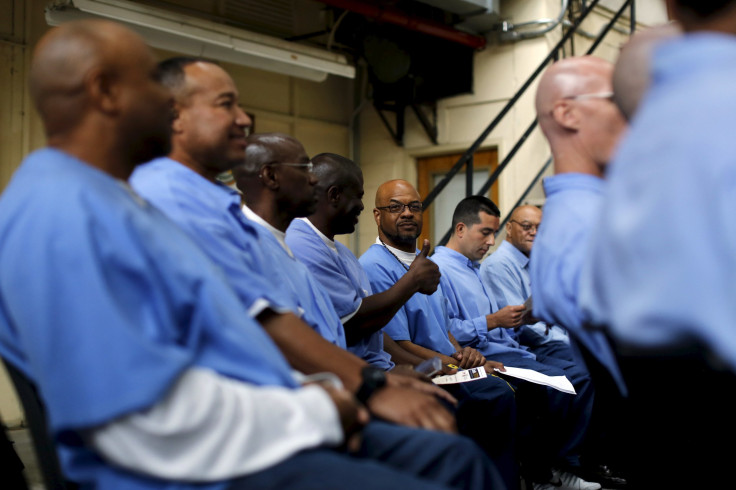 When Dorsey Nunn walked out of San Quentin State Prison in California nearly 35 years ago, the native San Franciscan set out to find a job and finish his education. But only one person was willing to hire the 31-year-old African-American after 11 years behind bars on a felony conviction, and that person worked about 100 yards away from the prison gates.
It was the attorney that helped shave several years off of a life sentence who offered Nunn a clerical position in the prison law fffice at San Quentin. The job, which Nunn held for six and half years, would eventually inspire his participation in a national movement to end institutional discrimination against people who are formerly incarcerated.
"Homeboy gave me a 'I feel sorry for you' job," said Nunn, who is now 64 and co-founder of "All of Us or None," a San Francisco-based civil rights organization advocating for formerly and currently incarcerated people and their families. "They say you can get out and just pull yourself up by your bootstraps. But then you see the system is already stacked against you."
As the U.S. Department of Justice prepares to release thousands of federal prison inmates at the end of this month, activists said it means little if those people still face barriers to securing a job. Approximately 70 million Americans have an arrest or criminal conviction on their records and struggle in the job market daily -- a fact that experts say reduces the national domestic product by tens of billions of dollars. Status quo in the criminal justice system perpetuates a belief among the formerly incarcerated that there isn't enough public sympathy to make sweeping changes to the employment background check policies.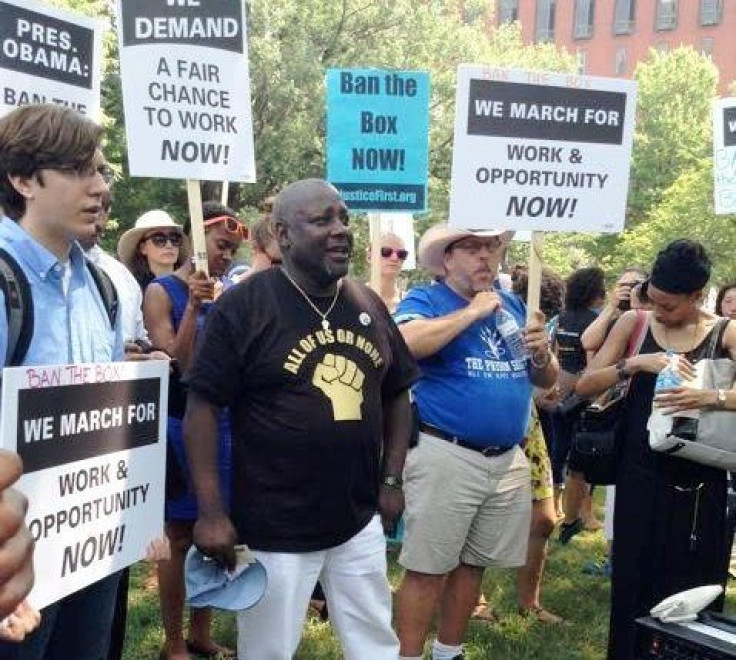 About a decade ago, Nunn and a national group of prison reform activists started the "Ban the Box" movement, a campaign that calls for removing questions about criminal convictions from applications for employment and other purposes. As of August, over 100 cities and counties, and 18 states have removed questions about conviction history from their public employment applications and several major American corporations have followed suit. While some action has been taken by national lawmakers, there is still no law prescribing consequences for employers who unfairly disqualify formerly incarcerated people because of their criminal record.
'A Drain On Human Capital'
The Justice Department announced this week its plans to set free about 6,000 prison inmates, the largest one-time release of federal prisoners in history, officials said. The Bureau of Prisons will release the inmates between Oct. 30 and Nov. 2.
An estimated 8,550 additional inmates could be eligible for release between now and November 2016, based on reforms recommended by the U.S. Sentencing Commission, an independent agency that sets sentencing policies for federal crimes. The commission has reduced future punishments for people locked up on nonviolent drug offenses and made those changes retroactive this year.
The Justice Department's announcement received overwhelming support from the civil and human rights community. "We are overjoyed that some of the people so wronged will get their freedom back," Jesselyn McCurdy, senior legislative counsel for the American Civil Liberties Union, said in a statement Tuesday.
But the policy change does little to address what happens to these formerly incarcerated individuals when they get out of prison, said Scott Simpson, spokesman for the Leadership Conference on Civil and Human Rights in Washington, D.C.
"We believe it is morally wrong to just discriminate against somebody based on a fact that [would be] irrelevant to their job function," he said. "The community of people who are formerly incarcerated is ready to work and they are qualified," Simpson added. "Right now, it's a drain on human capital."
Economists have estimated that because people with felony records and the formerly incarcerated have poor job prospects, the nation's gross domestic product in 2008 was reduced by between $57 billion and $65 billion, according to a 2010 report by the Center for Economic and Policy Research in Washington. The Congressional Research Service, a nonpartisan legislative agency of the U.S. Congress, in June said mass incarceration has "reached the point of diminishing returns" in a decades-long effort that brought crime rates to record lows.
Approximately 1.5 million inmates were locked up in state and federal prisons in 2013, according to federal data. About 650,000 men and women are released from those facilities each year, but only a small fraction will get to move beyond their past mistakes, activists said.
Over 90 percent of the formerly incarcerated are men. That in effect lowers employment rates for all men by 1.5 to 1.7 percentage points, according to the Center for Economic and Policy Research. The unemployment rate for formerly incarcerated people is not uniformly tracked nationwide, but experts have characterized it as alarming. For example, the unemployment rate for parolees in New York was 61 percent in 2011, according to the state Department of Corrections.
'We Should Own Up To That Error'
Glenn Martin was one of the hundreds of thousands of people imprisoned during a criminal justice system expansion in the 1990s. An African-American native of Brooklyn, New York, Martin spent six years in New York State prisons on a felony conviction before his release in 2000.
While in prison he earned a two-year associate's degree, believing that his hard work would distinguish him from other formerly incarcerated job applicants. But after submitting 50 applications in the span of a month, not one of the employers would hire him to be a stock delivery guy or some other entry-level work that paid minimum wages, Martin said.
A re-entry organization that helps the formerly incarcerated eventually found Martin a job answering phones at a law firm. He has since joined the national movement to reform prisons and end discrimination against people like him.
"We all live in a democracy that made a bunch of bad decisions that affected millions of Americans," said Martin, who is now 43 and president of the JustLeadershipUSA, a national prison reform organization based in New York City. "As a nation, we should own up to that error."
Prison Population Rate in the United States | FindTheData
The so-called war on drugs during the 1980s and 1990s saw the U.S. prison population explode to unprecedented levels. During the administration of Democratic President Bill Clinton, the total prison population rose by 673,000 from approximately 56,000, according to a 2013 report of the Sentencing Project. The increase was larger than under Republican Presidents Ronald Reagan and George H.W. Bush.
The "tough-on-crime" movement championed on the left and the right saw black and Latino men locked up at disproportionate rates compared to white men, according to the Sentencing Project. Black men were six times more likely to be incarcerated than white men in 2013, while Hispanic men were 2.4 times more likely.
That disparity also grew the national rate of recidivism, a relapse of formerly incarcerated people into criminal behavior. By the end of the fifth year after their release from prison, formerly incarcerated blacks had a recidivism rate of 81 percent compared to the white rate of 73 percent, according to data in a Bureau of Justice Statistics report released in 2014. Hispanics had a recidivism rate of 75 percent.
This is largely due to the fact that, without a job, most formerly incarcerated people will return to environments that led to their initial troubles, experts have said. "We're way down stream now, where all these people have been somewhat damaged by the criminal justice system," said Martin, the New York prison reform activist. "Yet, we're putting people right back into the situation that created mass incarceration in the first place."
'They've Got No Margin Of Error'
Formerly incarcerated activists contend that there should be national legislation and executive orders to ensure that there are consequences for employers who unjustly discriminate against people with records. Some cities and states have already taken steps to discourage discrimination against the formerly incarcerated and major corporations such as Target, Starbuck, Wal-Mart and Koch Industries have committed to considering all available talent in their companies. In Congress, Republican Senate and House members have joined Democrats in introducing sentencing reform and discrimination-related legislation.
Democratic Sen. Cory Booker of New Jersey introduced last month the Fair Chance Act, which implements some of the "Ban the Box" polices that would help people with records overcome the barrier to certain public employment. But activists have complained that Booker's bill doesn't enact consequences for employers who discriminate. Ban the Box campaigners want a "washout period" that limits the length of time that employers can consider a past conviction. They also want access to a copy of the conviction history information that employers use in their denial of employment, as well as an appeals process with the Equal Employment Opportunity Commission, which guards against labor discrimination for other protected classes of people.
President Barack Obama, who became the first U.S. president to tour a federal prison in August, is a target of the Ban the Box campaign. Activists have asked Obama to issue an executive order that prohibits the federal government from paying contractors and subcontracts that are found to discriminate against the formerly incarcerated. It's unclear where the president stands on the proposed executive action, but he has said Congress should enact criminal justice reform measures before the end of the year.
'I Am Not The Person I Was'
Nunn, the San Francisco-based activist, flew to Washington Wednesday to help distribute letters to members of Congress about Ban the Box legislation. Nunn said the letters are signed by formerly and currently incarcerated people.
"I am not the person I was when I first came here," the template letter reads. "I will leave [prison] determined to provide for myself and my family in a way that will demand much of me. And there are many here like me; men and women who have demanded, and will continue to demand, that society not define us by actions that brought us to these cages but by what we have done since then."
The letter is signed, "Respectfully, a formerly incarcerated person."
Prison Population by Country | FindTheBest
© Copyright IBTimes 2023. All rights reserved.