Private Prison Executives Say New FCC Phone Regulations Will Put Lives In Danger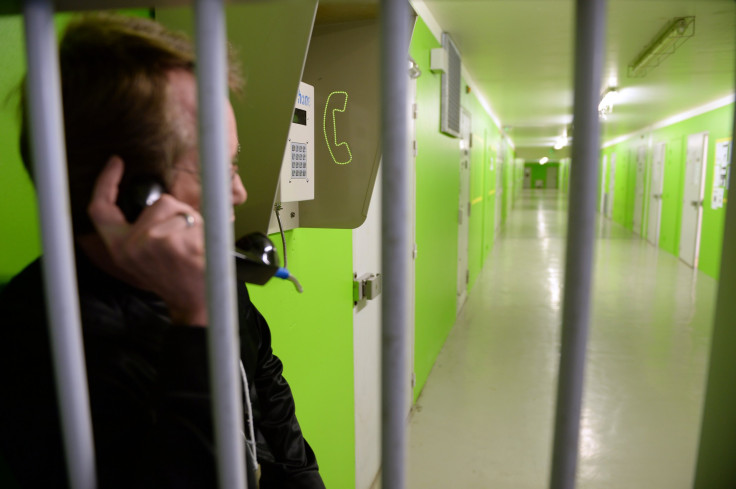 For years, private prison companies routinely charged inmates and their families up to $17 for a 15-minute phone call, pocketing millions in profits. That may soon change. On Thursday federal regulators at the FCC stepped in to cap the rates at $1.65 for a 15-minute call.
Inmates and their families are elated over the decision, while prison-company executives are publicly excoriating the FCC, threatening lawsuits, and claiming the regulations will put them out of business. Even darker: Some are saying the FCC decision will actually put lives at risk.
Brian Oliver, the chief executive of Global Tel*Link (GTL), which is reportedly valued at $1 billion, said the decision was "financially borderline catastrophic" for the company. And in a statement released Friday, he called the FCC vote "profoundly naïve."
Richard Smith, the chief executive of Securus Technologies, GTL's main competitor, took it a step further. Smith argued that the new regulations were not only a "colossal error in judgment" and "wrongheaded" but also would put innocent people in danger.
"The lives of witnesses, judges, victims and others will be lost due to the inability to provide the technology that prisons and jails need to keep us safe," Smith said in a statement.
Smith did not return a request for comment seeking elaboration on his statement.
How, exactly, would cheaper prison phone calls lead to danger for those on the outside? The logic goes something like this: Sheriffs and wardens say the commissions from the calling services offered by Securus and GTL are used to both subsidize the cost of secure voice and video calling systems and to monitor the calls. Less monitoring means inmates more likely to order a hit on the outside or otherwise threaten witnesses or judges.
Lower rates mean lower commissions for the jails, and, theoretically, fewer security features built in to county jails.
[Update 10/23] In an e-mailed statement, Smith wrote: "Lives will be lost because the FCC is setting rates BELOW our cost to provide the services...so we can't provide as many security products to prisons and jails. The security products help law enforcement to prevent and solve crimes. For example, if the jail has outsourced investigations to us and we are listening to calls, we may not be able to listen to as many calls - so we can't find the hit that was put out by a gang member on a guards wife, so she dies. That is not dramatic - happens all of the time."
While the FCC voted to "discourage" commissions yesterday, it did not explicitly ban them. Ultimately, this is what the companies fear most. With the new regulations, companies like Securus and GTL need to charge lower rates, but they also need to continue paying out commissions, which take a large chunk of their overhead costs.
"This could have a crippling impact not only on service providers, which may be forced to cancel contracts, but also on inmates and their families, many of whom may be left with no service at all," GTL said in a statement. FCC commissioner Mignon Clyburn, who has led the government's charge to bring more-affordable phone rates, remains resolute that the rights of inmates and their families should not be compromised for the sake of profit.
"Families of inmates shouldn't have to choose between putting food on the table and staying in touch with a loved one in prison," she tweeted yesterday after the vote.
© Copyright IBTimes 2023. All rights reserved.