Pro Bowl 2012: Rosters, Where to Watch Live Stream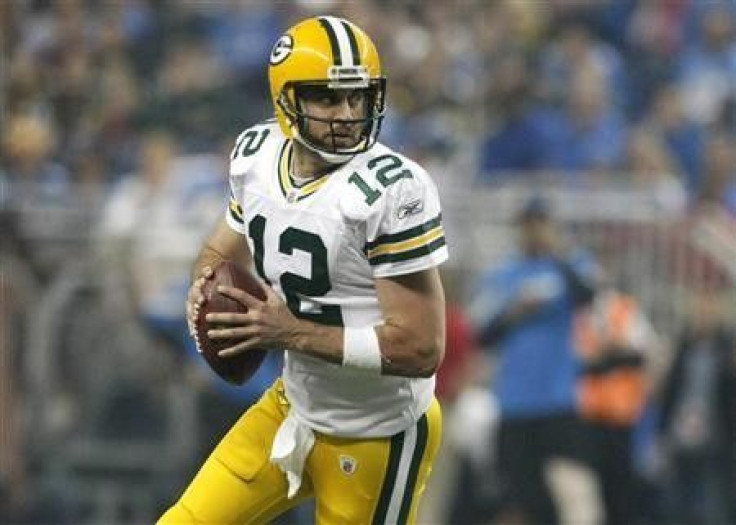 The 2012 Pro Bowl serves as a nice appetizer for football fans awaiting Super Bowl XLVI between the New England Patriots and New York Giants next Sunday in Indianapolis.
The game won't get near the amount of viewers or attention as next Sunday's Super Bowl, but still gives fans an opportunity to see their favorite players in a more relaxed playing environment.
The game is typically played in Hawaii each year -- although last year's Pro Bowl was in Miami -- and is usually a high-scoring affair that has way more offensive highlights than any semblance of defense being played. It's clear that the players don't take it too seriously -- it has no playoff implications like the MLB's All-Star game -- and is usually just a paid vacation to Hawaii for some of the NFL's best players.
This is the second year that the game will be played a week before the Super Bowl as a measure to drum up interest and ratings for the mostly meaningless game. Due to the game being played before the Super Bowl, all Giants and Patriots previously voted into the game are forced to miss the competition and be replaced.
This year also marks the first year that players will be able to tweet during the game at a designated computer area. The NFL doesn't allow players to tweet during a regular-season game, but has set aside two designated computers to allow players to create some social media buzz for the Pro Bowl.
This year's game begins at 7 p.m. EST and airs on NBC. NBC Sports is also offering a live stream of the game on its Web site, NBCSports.com.
AFC Roster
Quarterback
Ben Roethlisberger, Pittsburghy-Andy Dalton, CincinnatiPhilip Rivers, San Diego
Running back
-Maurice Jones-Drew, Jacksonvillex-Arian Foster, Houstony-Ryan Mathews, San Diegoy-Willis McGahee, Denverx-Ray Rice, Baltimore
Fullback
*-Vonta Leach, Baltimore
Wide receiver *
-A.J. Green, Cincinnati*-Mike Wallace, PittsburghBrandon Marshall, Miamiy-Vincent Jackson, San Diego
Tight end
Antonio Gates, San Diegoy-Jermaine Gresham, Cincinnati
Tackle *
-Joe Thomas, Cleveland*-D'Brickashaw Ferguson, N.Y. Jetsy-Ryan Clady, Denverx-Jake Long, Miami
Guard *
Ben Grubbs, Baltimore*-Marshal Yanda, Baltimorey-Brandon Moore, N.Y. Jets
Center
*-Nick Mangold, N.Y. Jetsy-Chris Myers, Houstonx-Maurkice Pouncey, Pittsburgh
Defense
Defensive end
*-Elvis Dumervil, Denver*-Dwight Freeney, Indianapolisy-Antonio Smith, Houston
Interior linemen *
-Richard Seymour, Oaklandy-Geno Atkins, Cincinnatix-Haloti Ngata, Baltimorey-Paul Soliai, Miami
Outside linebacker *-
Tamba Hali, Kansas City*-Von Miller, Denvery-James Harrison, Pittsburghx-Terrell Suggs, Baltimore
Inside/midde linebacker *-
Ray Lewis, BaltimoreDerrick Johnson, Kansas City
Cornerback
*-Champ Bailey, Denver*-Darrelle Revis, N.Y. JetsJohnathan Joseph, Houston
Free safety *-
Eric Weddle, San Diegoy-Ryan Clark, Pittsburghx-Ed Reed, Baltimore
Strong safety
*y-Brian Dawkins, Denverx-Troy Polamalu, Pittsburgh
Special teams
Punter Shane Lechler, Oakland
Placekicker Sebastian Janikowski, Oakland
Kick returner
Antonio Brown, Pittsburgh
,y-Montell Owens, Jacksonville
NFC Roster
Quarterback
*-Aaron Rodgers, Green BayDrew Brees, New Orleansy-Cam Newton, Carolina
Running back
-LeSean McCoy, PhiladelphiaMatt Forte, Chicagox-Frank Gore, San Franciscoy-Marshawn Lynch, Seattle
Fullback
y-Michael Robinson, Seattlex-John Kuhn, Green Bay
Wide receiver
*-Larry Fitzgerald, Arizona*-Steve Smith, CarolinaGreg Jennings, Green Bayx-Calvin Johnson, Detroity-Roddy White, Atlanta
Tight end
*-Jimmy Graham, New OrleansTony Gonzalez, Atlanta
Tackle
*-Jason Peters, Philadelphia*-Joe Staley, San FranciscoJermon Bushrod, New Orleans
Guard
*-Jahri Evans, New Orleans*-Carl Nicks, New OrleansDavin Joseph, Tampa Bay
Center
*-Ryan Kalil, CarolinaScott Wells, Green Bay
Defense
Defensive end
*-Jared Allen, Minnesota*-Jason Babin, Philadelphiay-Julius Peppers, ChicagoInterior linemen
*-Jay Ratliff, Dallas*-Justin Smith, San FranciscoB.J. Raji, Green Bay
Outside linebacker
*-Clay Matthews, Green Bay*-DeMarcus Ware, Dallasx-Lance Briggs, Chicagoy-Chad Greenway, Minnesota
Inside/midde linebacker
*-Patrick Willis, San Franciscox-Brian Urlacher, Chicagoy-London Fletcher, Washington
Cornerback
*-Charles Woodson, Green Bayy-Brandon Browner, Seattlex-Carlos Rogers, San FranciscoCharles Tillman, Chicago
Free safety
*-Earl Thomas, Seattley-Kam Chancellor, Seattlex-Dashon Goldson, San Francisco
Strong safety
*-Adrian Wilson, Arizona Special teams
Punter Andy Lee, San Francisco
Placekicker David Akers, San Francisco
Kick returner
Patrick Peterson, Arizona
Special-teamer Corey Graham, Chicago
Long snapper Brian Jennings, San Francisco
© Copyright IBTimes 2023. All rights reserved.