Proposed Fiat Chrysler-UAW Pact Would Gradually End Two-Tier Pay: Sources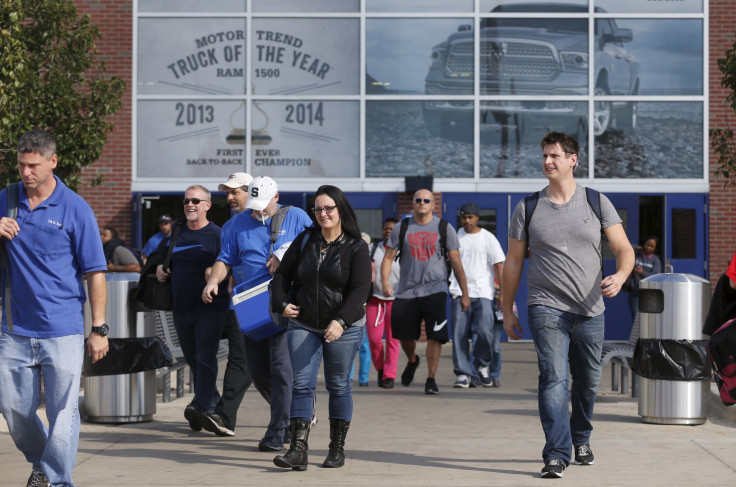 By Bernie Woodall and Nick Carey
DETROIT/KOKOMO, Indiana (Reuters) -- The latest proposed four-year contract for Fiat Chrysler Automobiles NV's U.S. unionized workers would over time eliminate the much-maligned two-tier pay structure, allowing new hires to reach top pay within eight years, sources said.
The proposal agreed by United Auto Workers and Fiat Chrysler negotiators late Wednesday night would also increase the top pay for some second-tier workers to $29 in the course of the agreement, up from their current pay of about $19 per hour, sources said. That would also be up from about $25 top pay for second-tier workers that was in the proposed contract rejected last month by a nearly 2-to-1 margin.
The failure of the first agreement led the UAW to threaten a strike against Fiat Chrysler, which was to begin Wednesday at one minute before midnight eastern time. That would have been the first stoppage at a U.S. automaker since 2007.
There is no cap on the percentage of second-tier workers in the new deal. If one had been enacted, that could have created a permanent second tier while raising some to first-tier pay level, analysts said.
The sources would not say whether the company put more money on the table or if the same amount of spending in the previous agreement was reshaped.
Alston Horner, a 25-year-old second-tier worker at the Kokomo Transmission Plant in Indiana, said on Thursday he will have to wait to learn the details from his local union leaders before he can offer support of the new proposal.
"That $29 sounds good, but the company just doesn't hand you something without taking something away somewhere else," said Horner. "And I still think it takes too long to get to the top. Eight years? That's more than one contract. How do we know they are going to keep that promise for more than one contract?"
Second-tier workers with some tenure will get to the top pay during the four years of the contract. For instance, a five-year veteran who makes the lower tier of pay would reach the new top pay in three years, the sources said.
All sources wished to remain anonymous because they are not authorized to speak publicly.
About 45 percent of Fiat Chrysler's 40,000 UAW workers are second-tier. Those second tier workers were hired since the two-tier pay system went into effect in 2007 when all three of the Detroit automakers were struggling financially.
The pay proposals for the first-tier of UAW Fiat Chrysler workers remained the same as in the recently rejected contract, which is 3 percent raises in years one, and 3- and 4-percent lump sum payments in years two and four, the sources said.
The UAW and the company declined to comment on the proposed contract, which will be presented to UAW local leaders on Friday and if approved then will go to a ratification vote of all Fiat Chrysler UAW members.
The UAW issued a statement on social media Thursday saying, "Preliminary media reports of a proposed tentative agreement are incomplete" and said fuller details will come after Friday's meeting.
SKEPTICS, CONCERNS
Workers outside the gates of one of the four Kokomo Fiat Chrysler plants greeted news early on Thursday of a new tentative agreement skeptically, giving an indication of the challenges the union may face in getting the deal ratified by members.
The rejection vote at UAW Local 685 in Kokomo was even more pronounced than the national tally, as "no" votes among production workers prevailed by a margin of 2,555 to 723.
"When you have people working side by side doing the same job for different wages, it causes tensions," said Lakeysha Woodare, 41, a first-tier worker making $28 an hour who voted against the first contract.
UAW President Dennis Williams, said in a statement, "We heard from our members, and went back to FCA to strengthen their contract," which, he said he believes "addresses our members' principal concerns about their jobs and their futures."
While the new proposal does not spell out product placement at each of Fiat Chrysler's U.S. plants, the company presented the union with a document that a source said offers more clarity on the expected workforce at each plant, in hopes of alleviating fears that jobs will be lost.
Fiat Chrysler maintained in the new deal its pledge to invest $5.3 billion in its U.S. operations, unless market conditions worsen.
The two-tier structure was put in place so the Detroit Three, which includes General Motors Co and Ford Motor Co, would remain competitive on labor costs with nonunion Japanese, German and South Korean automakers with U.S. plants.
A ratification bonus of $3,000 remains the same in the newly proposed contract, sources said.
A profit-sharing plan linked to the company's North American financial performance is changed from the first proposal by eliminating richer payouts to second-tier workers, due to the newer $29 per hour top pay, sources said.
The rise in pay for the second tier of workers was reported earlier on Thursday by Bloomberg News.
(Editing by Bernard Orr)
© Copyright Thomson Reuters 2023. All rights reserved.