Protesters March In Serbia To Demand Better Security After Shootings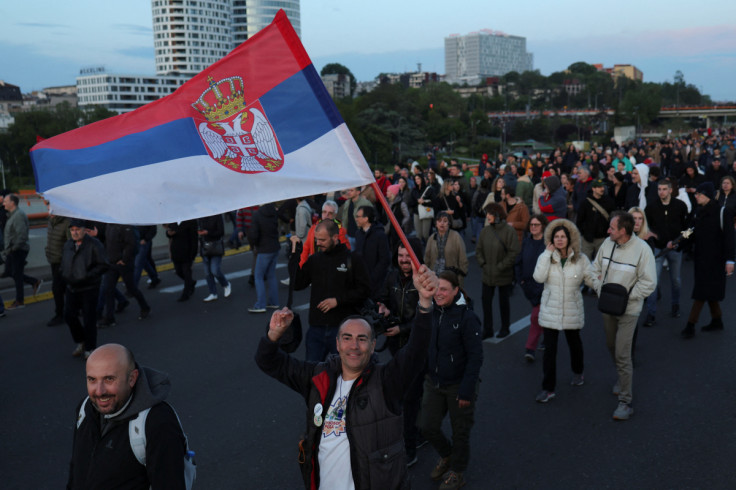 Tens of thousands of Serbians protested on Friday demanding better security, a ban on violent TV content and the resignation of key ministers following two mass shootings in which 17 people died.
In the second such demonstration in less than a week, throngs of people blocked a key avenue and highway junction in the capital Belgrade and a bridge over the Sava river, marching behind a black banner which read "Serbia Against Violence".
"For me (the message of the protest) is primarily - stop the violence. I'm here for my daughter and all our children," said Bojana, a protester in her 40s.
In the country's first mass school shooting, a 13-year-old boy killed eight pupils and a security guard on May 4, wounding six other pupils and a teacher.
Just a day later, a 21-year-old man killed eight and wounded 14 others with an assault rifle. Both shooters surrendered to the police.
The protesters - mainly opposition supporters - want pro-government TV stations and tabloids, which they accuse of promoting violent and vulgar content, shut down.
"This is (a message) against violence at all levels, from media to the parliament, to what happens on the streets," said Velimir Jerkic, a protester from Belgrade.
Opposition parties and rights watchdogs accuse President Aleksandar Vucic and his ruling populist Serbian Progressive Party (SNS) of autocracy, oppressing the media, violence against political opponents, corruption and ties with organised crime.
Vucic and his allies deny the accusations.
Earlier in the day, Vucic accused the opposition of "playing with the emotions of people", and called his loyalists from across Serbia to a major rally on May 26.
"We are calling the people to tell them what we will do in the future...we will not stop traffic or disturb people in any way," he told reporters.
Demonstrators also called for the resignations of Interior Minister Bratislav Gasic and state security agency director Aleksandar Vulin, as well as the dismissal of the government's Regulatory Committee for Electronic Media (REM).
Similar rallies were held in other Serbian cities.
In response to the shootings, Serbia's police on Monday launched a one-month amnesty for surrendering illegal weapons.
Vucic said around 10,000 weapons, including hand-held disposable anti-tank launchers, explosive ordnance and tens of thousands of rounds of ammunition had already been handed over.
Serbia has a deeply entrenched gun culture, and along with the rest of the Western Balkans is awash with military-grade weapons that remained in private hands after the wars of the 1990s that tore Yugoslavia apart. However, mass shootings are rare.
© Copyright Thomson Reuters 2023. All rights reserved.