Protests in Brazil Burst Bubble: Everything Is Not Fine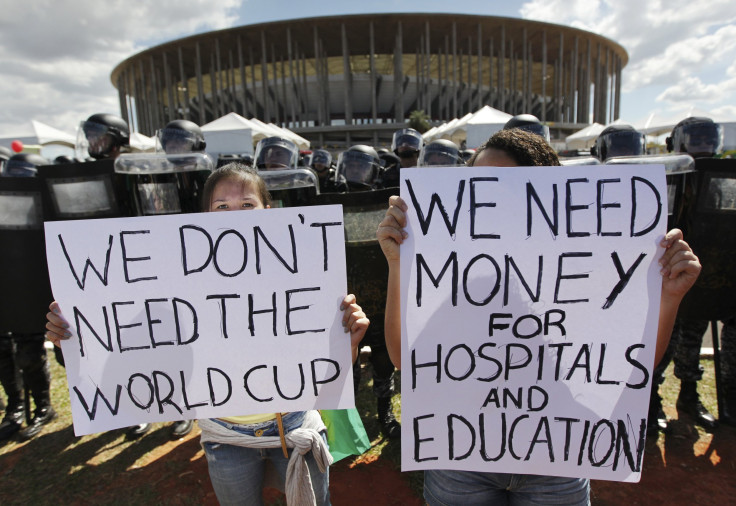 BRASILIA, Brazil -- The mass street protests that broke out last week in Sao Paulo, and have since spread to other major cities in Brazil, caught many by surprise. Investors and politicians who thought the economic miracle of South America's biggest country -- the headliner of the BRIC group with Russia, India and China -- would never end were especially surprised. So were many observers who had bemoaned the passivity of Brazilians in seemingly accepting corruption and overtaxing by their government. The past week's events have shown that the Brazilian giant, sleeping for so long, has awoken again.
The protests began last week with a demonstration organized by the Passe Livre (Free Pass) movement, a leftist group that wants free public transportation in all of Brazil as its ultimate goal. The announcement that bus fares were being hiked from R$3 (US$1.37) to R$3.20 (US$1.47) was the spark for the march on Avenida Paulista, Sao Paulo's largest boulevard.
The city's mayor and the governor of Sao Paulo state, Fernando Haddad and Geraldo Alckmin, both said they would not budge on the price hike and promptly flew off together to Paris to pitch their city as a candidate host of the 2020 World Expo. As the demonstrations grew and continued, they quickly returned home. But it was not until violent clashes between protesters and riot police, using rubber bullets and tear gas on June 13, which left 105 protesters and 12 policemen wounded, that they started to pay attention and soften their stance. On Thursday, Sao Paulo and Rio de Janeiro, the country's two largest cities, both decided to backtrack and cancel the fare hike.
But it's too little, too late. Protesters have already moved beyond the bus fare issue. By Monday, June 17, massive demonstrations across the country brought a total of 240,000 Brazilians onto the streets of Brasilia, Sao Paulo, Rio de Janeiro and 10 other major cities, all calling for an end to government corruption, and for increased spending on public education and health care. Most of the protesters are young -- 53 percent of them under 25 according to a Datafolha poll -- while 77 percent have a university degree. But they are also surprisingly apolitical, with 84 percent of those polled saying they don't have any political affiliation.
Organized mostly by young Brazilians using the Internet and Facebook, the demonstrations have suddenly revealed just how out of touch Brazilian politicians have become with the electorate. A lack of transparency in how public money is used came into sharp focus this year, with the hefty price tags that the federal government has endured for building the soccer stadiums for the World Cup that Brazil is hosting next year. Brasilia's National Stadium alone was rebuilt at a cost of US$600 million, much higher than its original budget, and behind schedule. It's common knowledge in Brazil that the final cost of many public construction projects includes hefty kickbacks, which line the pockets of the influential politicians who approve the projects.
"We don't need the World Cup," many of the banners read at the demonstrations, often written in English for the benefit of foreign media and the tourists in Brazil to watch games of the Confederation Cup currently being hosted in cities across the country.
Rather than indifference to soccer, Brazil's national passion, the signs indicate a distrust of those politicians. "The people don't want political parties as they are now: full of money, as if they were private clubs," Congressman Jose Antonio Reguffe told the Correio Braziliense newspaper. "I think the transformation will not come from us politicians, but from the people."
Rising inflation and a surging dollar, which is making imports more expensive, have jolted many Brazilians into realizing that all is not well in the fairy-tale vision of Brazil that the ruling Workers Party and President Dilma Rousseff like to project to the world. Annual inflation is already above 6.5 percent, the ceiling set by the Central Bank, and a spike in food prices over the past year has hit poorer Brazilians especially hard. The price of potatoes has risen 130.4 percent this year alone, in a country where poverty is still widespread and people struggle to survive on the minimum salary of R$678 (US$312) a month.
"This revolt did not happen because of a 20-centavo rise in bus fares," wrote activist Raphael Tsvakko Garcia on his blog The Angry Brazilian. "It happened because of the rise in fares across the whole country. While the Workers Party is preaching that everything is hunky-dory here, the people on the streets have shown that this is not true. We are not happy with the World Cup, or with the state of our education and health care."
But why the sudden outburst now? What is obvious so far is that popular discontent with the way the country is being governed, coupled with the perceived corruption of politicians and a generalized disillusionment with traditional politics, has led a large segment of the Brazilian population to feel that the politicians in Brasilia and in their state capitals no longer represent their interests.
Add to that shoddy and relatively expensive public transportation, hours-long waits to see a doctor in crowded public hospitals and government teachers who are paid peanuts compared to the huge salaries politicians pay themselves with public money. All that has pushed many Brazilians over the edge.
For the past 10 years the Workers Party has managed to control social movements largely by funding labor unions. But that no longer seems to work. "Brazil is suffering from an acute political representation crisis," said Miriam Leitão, a leading economic commentator, in her O Globo column on June 19. "The Workers Party government co-opted most of the civil society groups. Labor unions, some NGOs, student groups and even the Landless movement receive federal funds, keeping them in the government's orbit. But they no longer represent the interests of the general public."
Merval Pereira, a columnist for O Globo, said he was surprised that the federal government missed the signals of rising discontent. "The economic environment contributed to breaking that false sensation of well-being," he wrote. "It's amazing that with its immense apparatus for information-gathering, that the government, and especially the President's Office, did not detect the indignation that exploded in the streets. The owner of a polling company, who regularly sold his research to the Workers Party, recently sarcastically commented that doomsayers were living in a parallel reality that had nothing to do with the common person, who was extremely satisfied. According to him, there were no signs of shifting winds that his polling could catch."
Bus fares have already fallen in 11 Brazilian cities, a clear sign that politicians are listening to the demands of the protesters. But marches are continuing to be held across the country, with 15,000 protesters clashing with police on Wednesday in Fortaleza outside the stadium where Brazil was playing Mexico. The worldwide coverage that these demonstrations have been garnering has been embarrassing to the federal government, and protesters have said they will keep going until the World Cup next year.
Approval ratings for Rousseffs' government have already started to slide. The latest poll released on Wednesday said her government's approval rating had slipped from 63 percent in March to 55 in June. She's up for re-election in October 2014, and most analysts were certain, before last week, that she was going to win. But with this immense wave of discontent, her future does not look so predictable. It's a long way to October 2014, and a lot can happen until then.
Follow Rasheed Abou-Alsamh on Twitter: @RasheedsWorld
FOR FREE to continue reading
✔️ Unlock the full content of International Business Times UK for free
offer available for a limited time only
✔️ Easily manage your Newsletters subscriptions and save your favourite articles
✔️ No payment method required
Already have an account?
Log in
© Copyright IBTimes 2023. All rights reserved.