Protests Rage In India Over Delhi Gang-Rape [PHOTOS]
Police in India's capital resorted to water cannons and batons for the second day Sunday to break up demonstrations by hundreds protesting the gang-rape and brutal assault of a 23-year-old student on a bus Dec. 16.
Earlier, bowing to public pressure, the government lifted Section 144, which represses protests, imposed at the India Gate and let protesters assemble peacefully. But a breach of police barricades by protesters led to clashes. The protesters, mainly college students, are demanding the death penalty for the accused and assurances from the government ensuring safety of women.
The victim continues to battle for her life in hospital after she was beaten and raped by several men for almost an hour and thrown out of a moving bus on a busy New Delhi street, in a crime that shocked and outraged the nation. A male friend — a 28-year-old software engineer — who was with the woman at the time of the assault was also beaten.
Six suspects have been taken into custody so far.
Demonstrations continued Sunday, despite Home Minister Sushilkumar Shinde's promise to consider the protesters' demand for death penalties for all six suspects. He has also promised steps to ensure better safety of women.
Early Sunday morning, a number of protesters were removed from Raisina Hill, an area in New Delhi housing India's most important government buildings, including the president's official residence, Indian media reported.
Police also removed protesters outside ruling Congress Party chief Sonia Gandhi's residence in the wee hours Sunday.
Women protesters alleged that they were manhandled by male police even though women police were available on the scene, according to a Times of India report.
Marches, demonstrations and candlelight vigils have spread across Indian cities, with hundreds of women and girls in the northeastern state of Assam holding a protest in the city of Guwahati Friday, carrying placards and shouting slogans: "Hang Rapists" and "Stop Violence Against Women."
A silent march was also organized in the southern Indian city of Hyderabad, Saturday.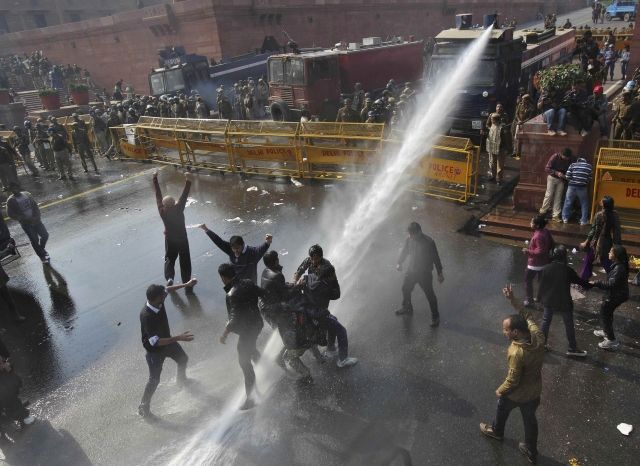 © Copyright IBTimes 2023. All rights reserved.