Pu Zhiqiang Trial: Chinese Police Manhandle Foreign Journalists And Diplomats As Prominent Human Rights Lawyer Goes On Trial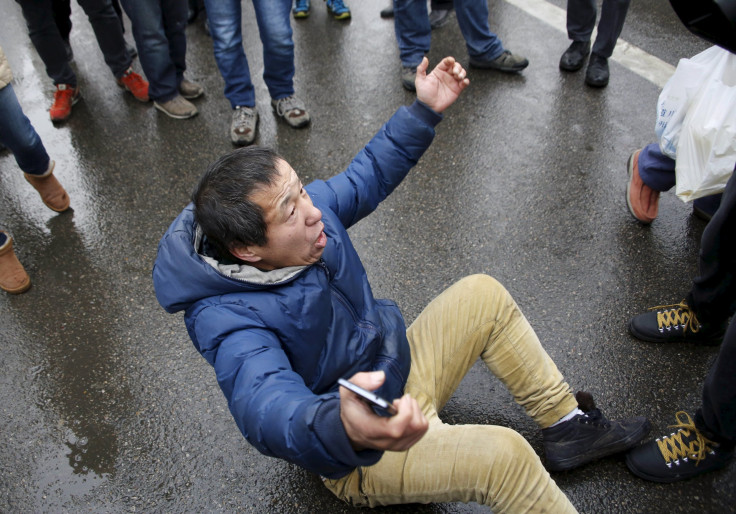 SHANGHAI -- One of China's most prominent human rights lawyers, Pu Zhiqiang has been put on trial in Beijing, in a case seen as a further example of the Chinese government's ongoing crackdown on civil society. Police -- some wearing smiley stickers -- barred foreign diplomats and reporters from entering the court, and manhandled some journalists and a U.S. embassy official. The Foreign Correspondents' Club of China later issued a statement protesting the "harassment and violence against overseas media and their local staff."
The U.S. embassy official read out a statement to reporters calling on China to "release Mr Pu… and uphold fundamental civil rights and fair trial guarantees." The statement criticized the charges against the lawyer as "vague."
Pu Zhiqiang, who faces up to eight years in jail, has been a thorn in the Chinese government's side for a number of years, taking on a series of high-profile human rights cases. He has represented the artist Ai Weiwei in a tax evasion case; party officials who claimed to have been tortured during anti-corruption investigations; and journalists accused of libel by officials. He is seen to have played a major role in forcing the Chinese government to abolish its decades-old reeducation through the labor system, which allowed police to send people to work camps for up to four years without trial. The system was officially scrapped some two years ago.
Pu was detained in May last year, accused of "picking quarrels and provoking trouble," and "inciting ethnic hatred," for posts he published on social media between 2011 and 2014. The former charge is believed to refer to criticisms of a grandson of late leader Mao Zedong, and of a legislator who said he had never voted against the government. The latter charge is linked to his post about a terror attack by ethnic Muslims from northwest China's Xinjiang region at a railway station in Kunming last year, in which 31 people were stabbed to death. Pu wrote that the attack was "sinful," but he said it was "the result not the cause" -- an apparent reference to the government's tough campaign against separatists and those it sees as religious extremists in Xinjiang, which some critics have said could alienate moderates in the region.
Pu, who has said that he is a moderate trying to work within China's legal system, is reported to have acknowledged the posts were "emotionally charged, sarcastic and even rude sometimes," and offered to apologize, his lawyer told the South China Morning Post recently, but has denied committing any crime. Human rights groups have criticized China's increasingly common use of the charge of "picking quarrels and provoking trouble" as a means of silencing critical voices. Sophie Richardson, China Director of Human Rights Watch, said in a statement that "nothing Pu Zhiqiang has written has violated any law."
Pu's case has attracted significant public attention: outside the court Monday, a small group of Chinese supporters of the lawyer held up placards supporting him and denouncing the government's human rights record. And unusually in a country where the authorities crack down hard on online dissent, a number of Chinese internet users have shown their support for him: some have posted pictures of themselves holding his picture, others on Monday changed their profile picture to his photograph.
Pu, who is also a successful commercial lawyer, had won wide praise from liberal sections of the Chinese media. Last year a magazine published by the semi-official China News Service described him as "flamboyant, physically imposing and a relentless cross-examiner." It noted that some had criticized his style as too abrasive, but said "Pu maintains that only pragmatic selection of cases, a grandiose courtroom style and the relentless pursuit of publicity will ultimately change China's skewed and self-serving justice system."
However Pu's high-profile cases, and frequent critical posts on social media have angered a government that has become increasingly intolerant of the criticism that has flourished on China's internet over the past decade. Human rights groups say that since Xi Jinping became head of the Communist Party three years ago, the authorities have launched a concerted crackdown on civil society: Xu Zhiyong, another leading lawyer, was jailed for four years last year for "gathering a crowd to disrupt public order" -- a reference to his role in encouraging peaceful protests by migrant workers against discrimination over residency and education rights. This year has also seen the detention of 25 people linked to a major Beijing civil rights legal firm, while feminists, workers at nonprofits, bloggers, journalists and other activists have faced detention and, in some cases, jail.
Rights groups say the authorities are implementing previous threats, reported by a number of activists, to "bury" the country's leading intellectual opponents of the system. The government has also spoken repeatedly of the need for "order" on China's internet.
Pu was detained last year after taking part in a meeting commemorating the twenty-fifth anniversary of the crackdown on the Tiananmen student protests of 1989 -- an event he marked every year. He was denied bail, despite suffering from diabetes, heart problems and high blood pressure, according to his lawyers.
The authorities are reported to have dropped some of the initial charges against him, relating to "inciting separatism" and "illegally obtaining personal information." His hearing is reported to have been postponed twice, leading some activists to speculate that the authorities were struggling to find sufficient evidence to prosecute him.
However an official Chinese newspaper last week angrily denounced foreign criticism of the legal process, saying the country must reject Western pressure regarding Pu's trial. It warned that this was an attempt to impose "universal values" on China -- something the Chinese government has increasingly warned its citizens to beware of.
"If we think a certain sentence should be handed down, we don't care what you say, whether you think it's light or heavy," the article said, according to the South China Morning Post.
© Copyright IBTimes 2023. All rights reserved.