Puerto Rico Debt Crisis: Padilla Creates Committee To Negotiate Payments Suspension With Creditors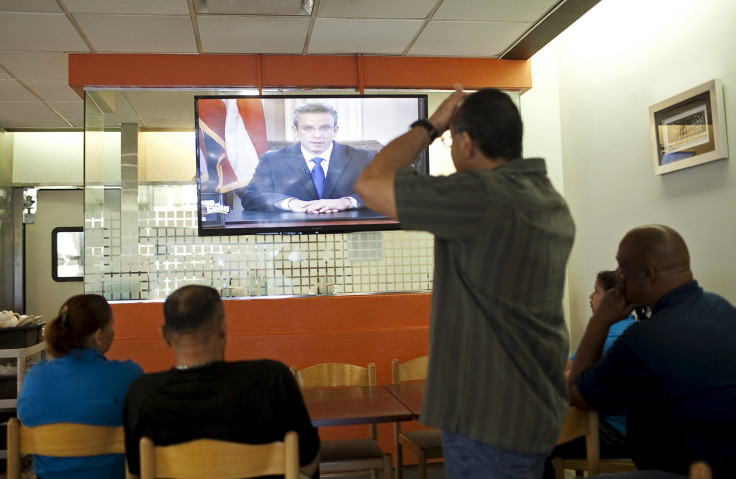 Puerto Rico Gov. Alejandro García Padilla issued an executive order Monday to create a committee charged with negotiating a suspension on debt payments with the island's creditors for a number of years, after the U.S. territory admitted it cannot pay back its $72 billion in debt. The so-called Working Group for the Economic Recovery of Puerto Rico also will be tasked with hatching a plan for long-term fiscal responsibility and will have until Aug. 30 to achieve these reforms, the governor said during a televised address to the public Monday night.
"I know it's not easy. But I know that we have no alternative and these sacrifices will put us on the road to recovery," Padilla said in Spanish. "The sacrifice must be shared by the bondholders, who are co-responsible parties of our debt."
Padilla issued the executive order after releasing a worrying report on Puerto Rico's finances. The report showed the commonwealth's accounting methods were outdated and the debt burden is unsustainable. The report recommended a five-year comprehensive plan in which creditors would exchange existing bonds for new ones with a longer and lower debt service profile.
Padilla said Monday he did not agree with all of the proposals in the report, such as lowering the minimum wage, but it is imperative San Juan restructure its debt load in order to stave off a "death spiral."
"Even if we increased contributions prospectively and were to cut more costs, it would solve nothing," the governor said during his speech. "If we continue borrowing to cover deficits, the report reveals that by 2025 the debt would have doubled."
Economic contraction, unemployment, government overspending, high energy costs and debt dependence have battered the island for years. The governor said Monday that Puerto Rico will never get out of this "vicious cycle" without first restoring economic growth. To rebuild wealth, Padilla said he will promote legislation for job creation and expansion of private enterprise.
The governor remained hopeful in his speech, but said the commonwealth must overcome politics in order to solve its debt crisis as the 2016 gubernatorial elections approach. The White House said it has no plans to bail out Puerto Rico but that U.S officials are committed to working with the island.
"This is no time to think of the elections. This is no time for partisanship. It is time for patriotism," Padilla said.
© Copyright IBTimes 2023. All rights reserved.