From Beyoncé In New York To Maroon 5 In Nevada, The Most Overplayed Tours Based On US Population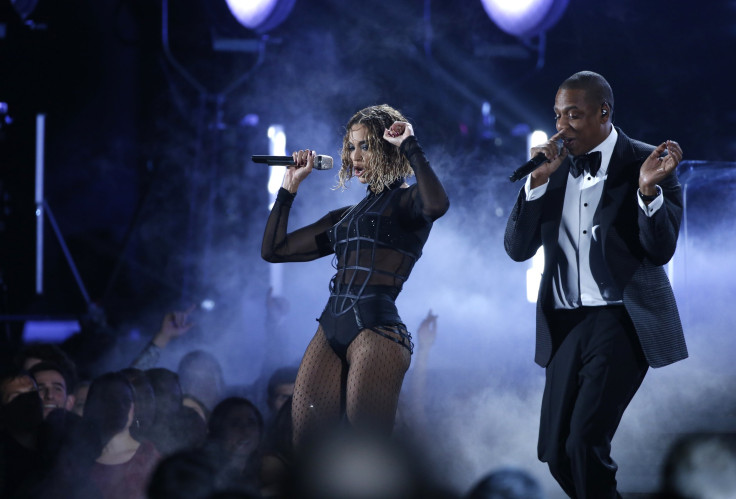 Hey New Yorkers: Think Jay Z and Beyoncé have played your home turf too many times? What about you Ohioans: Are you tired of Kenny Chesney and Toby Keith? You're not just bellyaching – you're right. Songkick.com took a look at the overall population of the United States and determined that these artists -- and so many more -- may be wearing out their welcome in certain states.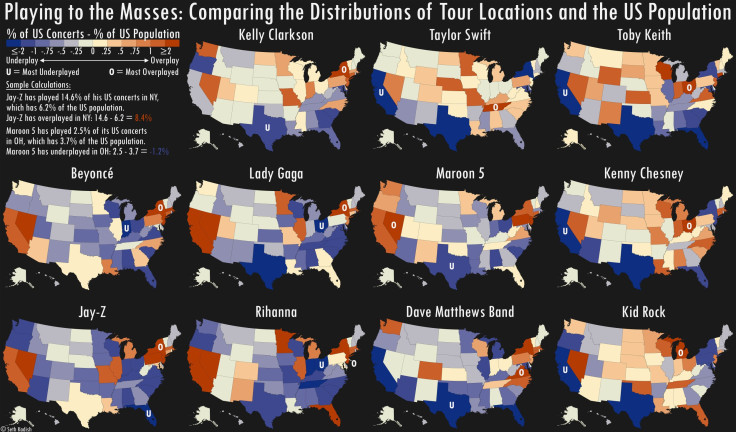 Seth Kadish used data from Songkick.com to look at how musicians toured America and if these tours followed the population distribution. As Kadish explains, if New York has 6.2 percent of the U.S. population, does that mean an artist will play 6.2 percent of their concerts in that state? Kadish looked at tours for Kelly Clarkson, Taylor Swift, Toby Keith, Jay Z, Beyonce, Lady Gaga, Maroon 5, Kenny Chesney, Rihanna, Dave Matthews Band and Kid Rock to see which states were overplayed and underplayed based on the U.S. population.
"Using historical tour locations, I calculated, for each artist, the percentage of U.S. concerts by state. I then subtracted from that the percentage of the U.S. population that lives in each respective state," said Kadish. Of the artists he surveyed, none have played all 50 states, unlike Miranda Lambert, who recently crossed Hawaii off the list and completing her tour of America.
New York is the most overplayed state by far as Kelly Clarkson, Beyonce, Lady Gaga and Jay Z have played more concerts there compared to the U.S. population distribution. The state was also near the top for Rihanna, Dave Matthews Band and Maroon 5. Texas tends to be underplayed by the 11 artists; the state was most underplayed by Clarkson, Maroon 5 and Dave Matthews Band, and near the top for others, including Kid Rock, Chesney, Keith, Swift and Lady Gaga.
In terms of global tours, Chesney rarely plays outside of the U.S. while the more pop-oriented artists, led by Rihanna, are more likely to play in other countries.
© Copyright IBTimes 2023. All rights reserved.