When Does The Next 'Serial' Episode Come Out? 10 Other Crime Podcast Episodes Worth Listening To Since There Is No New 'Serial' This Week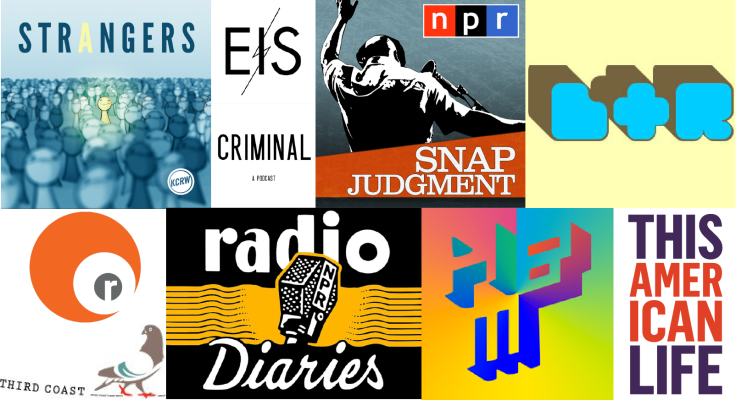 Over the past nine weeks we have all (and I mean all) come to anticipate Thursdays. Thursdays are "Serial" days, and with each new episode of Sarah Koenig's long-form investigation, we have become completely obsessed with the podcast. "Serial" is digging deep into the 15 year-old murder of Hae Min Lee by Adnan Syed -- re-creating timelines, tracking down witnesses, mapping cell phone towers -- all while bringing new audiences to the medium of podcasts. Well, I have good news and bad news. The good news: "Serial" will have a second season. The bad news: Koenig and the "Serial" team are taking this week off.
Don't panic. You have options.
If you don't think you can make it without your Thursday "Serial" fix you can dive into International Business Times' serial coverage. We have recaps, timelines and an interactive graph that shows how every person from the podcast is connected. There is also an entire subreddit to explore. That should be enough to keep you busy until episode 10 comes out on Dec. 4.
Another option, now that you're hooked on podcasts, is to expand your horizons. Great storytelling on the radio was not born with "Serial" (it is a spinoff from "This American Life", after all) and neither is podcasters' fascination with unsolved and untold stories. "This American Life" has hundreds of episodes on the topic of crime and criminal justice -- many of which were produced and reported by Koenig herself.
Not every crime podcast follows the investigation-as-narrative tact that "Serial" and "This American Life" take. Some, like "Everything Is Stories" and "Here Be Monsters," explore the dark side of things while others, like Lea Thau's "Strangers," offer an intimacy that has yet to be seen between Adnan and Koenig. "Love+Radio" and "Criminal" want to get to know the person behind the act, and "Radiolab" does some detective work in its own unique way.
Below are 10 riveting audio stories that will satisfy your crime-solving needs until "Serial" returns:
1.'Criminal' ⏤ 'Animal Instincts'
Finding his wife "lying dead on the floor in a pool of her own blood at the bottom of a staircase," Michael Peterson called the police. Though he was convicted for her premeditated murder and sentenced to life in prison without parole, not everyone involved believed he was guilty. One neighbor, friend (and lawyer) began to obsess over the case and eventually found something everyone else had missed. In "Animal Instincts," the pilot episode of Phoebe Judge's podcast, we hear the bird-brained theory of what actually happened the night Kathleen Peterson died.
The episode wraps up with the story of animals being put on trial in Colonial America.
2. 'This American Life' ⏤ '21 Chump Street'
"21 Chump Street" follows what happens when a Florida police department cracks down on drugs by sending undercover police into schools. Originally a 13-minute second act of a 2012 "This American Life" episode, the story -- which involves police entrapment, young love and drugs -- was turned into a mini-musical for a live version of the show. Don't let the smart lyrics and comedic choreography fool you -- there were very real consequences for the people involved in Palm Beach County, Florida's "Operation D Minus."
3. 'This American Life' ⏤ 'Dr. Gilmer and Mr. Hyde'
When Dr. Benjamin Gilmer took a position as a physician in a rural clinic he knew his predecessor, Dr. Vince Gilmer, was a murderer. What he didn't yet know was how loved the man was. His patient's affection for the seemingly saint-like doctor led Benjamin to start his own investigation into the murder Vince committed. Looking through medical records, Benjamin landed on a theory that was eventually brought to court. Koenig reported the story for "This American Life" in 2013.
4. 'Everything Is Stories' ⏤ 'Highways of the Past Journeyings: Where Our Son Was'
Warning: This episode has graphic descriptions of violence.
It's a parent's worst nightmare. Four hours after being born, Jon Gerwitz's son was kidnapped. In this episode of "Everything Is Stories," Gerwitz recalls the anger, shock, fear, paranoia and forgiveness of the day. "Twenty years later, he wonders if the whole experience was a coincidence or miracle."
5. 'Here Be Monsters' ⏤ 'The Other One Percent'
"Here Be Monsters" is a podcast about fear and the unknown. If it makes you cringe, producer Jeff Emtman wants to know why. In this episode, "The Other One Percent," Emtman talks with Pete Brook about his photography and research at high-security prisons across America. If what you love about "Serial" is the glimpse it gives you into Adnan Syed's prison life, this episode is for you.
6. 'Re:Sound' ⏤ 'Tit for Tat: The Story of Sandra Willson'
Sandra Willson "established the first halfway house for women leaving prison" and was an "important figure in the gay rights movement" and a "consultant on a popular TV series." Willson was also a murderer. Wilson was kept under psychiatric observation for 12 years before being declared sane in 1971. Willson produced a manuscript, and much of what we hear is in her own words. This episode aired on Third Coast Audio Festival's "Re:Sound" podcast and was originally produced in 2011 by Catherine Freyne for Australia's ABC Radio National.
7. 'Radiolab' ⏤ 'Detective Stories'
This early episode of "Radiolab" has three incredibly strange detective stories. The first segment follows archeologists into 1,000 years of garbage and uncovers a mysterious alternative version of the Bible. The second segment, a favorite among "Radiolab" listeners, starts with a goat standing on a cow near some scattered old letters on the side of the road. The letters, we learn, tell a remarkably personal tale that hundreds of schoolchildren build on. Though, as may prove true with "Serial," sometimes it is better not to know the real story behind the fiction. The third detective story uses a tiny DNA-size clue to solve a paternity test on a global scale.
If "truth" is something you want to explore further, Jad Abumrad and Robert Krulwich produced an entire episode on facts, truth and reality. It's not a crime podcast per se, but you can listen to "The Fact of the Matter" here.
8. 'Love + Radio' ⏤ 'Choir Boy'
Tom Justice is the type of guy you would want your sister to date. He was a good student, quiet and a potential Olympian. But Justice had a list of things he wanted to do "and bank robbery was on it." And so he started carefully planning and practicing, re-creating the bank's setup and going through the motions hundreds of times. In this episode of "Love + Radio," Justice tells what it's like to bike away from a bank you just robbed. Yes, he robbed banks on a bicycle.
9. 'Radio Diaries' ⏤ 'Willie McGee and the Traveling Electric Chair'
Willie McGee was convicted of raping a white woman in her home and was executed in 1951. The National Guard was called in to protect McGee from the lynch mob outside his jail cell while several thousand protesters marched in Times Square to stay his execution. Sixty years later, his granddaughter returns to Mississippi to find out what happened.
10. 'Strangers' ⏤ 'Franky Carrillo: Life'
This is the surprisingly uplifting story of Franky Carrillo, a man who wrongly spent 20 years in jail on a double life sentence. Negligent police work, unfortunate random circumstances and a head-shakingly bad defense landed Carrillo in prison. In this episode of "Strangers" he tells how he stayed positive while fighting to prove his innocence.
Bonus Video:
In 1999, a young gap-toothed girl named Xiana Fairchild disappeared from her three-story welfare housing complex in Vallejo, California. Jamie DeWolf knew her as the girl with her coloring books on the staircase who would ask him about his daughter. In this live stage show of "Snap Judgment," DeWolf tells the story of what happens when well-meaning neighbors "lock their doors to a girl they saw every day."
Still want more? Take a look at this ridiculously long list of podcasts and let me know what I should be listening. Tweet me at @no_such_zone.
FOR FREE to continue reading
✔️ Unlock the full content of International Business Times UK for free
offer available for a limited time only
✔️ Easily manage your Newsletters subscriptions and save your favourite articles
✔️ No payment method required
Already have an account?
Log in
© Copyright IBTimes 2023. All rights reserved.