Putin Critic Poisoned? Vladimir Kara-Murza In 'Critical State' After Organ Failure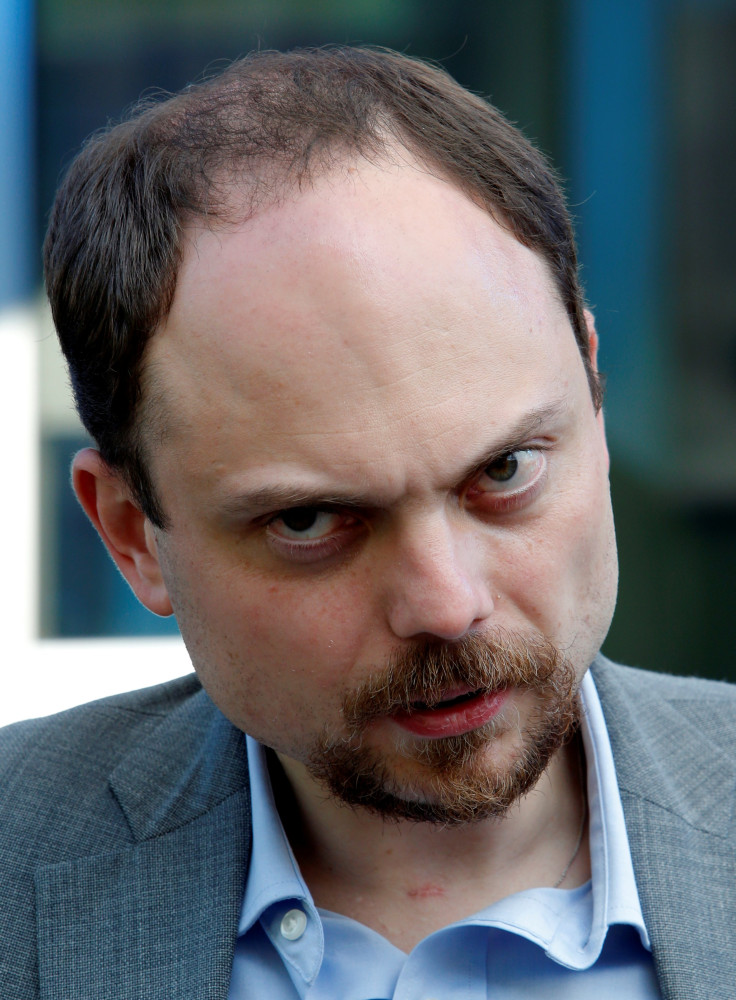 Vladimir Kara-Murza, a Kremlin critic who has spoken out against Russian President Vladimir Putin, is on life support in a Moscow hospital after being put in a medically induced coma, his family told several news publications on Thursday. His symptoms were similar to the time in 2015, when his sudden and severe illness led to suspicions he had been poisoned.
"It's the same clinical picture," his wife Evgenia Kara-Murza said, referring to the kidney failure he suffered in 2015. Medical tests at the time indicated the illness was due to poisoning but it could not be determined if that was intentional or accidental.
"The reason is unclear, like last time," she said, noting that his symptoms are also the same like last time. "He's been active and healthy [recently]."
However, Kara-Murza's father told Moskovsky Komsomolets, a Russian daily, that doctors did not suspect a second poisoning, the Guardian reported. "It's just that the poisoning two years ago didn't pass without a trace," his father said. "My son's health is weakened."
After the fatal radiation poisoning of defector Alexander Litvinenko, a former KGB official who died in a London hospital in 2006, and the unknown reasons of death of other Russian opposition figures, some people worried that Kara-Murza could have been deliberately poisoned. U.S. officials have been suspicious of Putin's involvement in Kara-Murza's mysterious illness, given the Russian leader's history of censoring his critics.
Sen. Tim Kaine (D-Va.) called Kara-Murza's condition "troubling news."
"Vladimir Putin does not deserve any benefit of the doubt here, given how commonplace political assassinations and poisonings have become under his regime," Sen. Marco Rubio (R-Fla.) reportedly said in a statement. "I am praying that Kara-Murza's condition improves, and I urge the Trump Administration, including Secretary of State Tillerson, to make Kara-Murza's cause America's cause, question Russian authorities about this, and ultimately hold Putin accountable if he was targeted by the regime," he added.
A British judge reportedly said last year that an independent investigation into the death of Litvinenko concluded that Putin likely had a lot to do with the assassination.
© Copyright IBTimes 2023. All rights reserved.