Putin In Egypt: Hero's Welcome A 'Slap In The Face' For Washington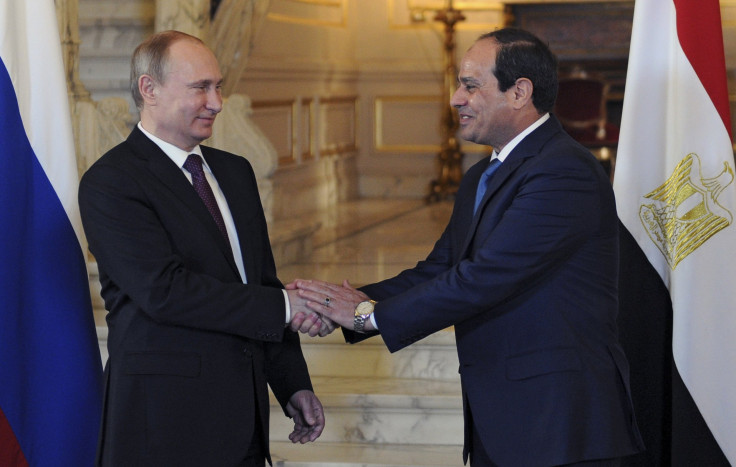 Russian President Vladimir Putin's conspicuously warm welcome in Egypt this week is just the latest example of the dismal state of relations between Cairo and its longtime partners in Washington. As Egyptian President Abdel Fattah al-Sisi seeks to rethink Cairo's strategic alliances, Washington's diminished clout in Egypt will become increasingly evident, particularly as leaders like Putin attempt to exploit the fissures for their own purposes, experts said.
As part of a broader effort to strengthen bilateral ties between their governments, Putin and Sisi met in Cairo Tuesday in a second day of talks that resulted in the signing of an agreement allowing Russia to build a nuclear power plant to generate electricity in Egypt, the state-run daily newspaper al-Ahram reported. Sisi's office had previously announced the leaders would sign several agreements and, in an interview ahead of the visit, Putin suggested trade and investment cooperation would be on the agenda as well as a proposal to replace the U.S. dollar with national currencies for the settlement of accounts between the two countries.
These high profile efforts along with the hero's reception that greeted Putin on arrival Monday are a "slap in the face" to Washington, said Oren Kessler, the deputy director of research at the Foundation For Defense of Democracies in Washington. "There's no way around it. Sisi knows it, Putin knows it, and Obama knows it," he said. "I don't think there is any other way to look at this from an American perspective."
Ahead of his landmark visit, Putin's first to the country in 10 years, al-Ahram, the country's flagship newspaper, printed a two-page spread profiling the Russian president, titled "A hero of our era," including an array of flattering photos. The spread "could have been straight out of Pravda or some other Russian outlet" said Kessler, who argued Egypt's very public and warm hosting of a "high profile and vociferous adversary of the U.S" was not entirely surprising given widespread antagonism toward Washington in Egypt.
Relations between the two allies are now "at their lowest point" since the late 1970s when former Egyptian President Anwar Sadat shifted Egypt's foreign policy away from the Soviet Union toward the U.S., Kessler said. Since the Sadat era, the U.S. made its alliance with Egypt one of the cornerstones of its Middle East policy and has given the country more than $1 billion in military aid annually, according to a report by the Atlantic Council.
Egypt's abrupt leadership shake-ups, which have seen three presidents in power since 2011, have left Washington reeling. The Obama administration's struggle to address Egypt's political developments since the 2011 uprising, which resulted in the ouster of former President Hosni Mubarak, has seriously damaged Washington's standing in the country, with 85 percent of Egyptians holding an unfavorable opinion of the U.S., a 17 percent increase since 2009, according to a report last year
by the Pew Research Center
.
While the Obama administration has put its support behind all of Egypt's presidents, support for the government of ousted Muslim Brotherhood leader Mohammed Morsi alienated many in Egypt's powerful military establishment, Sisi's power base. Further criticisms by the administration against the military's crackdown on Morsi's supporters in 2013 fueled widespread Egyptian antagonism toward Washington, especially after the administration delayed a shipment of 10 Apache helicopters. Though the shipment eventually was approved in April, Egyptian-U.S. ties have remained strained.
There is a sense of bafflement in Washington about how to overcome "Egyptian paranoia," said Jon Alterman, the senior vice president and director of the Middle East Program at the Center for Strategic and International Studies in Washington "When American officials talk to Egyptian interlocutors they get the feeling that Egyptians think that the U.S. is trying to keep Egypt weak."
Sisi has capitalized on this perception and is now attempting to emphasize Egypt's strength and independence on the international stage. "Sisi leads a military which has long felt underappreciated by the U.S. and has long felt that Egypt might be able to get a better deal if it had a wider array of international partners," Alterman said.
While Sisi is not interested in abandoning the Egyptian military's strategic partnership with the U.S., he is looking for other world powers on which to rely to "hedge his bets" because he does not view Washington as a reliable partner, Kessler said. "Putin is exploiting these fissures … and Sisi is happy to oblige him."
Putin was one of the first world leaders to endorse Sisi's presidential ambitions early last year in a move that was seen as a bid by Moscow to take advantage of strained ties between Cairo and Washington to expand Russian influence in the Middle East and, by extension, to prove that it is a major international player, the BBC reported. Since Sisi's February 2014 visit to Moscow, the two countries have been negotiating a $2 billion arms deal that has yet to be finalized. The question now for Sisi will be "what do you actually get from Russia and what will it cost you in terms of your other [bilateral] relationships," Alterman said.
Kessler said it might not cost Sisi much as Washington is unlikely to want to call into question what little leverage it has in Egypt by making an issue of Cairo's Russian outreach. "This is not a good time to suddenly attempt to enhance [U.S.] clout," he said. "This is going to have to be one of those instances where Washington simply grins and bears it."
© Copyright IBTimes 2023. All rights reserved.