Putin Plays The Culture Card Again By Invoking Russia's Great Tradition, Vows To Fight For Sovereignty
KEY POINTS
Putin speaks of fighting for Russia's freedom, independence, sovereignty, culture, and traditions

Russian-backed separatists in Ukraine are planning annexation votes in eastern regions

Putin has warned that Russia has various weapons of destruction more advanced than NATO countries
Facing sharp reversals on the battlefront, where Ukrainian forces have turned the tables on the occupying Russian army, and following his decree on partial mobilization, Russian President Vladimir Putin now says his country will continue to fight for its "freedom" and "independence".
Addressing a gala concert marking the 1160th anniversary of Russian statehood Wednesday, President Putin said Russia was fighting for its independence and sovereignty.
"We will fight for our Fatherland, for our Motherland, the only one we have, for our freedom, independence, and sovereignty, for our culture and traditions. We will defend and protect them in the name of our ancestors and our descendants, for the sake of Russia, its great history and great future," Putin said.
Putin's words are significant as it comes at a time when Russian-backed separatists in Ukraine plan to hold referendums in four eastern regions of the country, which is currently under occupation, paving the way for formal Russian annexation.
The Russian leader's reference to culture and tradition is also important, as pro-Russian sentiments are strong in eastern regions like Donetsk and Luhansk, which Russia recognized as independent states just before its Feb. 24 invasion. Along with these two regions, Kherson and Zaporizhia have also announced that they will hold their own votes.
If the referendums go ahead and Russia declares these territories as its own, it would then mean a change from the Russian perspective of the war — one in which Ukraine and the West are fighting against Russia itself.
Putin seems to have set the stage for such a confrontation during his televised address announcing the partial mobilization. The Russian leader blamed the West for pushing Kyiv to shift the military action into Russian territory, adding: "they talk about how all available means should be used to destroy Russia."
In what is being considered a veiled nuclear threat, the Russian President said: "Those who allow themselves such statements on Russia, I'd like to remind you that our country has various [weapons] of destruction more advanced than NATO countries."
"When the territorial integrity of our country is threatened, we will certainly use all the means at our disposal to protect Russia and our people. This is not a bluff," Putin warned.
Importantly, Russia has warned the U.S. against sending longer-range missiles to Kyiv, arguing that US-made ground-launched missiles capable of hitting targets on Russian territory are based on the treaty on intermediate and shorter-range missiles. However, Ukrainian General Valeriy Zaluzhnyi recently acknowledged for the first time that Ukraine was responsible for a series of strikes on Russian air bases in Russian-annexed Crimea, leading to fears that Russia could resort to using tactical nukes.
In New York, meanwhile, Russian Foreign Minister Sergey Lavrov blamed Kyiv and Western countries for disrupting efforts to resolve the situation in Ukraine by political and diplomatic means.
In a meeting with Swiss President Ignazio Cassis on the sidelines of the UN General Assembly, the Russian Foreign Minister also criticized Switzerland for departing from the principle of neutrality and joining with the EU's anti-Russian sanctions.
Despite Putin's assertions that Russia had not lost anything as a result of its military campaign in Ukraine, the conflict has exposed the limits of Russia's military prowess.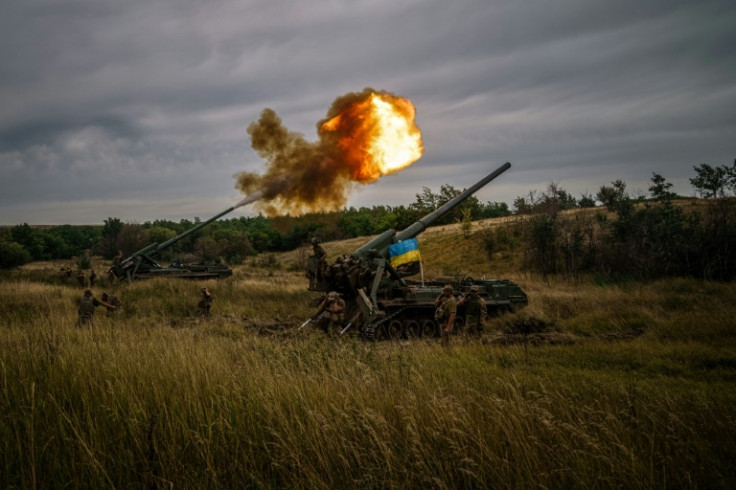 © Copyright IBTimes 2023. All rights reserved.