Putin Sends Black Puppy to Chavez, Solidifying Relations And Oil Deals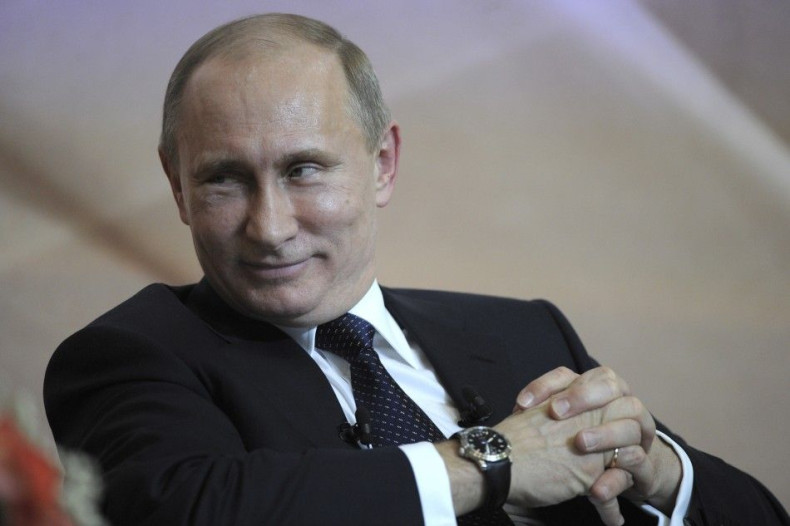 Vladimir Putin is a famous animal enthusiast, having not only hugged a polar bear and stroked a tiger, but also flown in a motorized hang glider with a flock of endangered Siberian cranes.
Now, Putin, the Russian president, has shared his love of animals by giving a 3-month-old black terrier puppy to Hugo Chavez, the Venezuelan president, as a diplomatic present.
The puppy was given to Chavez through Igor Sechin, a close ally of Putin who is also the president of Rosneft, Russia's enormous state oil company.
"I conveyed a message from Russian President Vladimir Putin -- this is a black Russian terrier; it is three months old," Sechin told reporters, as noted by multiple media outlets, including Russia's state-owned RIA Novosti.
Chavez expressed to Sechin his gratitude for the gift and has named the canine "Russian."
"We're training him; [he's a] a good dog and beautiful," Chavez said during a meeting with the Russian delegation at the presidential palace. He joked that perhaps he should give Putin an animal from Venezuela in return, suggesting that a capybara, the largest rodent in the world, might help him win Putin's heart.
Sechin's role in the transaction is quite symbolic given the nature of friendship between these two authoritarian states.
Sechin and Rafael Ramirez, the Venezuelan oil minister, signed eight new agreements on Thursday that will increase cooperation and mutual investment in the oil industry for both countries.
Among other projects, Russia has begun a joint venture with Venezuela that will begin extracting oil from a rich deposit in eastern Venezuela -- a project that is expected to attract about $20 billion in investments, according to Ramirez.
In addition, Russia is participating in at least two projects along the Orinoco Belt, which the U.S. Geological Survey has estimated contains about 513 billion barrels of recoverable oil.
Russia also promised to lend $1.5 billion to help Venezuela pay for the initial phase of investments in the Carabobo 2 project -- another crude-oil venture between Rosneft and a unit of Petroleos de Venezuela S.A., or PDVSA, the Venezuelan state-owned petroleum company.
The Carabobo 2 block is believed to contain reserves of about 6.5 billion metric tons of crude oil. It is speculated that, once begun, commercial oil production there could reach 400,000 barrels per day.
Other, smaller Russian oil companies have also formed a consortium to develop another block in the Orinoco Belt in Venezuela.
"For the first time, the Russian [oil] industry began joint production of crude in Latin America," Sechin told reporters. "Today, we're showing the entire world that Russia and Venezuela are capable of carrying out big projects that make a significant contribution to the global economy."
Regarding the dog, despite its innocent appearance, the Russian black terrier has a grim history.
In Russia, it is known by many as "Stalin's dog," since it was first bred to be a fierce guard and police dog. Many Russian black terriers worked as service dogs in the army in World War II.
In any case, this is not the first time the Russian president has exchanged pets with leaders from other nations.
This year, Putin was given an Akita puppy by Japanese Foreign Minister Koichiro Gemba, and he returned the favor in the form of a Siberian cat.
Owning at least one Labrador retriever, one Bulgarian sheepdog, and a young Akita puppy -- along with a miniature horse back at his home on the edge of Moscow -- Putin appears to be channeling his love of animals toward diplomatic use.