Hungary's Orban Defends Russia Cooperation As Putin Visits
Hungary's nationalist Prime Minister Viktor Orban on Wednesday defended his cooperation with Russia after trade and energy talks with President Vladimir Putin, the latest in a series of meetings with Moscow's closest ally in the EU.
Speaking at a joint news conference with Putin, he insisted that Hungary's cooperation with Russia, was a win for all, including the EU and NATO.
"Hungary is a NATO and EU member, and will stay so, but that does not exclude that in certain questions we engage in cooperation with Russia," he told reporters. "That's what we endeavour to do, and will continue to do."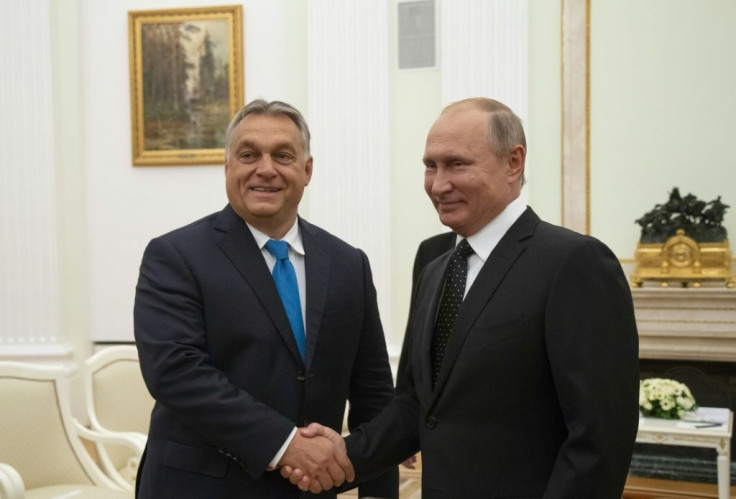 Putin's proximity to an EU and NATO member state leader has unsettled Western powers, but Orban insists his country's geographic position forces cooperation with larger powers.
A self-styled "illiberal" strongman and anti-immigration figurehead for nationalists around Europe and beyond, 55-year-old Orban has adopted a policy of "Eastern opening" in recent years.
He has tasked his foreign ministry with striking trade deals in countries such as China, Russia and Turkey, a strategy that has seen the 55-year-old accused of cosying up to autocrats and dictators.
At the same press conference, Putin said the duo had discussed regional and international affairs, particularly "the prospects of normalising relations between Russia and the European Union".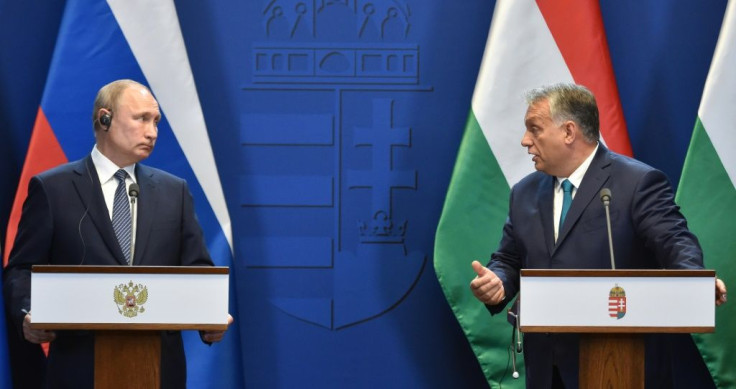 They had also spoken about industrial projects and energy supply, the Syrian conflict and the Ukraine crisis, he added.
Hungary relies on Russia for around 85 percent of its energy needs, but Orban said Budapest would not want to solely depend on Russian energy supply.
"Now we source from Russia a lot, but we would like to source from elsewhere too," he said.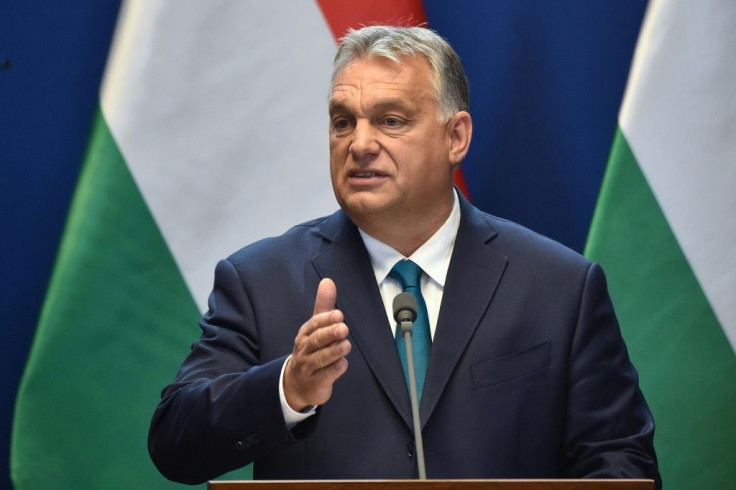 'Pragmatic'
During a visit to Moscow last year, Orban denounced EU sanctions on Russia over its annexation of Crimea.
Orban held an anti-Russian stance before becoming premier in 2010, but now calls his foreign policy a "pragmatic" courting of regional powers.
"The basis of our political cooperation is a very simple geographical fact, that no country can change its house number... we live in a Berlin-Moscow-Istanbul triangle," said Orban.
Brushing off western criticism as "hypocrisy", Orban often cites French and German business and political ties with Moscow.
Next week Turkish President Recep Tayyip Erdogan visits Orban in Budapest, soon after praising the Hungarian for his "support" for Ankara's military operation in Syria.
Earlier this month, Hungary held up a joint EU statement condemning Turkey's incursion.
Prior to Putin's arrival, near Orban's office where the two men met, some opposition protesters unfurled a large banner, showing images of Putin, Orban and Erdogan with the word "Dictators".
But pro-Putin sympathisers from the local Syrian community erected Russian, Syrian and Hungarian flags at a main junction along Putin's route to the venue.
Russia and Hungary also have an expensive joint project to expand Hungary's only nuclear plant at Paks, south of Budapest.
In 2014 Orban signed a 10-billion euro ($11 billion) loan deal with Putin to build two reactors at the facility, although their construction start has been delayed with completion not expected before 2030.
burs-pmu-jza/jj
© Copyright AFP 2023. All rights reserved.