Putin Welcomes French Actor Depardieu With A Hug And A Passport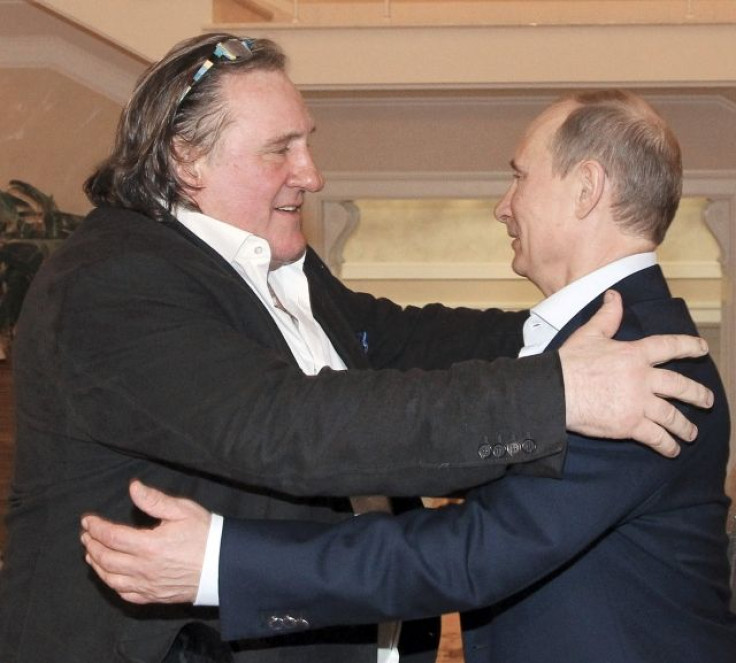 French movie star Gerard Depardieu, who left his homeland to avoid a new tax rate for millionaires, was extended a warm welcome in Russia with a new passport, presidential banquet and offers of free property.
Depardieu flew into Russia "on a private visit" Saturday evening and he was presented with a Russian passport, Russian President Vladimir Putin's official spokesman told state-owned news agencies.
Putin signed a decree Thursday granting Russian citizenship to Depardieu, who had threatened to quit France over French Socialist president Francois Hollande's plans for a 75 percent tax rate on all earnings over one million euros.
Putin and Depardieu were shown on state-run Channel One shaking hands and hugging at former's residence in Sochi Sunday morning.
"A brief meeting between the president and Depardieu took place," Kremlin spokesman Dmitry Peskov said. "On the occasion of his visit to Russia, he was handed a Russian passport."
Chechen leader Ramzan Kadyrov has said that Depardieu will be welcome in Chechnya. The actor was greeted Sunday in Saransk, a small town east of Moscow, where the governor offered him a free apartment or land on which he could build a house.
Arnaud Frilley, a producer and Depardieu's friend, had earlier said that the actor was "sickened by the way France spits on success."
"The president called Gerard to ask if he was really serious about leaving France for good," Frilley told France's RTL radio, reported the Daily Telegraph.
"Gerard told him it wasn't the taxes themselves that sickened him, but he was sickened by the way France spits on success. At one point he got very annoyed."
"He also said he felt the way the media had treated him was terrible and that he needed to take a step back. But he did say that he would remain French in his heart and that he felt he was a kind of spokesman for all other successful people like him who had not spoken out."
The 64-year-old French star told friends in December that he was considering a Belgian, Montenegrin or Russian citizenship, according to Le Monde.
In a December press conference, Putin said that Depardieu would be welcome in Russia.
Depardieu shot to popularity in Russia where he has appeared in many advertising campaigns. In 2011, he played Grigory Rasputin, the mad monk of pre-Soviet fame for a French television film.
© Copyright IBTimes 2023. All rights reserved.