Queen Elizabeth II Accuses Chinese Officials Of Being 'Very Rude' During Xi Jinping's Visit To Britain Last Year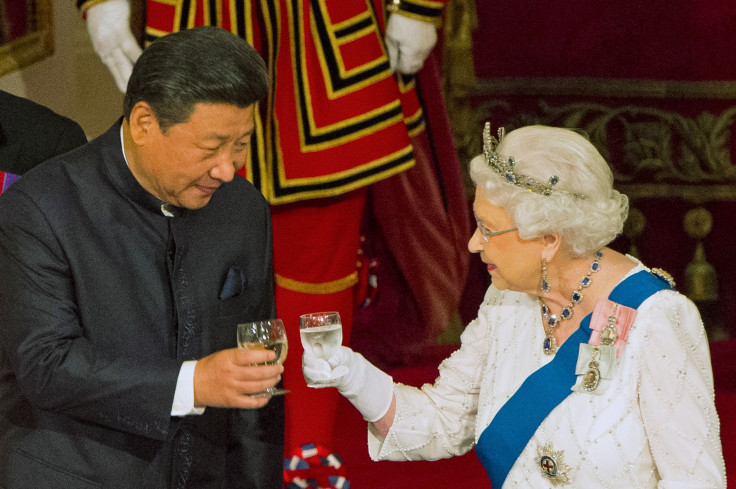 Queen Elizabeth II was caught on camera accusing Chinese officials of being "very rude" during Chinese President Xi Jinping's first state visit to Britain last year. The 90-year-old's comments came the same day U.K. Prime Minister David Cameron described Nigeria and Afghanistan as "fantastically corrupt" in a conversation with her.
The queen discussed the officials' treatment of Britain's ambassador to China with a senior police officer at a Buckingham Palace garden party Tuesday. The queen's cameraman filmed her discussing Xi's trip with Lucy D'Orsi, the Metropolitan police commander who had overseen security during Xi's visit to the U.K. in October. The president's visit was part of the British government's policy of courting Chinese investment.
"They [Chinese officials] were very rude to the ambassador," the Queen said, referring to Barbara Woodward, Britain's first female ambassador to China.
D'Orsi told the queen that Xi's visit had been "quite a testing time for me" and added that at one point Chinese officials "walked out" on both her and the British ambassador, telling her "that the trip was off."
"It's very rude and very undiplomatic, I thought," the police commander said.
A representative for the queen later said: "We do not comment on the queen's private conversations. However, the Chinese state visit was extremely successful and all parties worked closely to ensure it proceeded smoothly."
Earlier Tuesday, Cameron was overheard saying: "We've got some leaders of some fantastically corrupt countries coming to Britain ... Nigeria and Afghanistan, possibly the two most corrupt countries in the world."
Nigerian President Muhammadu Buhari responded to Cameron's remarks, saying he was "shocked," while a senior Afghan official reportedly said the characterization was "unfair."
© Copyright IBTimes 2023. All rights reserved.