Rachel Nichols Slams ESPN Over Maria Taylor Controversy, Calls Diversity Rant 'A Mistake'
Sports reporter Rachel Nichols has landed a new gig on Showtime and wasted no time slamming her former employer, ESPN, over her controversial exit from the network.
Nichols left ESPN at the beginning of 2022 after a video recording of her ranting about the network's diversity opportunities surfaced.
Nichols claimed she was guaranteed a role as the NBA Finals host under contract but replaced by a colleague, Maria Taylor.
In a recent episode of the Showtime video podcast "All the Smoke" with Stephen Jackson and Matt Barnes, Nichols opened up about the outburst.
"I feel very sorry that any of this touched Maria Taylor because she is a fellow woman in this business," she said.
"It wasn't her fault what was going on, I wasn't talking about her actions. To even bring her into it, that was a mistake on my part, and if it caused her to be upset in any way, that stinks. I don't want to be that person."
At the time of the 2020 rant, Nichols revealed she was using new equipment and wasn't aware she didn't turn off the video line that connected her to ESPN headquarters in Bristol, CT.
"One person decided to just sit and watch and start spying on me like I was their own personal television show," Nichols said.
"When they heard something they thought was juicy, they picked up their cell phone, and they started recording me."
Nichols claimed she was talking about the hosting issue with a friend when she was recorded.
"He brought up the article that had been in the paper about the lack of opportunities for people of color at ESPN, and we started talking about how my situation may intersect with some of the race and gender history of a network that is well-documented and complicated," she explained.
Nichols noted that she wished Taylor "all the success in the world" and called her "incredibly talented" during the same conversation,
Nichols went on to criticize ESPN for how it chose to promote diversity by making her a sideline reporter.
"I have fought through a lot of things in this business to get to where I am," she said. "To me, it felt like, 'Hey, if you have a problem, if it is this article, if it is something else, whatever it is, why are you coming to the two women here to solve it?'"
After reaching a settlement to leave ESPN, Nichols is set to join Showtime's sports division, where she will cover basketball content as both a host and producer.
"We are delighted to welcome Rachel Nichols to the Showtime Basketball family," Brian Dailey, senior vice president of sports programming and content at Showtime, said in a statement.
"Rachel brings unmatched journalistic credibility, great familiarity with our roster, and a work ethic that will take us to another level."
Taylor left ESPN in 2021 and was recently named the host of the NBC Sports program "Football Night in America."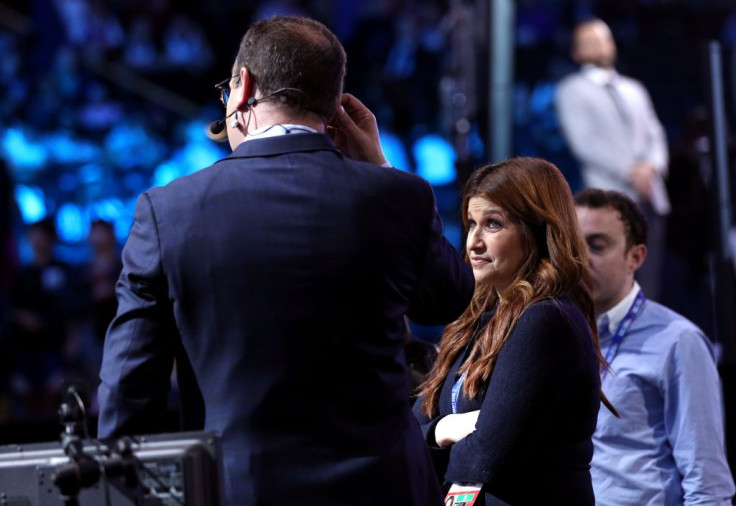 © Copyright IBTimes 2022. All rights reserved.
FOLLOW MORE IBT NEWS ON THE BELOW CHANNELS