Racial Profiling Laws: Most US Residents Want A Ban On Biased Policing; Will Federal Government Prohibit Practice?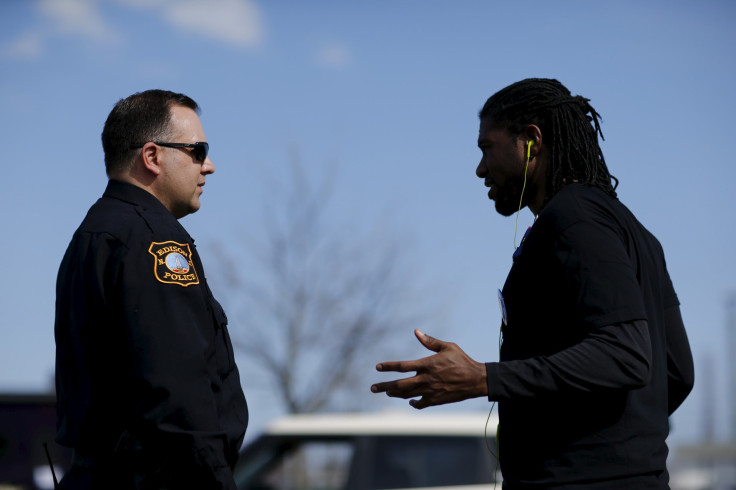 Jim Pasco, a leader of the largest professional police organization in the U.S., has known for some time that most people are against unfair targeting of racial minorities. But fewer members of the public know that police officials actually agree that racial profiling is bad policy, he said.
"We have thought this for a far longer time than any poll [on it] has existed," said Pasco, executive director of the national Fraternal Order of Police, which represents a few hundred thousand state and local law enforcement officials. "100 percent of the FOP believes that racial profiling is abhorrent."
As a national civil rights organization released new polling Monday that shows public opinion is firmly against racial profiling and supportive of a ban on the practice, attention has turned to what federal leaders can do to discourage abusive practices in law enforcement. After a year of protests under an anti-police brutality banner, lawmakers and some in the law enforcement community have coalesced around criminal justice reform legislation. Advocates have said there has to first be agreement between police and lawmakers that a problem exists, before true reforms can happen.
"We reject the premise that [racial profiling] is practiced systemically," Pasco said Monday. "We don't support a ban on the practice because it begins by finding that the practice is systemic. That could not be more false."
The Leadership Conference on Civil and Human Rights recently polled 880 adults geographically and demographically proportioned nationwide on a few criminal justice issues, including racial profiling, which is defined as any police-initiated action that is motivated by race, ethnicity, or national origin rather than the behavior of or information about an individual. Over 60 percent of Americans opposed communities of color being disproportionately targeted by police surveillance and 55 percent said minority communities are more likely to be targeted than whites, according to group's poll.
Fifty-seven percent of the public also firmly supported a ban on racial profiling among police and national security agencies, such as the U.S. Immigration and Customs Enforcement agency. The poll showed opposition to racial profiling and support for a ban was highest among African-Americans and Latinos – 78 percent and 72 percent, respectively – who are disproportionately targeted in traffic stops, street frisks, and immigration status checks in the U.S., according to federal law enforcement data. But whites also supported a ban by double digit margins, said Matt Hogan of Anzalone Liszt Grove Research, the firm that conducted the Leadership Conference poll.
The polling showed that opposition to racial profiling has been mostly steady for more than 10 years. A Gallup survey of U.S. race relations in 2003 revealed that 59 percent of Americans believed that racial profiling was widespread. But solutions to the problem have been a patchwork system that often yielded few or no results, said Sakira Cook, legislative policy counsel at the Leadership Conference.
"Given the deep and massive disparities permeating every juncture of the criminal justice system, we're now presented with a myriad of initiatives at the local, state and national levels attempting to address decades of entrenched policy failures," Cook said Monday. Ending racial profiling will take an "all of the above" approach – federal legislation, adequate data collection on police activities, and better training for officers, Cook said.
The calls for an end to racial profiling were renewed during nationwide protests over high-profile cases of police violence that left several young African-American men and women dead in the last year. Activists from Black Lives Matter, a social justice movement that has grown in recent years, have asked political leaders to enact reforms to stop police brutality, or the excessive use of lethal and nonlethal force.
Last week, police chiefs from major U.S. cities, including Chicago, Los Angeles and New York, announced an initiative aimed at ending decades-old mass incarceration policies that disproportionately impact communities of color. Meanwhile, a bipartisan group of lawmakers in the House and Senate have introduced prison-sentencing reforms that would reduce penalties for nonviolent drug offenders. But there has not been significant agreement between lawmakers and the law enforcement community on how to stop racial profiling, because they differ on how prevalent it has become as a policing tool, advocates have said.
"At its best, this willful ignorance will lead to sloppy, uninformed and hard-to-implement policies," Cook said. "At its worst, it will leave otherwise well-intended proposals vulnerable to being undermined or even turned on their heads by opponents of reform."
In April, U.S. Rep. John Conyers, D-Mich., and U.S. Sen. Ben Cardin, D-Md., reintroduced the "End Racial Profiling Act" for at least the third time in the last three or four sessions of Congress, during which the measure failed to get committee hearings. The U.S. Department of Justice had already promised to end the practice of racial profiling by federal law enforcement agencies last year. But the department rules don't apply to state, county and local police. While the Federal Bureau of Investigation can no longer engage in racial profiling, the Department of Homeland Security and the Transportation Safety Administration have yet to clarify their policies, the Leadership Conference said Monday.
Experts have said better training of law enforcement officials would allow them to recognize their own biases. Officers can be trained against what is known as "implicit bias," or largely unconscious psychological processes that shape officers' actions and lead to racially disparate law enforcement outcomes, according to David Kennedy, a professor at New York City's John Jay College of Criminal Justice.
Some national police leaders claim proven examples of systemic racial profiling should be solved by local communities and not the federal government. "If there is a department engaged in racial profiling, then that is a problem for the mayor and the police chief," said Pasco, the Fraternal Order of Police leader. "They decide what a police department does and [they can be put out of a job] by elections."
Police Attitudes Toward Abuse of Authority | FindTheBest
© Copyright IBTimes 2023. All rights reserved.