Rafael Nadal: Roger Federer's Retirement Will Not Affect My Motivation
Rafael Nadal insists that his motivation to succeed in tennis does not stem from his opponent across the court, but from within himself and his desire to push the boundaries.
The Spaniard was addressing questions with regards to his motivation dwindling if and when his biggest rival Roger Federer announces his retirement from the game.
Nadal's and Federer's is arguably one of the greatest rivalries in the world of sport. They have challenged each other for the major titles in tennis for over a decade and continue to do so today with the duo currently ranked number one and number two in the world respectively.
Nadal and Federer first faced each other at the Miami Open in 2004 and have since faced each other 37 times with the former holding a 23-15 advantage in their head-to-head record.
The Spaniard and the Swiss ace dominated the early part of the current decade before both the players struggled with fitness and form. Nadal did not win a Grand Slam for three seasons between his French Open successes in 2014 and then in 2017.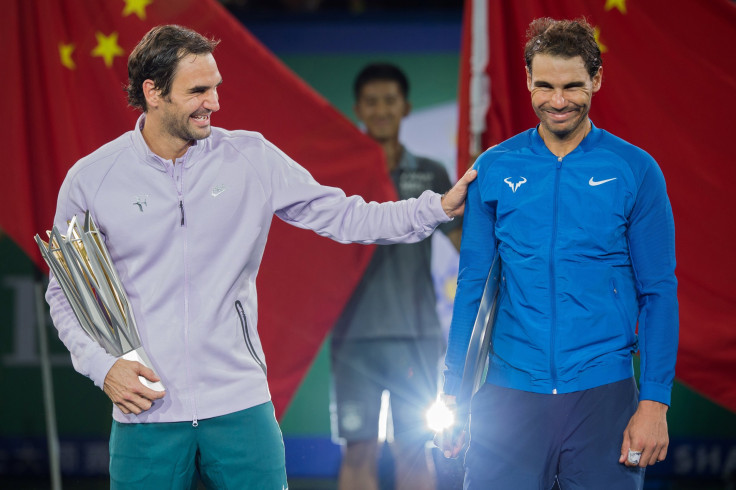 Federer, on the other hand, did not win a slam since his triumph at Wimbledon in 2012 until his victory at the 2017 Australian Open. However, the duo are back on top of the pile at the moment having equally shared all six Grand Slam titles since the start of the 2017 campaign.
They have a combined 37 Grand Slam titles between them and are the most dominant players on the ATP Tour at the moment. Nadal is number one at the moment, but Federer has a chance of claiming it if he makes the final at the ongoing Mercedes Cup in Stuttgart.
However, despite the long-standing rivalry, Nadal and Federer share a more than cordial relationship off the court, with both the players praising each other's achievements on a regular basis.
"With Federer, I have an amazing relationship," Nadal said when asked if they are friends, as quoted by Tennis World USA. "But my motivation on the court doesn't change depending on who is in front of me"
"It's not good when you play you should be motivated. The only goal is to overcome yourself. Because you can win or lose, but the only true satisfaction is bringing yourself beyond the limit," the Spaniard explained talking about what motivates him in his quest for continued success.
Nadal also refused to speculate about his future in the game, suggesting he did not imagine him being a Grand Slam winner at this age. The Spaniard has given no indication he will call time on his career any time soon.
"As a young guy, I thought that at 30 I would already have retired and instead I am still here," the 17-time men's singles Grand Slam champion added.
© Copyright IBTimes 2023. All rights reserved.