Rand Paul 2016: Ray-Ban Tells Presidential Candidate To Stop Selling Campaign Sunglasses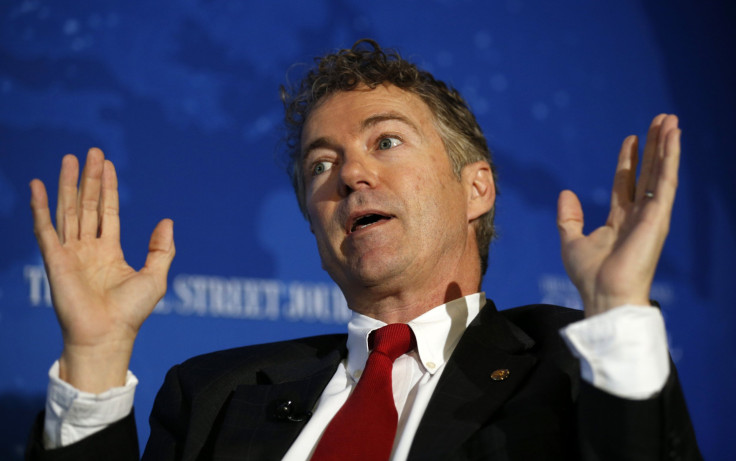 Presidential hopeful Sen. Rand Paul, R-Ky., doesn't have a fan in Ray-Ban. The sunglass company told Paul's campaign to stop selling its Wayfarer line bearing his "Rand" logo, the Hill reported Wednesday. The $150 sunglasses were on sale at Paul's online store, but the campaign did not have the company's consent. As a result, Ray-Ban asked for the product to be pulled.
"We learned that the Rand Paul campaign had been selling Ray-Ban sunglasses imprinted with the 'Rand' logo without our consent," Jane Lehman, who handles corporate media at Luxottica, Ray-Ban's public relations firm, told the Hill in an email. "After a formal request from us, they promptly removed the product from their site and agreed to cease any further use of our trademarks."
The sunglasses, which were described as "the intersection of politics and cool," were up for sale on the site as recently as Tuesday, the Hill reported. Paul's online store features a range of products with his logo, including skins designed to adorn Beats headphones ($20), autographed Constitutions ($1,000), Apple Macbook skins ($20) and hard drives ($99.95) that poke at Hillary Clinton's email scandal.
While it is not a frequent occurrence that a politician has to pull a product because of a brand's request, campaigns often run into similar issues with musicians. Politicians -- Republican candidates especially -- have many times run into consent issues when using bands' songs in their campaigns.
Mitt Romney and Newt Gingrich both had to stop using campaign songs in 2012 after the artists complained, the New York Times reported. Both campaigns had to stop using "Eye of the Tiger" by Survivor, and Romney was also asked to stop playing the song "Wavin' Flag" by K'naan at rallies. The list of the artists who have asked Republican politicians not to use their songs is extensive, including Tom Petty ("American Girl" was used by Michelle Bachmann); Jackson Browne ("Running on Empty," John McCain); and Ann and Nancy Wilson of Heart ("Barracuda," Sarah Palin), according to the New York Times.
While the "Rand" Wayfarers are no longer available, the Paul supporter susceptible to ultraviolent rays still has a protective option. Paul's online store offers a baseball hat tagged with the "Rand" logo for $25 that should do the trick.
© Copyright IBTimes 2023. All rights reserved.