Rand Paul Media Bias? Reporters Have 'Lovefest' With Hillary Clinton, But Hound Republicans On Abortion, GOP Presidential Candidate Says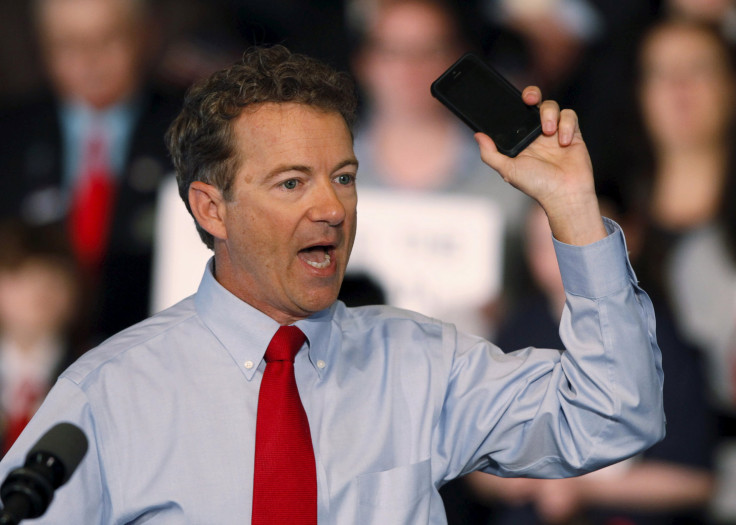 Republican presidential candidate Rand Paul accused the media Thursday of being soft on Hillary Clinton's family foundation for taking donations from foreign countries while he and other Republicans were hounded over their views on abortion. The Kentucky senator urged anti-abortion advocates to "push back" against the media bias, while also swiping at Clinton and the Clinton Foundation for taking money from countries with dismal women's rights records.
"They're always wanting to ask us questions about abortion. You ever hear them asking questions to Hillary Clinton about this money she's getting, whether it influences her decision?" Paul asked the crowd at the Susan B. Anthony List's Campaign for Life Strategy Summit in Washington. "There's going to be stuff coming out about the Clinton Foundation and their donations from different companies that get special approval by the secretary of state. It's coming out in the next couple of weeks. Are we gonna hear any questions from the media, or will it be a lovefest to Hillary Clinton? Anybody hear a tough question to her so far? You know why? She isn't taking any questions."
After Paul announced his candidacy for president last week, he faced criticism from the media from what was characterized as his condescension toward female journalists. Paul received unfavorable coverage for his contentious interview with Savannah Guthrie of "Today," whom he talked over before slamming her interview skills. He also shushed female anchor Kelly Evans during an appearance on CNBC in February.
The Kentucky senator said the media has unfairly scrutinized him while ignoring Clinton's controversies. "There is a difference in the way conservatives are treated versus liberals, and I say we have to push back," he said.
Paul also questioned whether Clinton, who would become the first woman president if elected, is a champion of women. He bashed the Clinton Foundation's donations from places like Saudi Arabia and Brunei, where he said women accused of adultery are stoned to death. "She's taking money from a country that persecutes women," he said.
View Paul's entire speech to the Susan B. Anthony List below:
© Copyright IBTimes 2023. All rights reserved.