Rand Paul Vs. Hillary Clinton On Racial Discrimination In Elections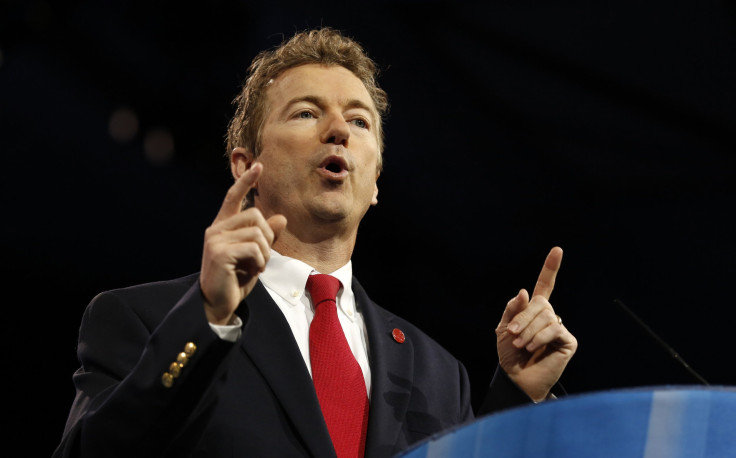 Add another item to the list of Sen. Rand Paul's misadventures in discussing civil rights. The Kentucky Republican with his eye on the White House in 2016 told a crowd in Louisville Wednesday that there is no "objective evidence" that black people face obstacles to voting today.
According to Paul, there is no longer a need for the Voting Rights Act to single out Southern states, as the preclearance requirement that the Supreme Court struck down in June did, because there is no evidence minorities' voting rights are being jeopardized. Paul's comments were first reported by Louisville NPR affiliate WFPL News.
Paul has a fraught history with the black community, which consists of reaching out to minorities while coming down against civil rights legislation. In some ways, Paul's highly visible missteps make this a particular feature of his political life. As a Senate candidate in 2010, he said he opposed portions of the landmark Civil Rights Act of 1964. This spring, Paul received blowback for denying that he ever said this while speaking at Howard University in Washington, a historically black college. A few months later, Paul was in hot water again when it turned out one of his aides was a neo-Confederate who had praised Abraham Lincoln's assassin; he then defended the man. Now, Paul is on the record saying there is no evidence of voter discrimination against black people.
On the one hand, most Republicans in Washington don't appear eager to resurrect the preclearance portion of the Voting Rights Act, so in that sense Paul is not alone. But by denying that there is any evidence of discrimination, as opposed to less or perhaps not enough to warrant federal preclearance, Paul's remarks seem insensitive, particularly given the record of discrimination Congress compiled in 2006 when it reauthorized the VRA -- as well as the long lines minorities waited in to vote this past November.
Paul's remarks come as the Republican Party tries again to reach out toward minority voters. On Wednesday, the Republican National Committee announced it would hold a lunch later this month to commemorate the 50th anniversary of the 1963 March on Washington. Included on an invite list of mostly black Republicans is Rep. F. James Sensenbrenner, R-Wis., one of a few Republicans in Congress who is a staunch defender of the Voting Rights Act.
Paul's remarks are indicative of his own struggles to reach out to black voters, but they also show the Republican Party's predicament in attempting to appeal to black voters while prominent Republicans minimize the issue of voter suppression.
It's a particularly precarious position to be in politically when you compare Paul's remarks to former Secretary of State Hillary Clinton's on Monday, when she chose voting rights as the topic of her first speech in a series of policy discussions. "Anyone who says that racial discrimination is no longer a problem in American elections must not be paying attention," she said.
© Copyright IBTimes 2023. All rights reserved.
FOLLOW MORE IBT NEWS ON THE BELOW CHANNELS