2016 Election: Hillary Clinton Stages Her Comeback With Voting Rights Speech [WATCH]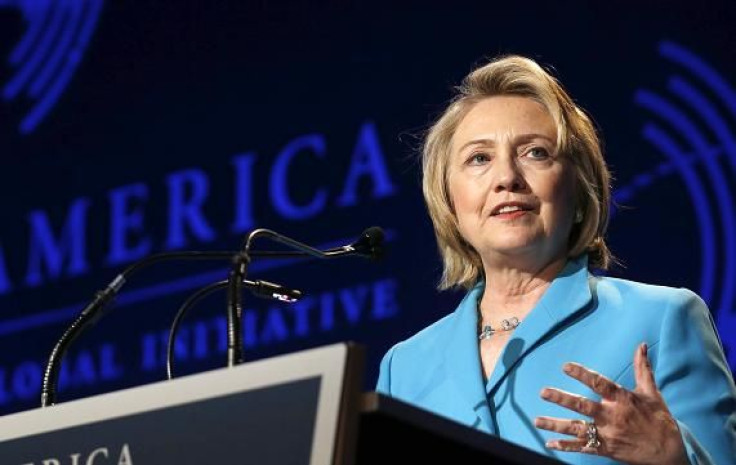 Former Secretary of State Hillary Clinton is staging her comeback into political life after she left the limelight when she stepped down from her post at the State Department on Feb. 1. Of course, Clinton never actually escaped the public eye, as the media immediately glommed on to her as a likely front-runner in the 2016 presidential race. Now, Clinton plans to return to the fore on her own terms with a series of policy talks.
Speeches about policy may sound dull, but they mark an important stage for Clinton in the lead-up to a potential 2016 run.
After four years running the State Department, a period when she steered clear of domestic policy, Clinton's personal favorability has gained in the polls. From her post as America's top diplomat, she rarely weighed in on the controversial issues that dominated national politics or the 2012 election. She also escaped the negative blowback that inevitably comes from taking sides.
But if Clinton wants to get back in the politics game, ultimately, she will have to carve out her domestic policy positions all over again. And the result could end up defining both her positions and those of the Democratic Party.
On Monday she made her first such speech while receiving top honors from the American Bar Association in San Francisco. Clinton's speech took on the issue of voting rights, criticizing the Supreme Court's June ruling that gutted the Voting Rights Act of 1965 and called for a series of remedies to protect minorities' access to the polls. Clinton singled out new efforts to restrict voting rights, including a North Carolina law that she said "reads like the greatest hits of voter suppression.
"Anyone who says that racial discrimination is no longer a problem in American elections must not be paying attention," she said.
In her next speech, scheduled for next month at the National Constitution Center in Philadelphia, Clinton said she would address "the balance and transparency necessary in our national security policies," a hot topic in the wake of leaks about the NSA from former intelligence contractor Edward Snowden. In a third speech, Clinton said she would discuss the implications of the surveillance state for America's global standing in the world. These aren't the hottest topics that Clinton could be dipping her toe into, like Social Security or health care, for example. But Clinton is slowly making her way back into politics and putting her stamp on the major issues of the day.
Watch the whole speech:
© Copyright IBTimes 2023. All rights reserved.