Real Madrid News, Schedule: Wolfsburg Second Leg Make Or Break For Zinedine Zidane?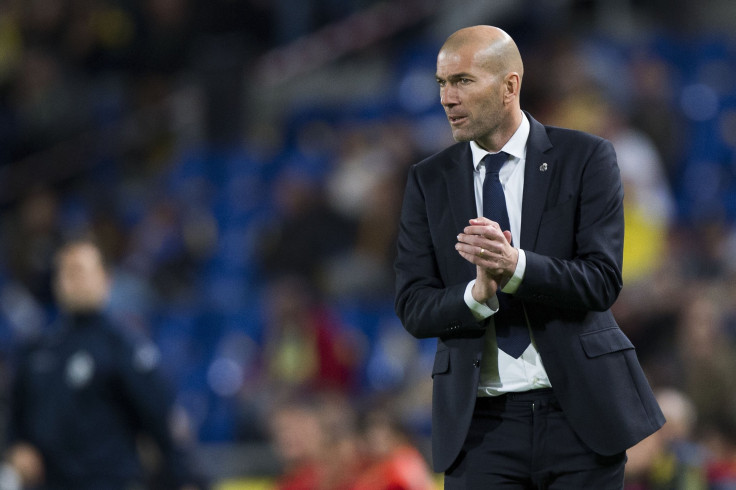 Real Madrid will take on Eibar at the Bernabeu on Saturday, but all thoughts, including those of manager Zinedine Zidane, have already turned to their subsequent game three days later. As quickly as Real Madrid's struggling season appeared to have been revitalized by a come-from-behind victory over Barcelona, they allowed their bubble to be emphatically burst by a shock 2-0 defeat to Wolfsburg in the first leg of their Champions League quarterfinal.
Next Tuesday's return match at the Bernabeu could be make-or-break, not just for Real Madrid's season but for Zidane's future at the club.
"We know that on Tuesday we play for the season," Zidane said ahead of the visit of Eibar, reports Spanish sports daily Marca. "The coach is staking his future in every game. I know what the position is in this club but what encourages me is what I'm doing every day. I enjoy my daily work, I never think about the bad things. I'm always positive, I'm cool with everything so we'll see what happens."
While Real Madrid's Clásico triumph theoretically kept their La Liga title hopes alive, there remains little realistic prospect of overcoming a seven-point gap to Barcelona in the final seven matches. That scenario only increases the determination to win the European Cup, a trophy Real Madrid have always been obsessed with winning more than any other.
Having finally landed "La Decima" in 2014, the talk now is of securing the "Undecima." Were Zidane not only to fall short, but do so by failing to even lead Madrid to the semifinals for the first time in six years, and with a defeat to a team they were expected to brush aside, his position at a club not shy in changing managers would be in serious jeopardy.
And it was not just the result in Germany on Wednesday but the performance that raised serious concerns. While the star players in Madrid's squad raised themselves and put in the work against Barcelona, they were lackluster and disorganized against Wolfsburg.
The difference may not only have in players finding motivation easier at the Camp Nou than in a Champions League match they were heavily favored to win. Against Barcelona, Real Madrid could adhere to a strict tactical plan to sit back and counter at pace. At Wolfsburg more subtlety was required, yet the team were sorely lacking in clarity.
Zidane, of course, cannot be held entirely responsible. For several years under president Florentino Perez, Real Madrid's squad has been one built on the star power of players more so than their ability to function in a coherent team. It would also be rather unfair to have put faith in an inexperienced manager like Zidane only to dispense with his services after less than six months.
Yet Zidane has also still to demonstrate that he has the tactical nous to succeed at the highest level, with his only previous head coach job being with Real Madrid's Castilla team. Real Madrid probably aren't interested to spend a season hoping that their coach, guiding a lavishly assembled group of players, evolves into something much better.
Already there are rumors that former coach Jose Mourinho has been sounded out about returning to the Bernabeu in the summer. One thing for sure is that, even if Real Madrid rack up a big victory against Eibar on Saturday, it will count for nothing if they can't climb out of their 2-0 hole against Wolfsburg.
Real Madrid remaining schedule
Vs. Eibar – April 9, 10 a.m.
Vs. Wolfsburg – April 12, 2:45 p.m.
At Getafe – April 16, 10 a.m.
Vs. Villarreal – April 20, 4 p.m.
At Rayo Vallecano – April 23, 10 a.m.
At Real Sociedad – April 30, 10 a.m.
Vs. Valencia – TBC
At Deportivo La Coruna – TBC
© Copyright IBTimes 2023. All rights reserved.